When Intel introduced the Socket 775 platform and the ICH6 Southbridge, it did something radical, it removed a parallel IDE channel. Intel reasoned that the IDE standard had reached its maximum capability and that Serial ATA would quickly replace IDE due to its vast technological advantage.
Hard drive manufacturers quickly adopted the new standard however it still took the public a few years to move over. Optical drive makers on the other hand (aside from Plextor) have not moved over to the Serial ATA architecture and to the dismay of other manufacturers and consumers, continue to release primarily IDE devices.
Like it or not, Intel is forcing the hands of everyone to adopt the Serial ATA architecture by completely dropping IDE from its ICH8 Southbridge. Other chipset manufacturers are also starting to loose support for IDE, with nVIDIA's latest nForce 500 series chipsets the latest example.
In this review, PCSTATS is testing the Biostar TForce P965 Deluxe motherboard. This board is based on Intel's P965 Northbridge and ICH8 Southbridge chipsets. With Intel phasing out IDE, motherboard manufacturers have been scrambling trying to fill the void since Serial ATA optical drives are difficult to find. Biostar address the lack of native IDE channels by integrating a separate IDE controller onto the Tforce P965 motherboard in the form of a VIA VT6410. Other integrated goodies on this full sized ATX board include Gigabit LAN,7.1 channel high definition Intel Azalia audio, a flurry of USB2.0 jacks, and expansion slots.

Biostar TForce P965 Deluxe Motherboard



Includes:

User's Manual, Driver CD, Rounded Ultra/133 IDE Cable, Four Serial ATA Cables, Four Molex to Serial ATA Power Converters, Floppy Drive Cable, Audio Bracket, I/O Shield, Microphone Headset, USB Multiport Cable Set
There are quite a few expansion options on the Biostar TForce P965 Deluxe; a PCI Express x1, x4 and x16 slot, and three 32 bit PCI slots. There are six Serial ATA II (3.0Gbps) channels and six USB 2.0 slots on the rear I/O. For the tweakers out there, Biostar also equips this board with hand power and reset buttons right on the PCB!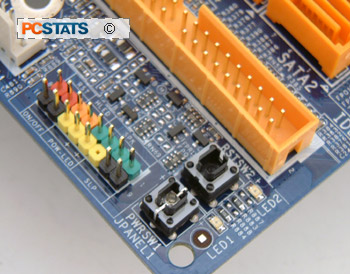 The Biostar TForce P965 Deluxe motherboard is hot off the presses and hasn't quite reached the retail market yet so we don't have an MSRP to quote you. Judging by the features, it appears to be an entry level/workstation style motherboard which means it should be fairly aggressively priced.
Intel's Core 2 Duo processor is the hottest thing in the computer industry right now. Since it uses the same Socket 775 formfactor that we're use to from the Pentium 4/D line, moving to Core 2 Duo allows for a relatively easy transition, if you can't afford to go all the way, get a compatible motherboard first and buy a processor when you're ready. In any case PCSTATS will show you both Pentium D and Core 2 Duo performance so you get an idea of what to expect when running an Intel P965 Express based motherboard.
Intel P965 and ICH8
The Intel P965 chipset is Intel's latest mainstream chipset and it works with every Socket 775 processor on the market from Intel Pentium 4/D/XE to Celeron D and right on through to the Core 2 Duo. Along with the new Northbridge, Intel also released the ICH8 Southbridge to replace the ICH7. The version found on the Biostar TForce P965 Deluxe is the ICH8R model, which includes RAID.
Intel has increased its DDR2 memory support to 800 MHz with the P965 chipset, putting Intel's latest and greatest at par with AMD's Socket AM2 Athlon64's. Intel calls the new memory controller FMA or 'Fast Memory Access' and gives the system a maximum theoretical bandwidth of 12.8GB/s. The Intel P965 is a mainstream chipset, and thus only supports a single PCI Express x16 graphics card.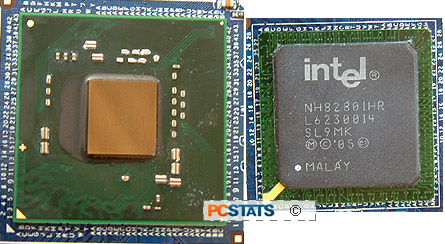 A dedicated 2GB/s I/O bus connects the Intel P965 Northbridge and ICH8R Southbridge together, which might be a little tight if you have many high bandwidth devices installed but should be just fine for the average user.
The Biostar P965 Deluxe motherboard comes installed with the ICH8R Southbridge which includes a ton of goodies. Intel has increased the number of Serial ATA II (3.0Gbps) channels to six, and with Intel's Matrix Storage technology supports RAID modes 0, 1, 0+1 and 5. The latter is optional and not supported by the vanilla version of the ICH8 Southbridge.
The Intel ICH8R Southbridge also supports a 7.1 channel Intel Azalia high definition audio, 10 USB 2.0 slots (any, or all of which can be disabled which is an important feature for businesses), six PCI Express x1 lanes and an integrated Intel Gigabit MAC which runs through the PCI Express bus.
Noticeably lacking is parallel IDE support. This is forcing many motherboard manufacturers to integrate a standalone IDE controller onto their motherboards (like the VIA VT6410 on this Biostar TForce P965). Rumor had it that Intel brought the ICH8 back to the drawing board to add a single IDE controller but that obviously didn't happen.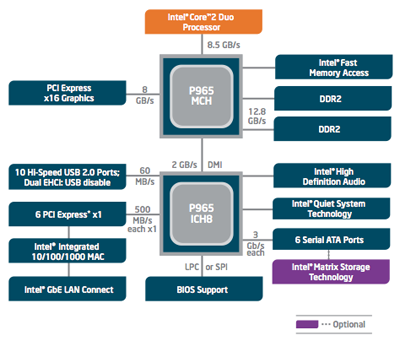 Luckily parallel IDE technology isn't overly expensive to add to a motherboard. I understand that Intel is the leader in computer technology but doing away with IDE seems a bit premature at this time, especially with the lack of Serial ATA optical drives.
Next up, we take a tour of the Biostar TForce P965 Deluxe motherboard highlights