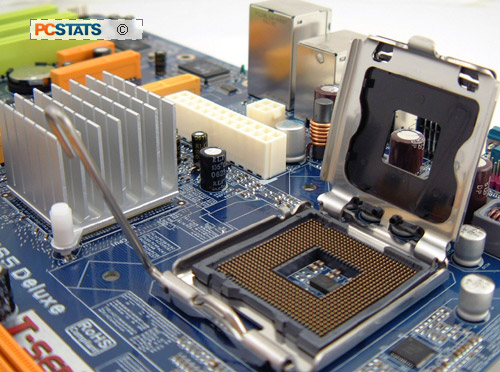 The march of technology is unyielding, but I think Intel is pushing the market a bit too quickly on the subject of IDE. Parallel IDE devices are on the decline as the industry makes a gradual transition towards SATA devices, but IDE hard drives are not yet obsolete yet.
To put IDE into the history books Intel needs optical drive manufacturers to introduce SATA-based products. Thus far this has not happened, and so we find ourselves in a situation where IDE channels are being dropped on new chipsets, creating a situation where motherboard manufacturers have to add in support to appeal to consumer demand.
Perhaps the only way to force manufacturers to abandon the old standard is by removing IDE support completely from chipsets... and that seems to be the attitude Intel is with the ICH8 Southbridge.
As we've seen by the benchmarks presented in this review, the Biostar TForce P965 Deluxe motherboard is a pretty nice Intel 965-based platform. It is compatible will all current Socket 775 processors - be it Intel Pentium 4/D/XE, Celeron D or Core 2 Duo. With DDR2-800 memory support, memory bandwidth is no longer an issue as it once was for dual core processors.
The TForce P965 Deluxe comes with Gigabit Ethernet, an additional VIA IDE controller and an Intel Azalia High Definition 7.1 channel audio codec. Expansion opportunities are pretty good with three PCI slots, a PCI Express x16, a PCI Express x1 and one PCI Express x4 expansion slot available.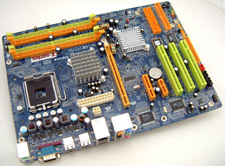 The Biostar TForce P965 Deluxe performed very well in all the benchmarks. In office oriented applications and content creation type tasks, the TForce P965 outperformed the Intel 975X and nForce4 SLI-based motherboards used for comparison. The situation was even nicer when putting the Tforce P965 Deluxe through a round of 3D gaming tests. With a Geforce 7800GTX running in the test bench, the Biostar TForce P965 Deluxe came in first in 3DMark05/06 and FarCry! When the Intel Core 2 Duo processor was used, things were even sweeter and nothing could come close to the Biostar TForce P965 Deluxe/C2D combo!
With an Intel Pentium D 840 processor the Biostar TForce P965 Deluxe motherboard was able to overclock up to 253 MHz FSB! Of course, the motherboard is rated by default to run at 266 MHz so 253 MHz shouldn't be much of a problem. With the CPU used for testing, a clock speed of 4.0+GHz from an air cooled Pentium D 840 is quite good.
When the Intel Core 2 Duo E6600 processor was thrown into the mix, it truly unlocked the overclocking potential of the Biostar TForce P965 motherboard. Starting at 266 MHz the Biostar motherboard hit an amazing 341 MHz! That's not a bad speed at all and it's nice to see that the Biostar TForce P965 has some spunk to it.
Ultimately, the Biostar TForce P965 Deluxe is very well rounded motherboard, and it certainly has what it takes to become the basis of a good workstation computer.
Find out about this and many other reviews by joining the Weekly PCstats.com Newsletter today! Catch all of PCSTATS latest reviews right here.
Related Articles
Here are a few other articles that you might enjoy as well...
- ECS RS480-M Crossfire Xpress 200 K8 Motherboard Review
- ASRock 775XFire-eSATA2/A/ASR i945PL Motherboard Review
- Epox 9U1697 GLI ULi M1697 Motherboard Review
- Asus M2N32-SLI Deluxe nForce 590 SLI AM2 Motherboard Review
- Biostar TForce 6100 AM2 Motherboard Review