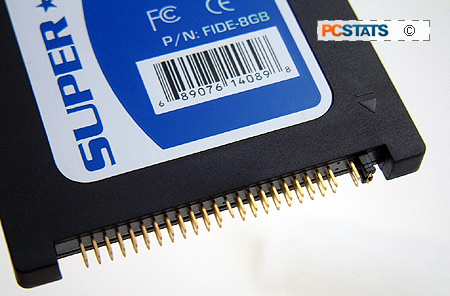 SuperTalent claims that its 8GB 2.5" IDE flash drive uses very little energy, so we decided to see just how much energy the 5V DC device uses in operation. For reference, the flash hard drive is listed to consume >50mA during a read, >60mA during a write, and >500uA during its sleep cycle.
The following power supply tests were all conducted with an Extech Model 380803 Power Analyzer located between the mains 120AC supply and the computer power supply. The result is a measurement of the total system power draw, so any changes in hardware within that system should induce a corresponding change in the total power consumption figure.
Based on this assumption we can measure, roughly, the power draw differences between a standard IBM Travelstar 2.5" notebook hard drive and the Supertalent FIDE-8GB flash IDE hard drive. The test system configuration is noted below, just prior to the hard drive benchmarks.
Total System Idle Power Draw
Hard Drive
Total System Power Draw
12GB IBM Travelstar Notebook HDD
115 Watts
8GB SuperTalent IDE Flash Drive
113 Watts
It should be noted that that with the computer system at idle, power usage rests at 112.5W. The SuperTalent drive generally consumes ~2W less power overall than the IBM Travelstar. Even a small difference can help to improve battery life in a mobile device, but clearly today's notebook hard drives are much more power efficient than we expected.
Total System Stressed Power Draw
Hard Drive
Total System Power Draw
12GB IBM Travelstar Notebook HDD
117Watts
8GB SuperTalent IDE Flash Drive
113.5Watts
When running SiSoft Sandra's HDD benchmark in the background, the 12GB 2.5" IBM Travelstar notebook hard drive uses 3.5W more power than the 8GB SuperTalent IDE Flash drive! It's pretty amazing to see that putting the flash drive under load only increases power usage by half a watt.
Prelude to the benchmarks
The details of how the SuperTalent 2.5" 8GB IDE Flash Drive test system was configured for benchmarking; the specific hardware, software drivers, operating system and benchmark versions is indicated below. In the second column are the general specs for the reference platforms this hard drive is to be compared against. Please take a moment to look over PCSTATS test system configurations before moving on to the individual benchmark results on the next page.

PCSTATS Test System Configurations