Laptops are fragile, that's a fact of life; the parts most susceptible to damage being the LCD screen and hard drive. While it would likely cost more than a new notebook to just replace a cracked LCD, subjecting a spinning hard drive to a shocking drop is often the biggest worry. What would you say if I told you that you no longer have to worry about HDD mechanical failures? No longer have to worry as much about banging your laptop around? No longer have to worry every time your laptop bag takes a bit of a beating?
Just a year ago people would have laughed at the suggestion of a solid state flash based 2.5" IDE notebook hard drive, yet it's now a reality.... well, sort of. For the time being we can't expect flash based IDE hard drives to rival conventional hard drives in terms of capacity, but we are starting to see larger solid state IDE flash drives emerge.
Along with increasing storage capacities, manufacturers are starting to address issues of reliability and data integrity. The new generation of solid state flash based IDE hard drives are rated to last as long as the typical mechanical hard drive! That's well over 1 Million hrs MTBF. Considering that flash memory by its very nature consumes less power, it's a no brainer that flash memory is starting to move into 2.5" hard drive storage territory.
If you read PCSTATS often, I'm sure you've heard us mention SuperTalent in reviews of high speed DDR, or USB thumb drives. Although the company is better known for its memory products, this time around we're checking out SuperTalent's 2.5" 8GB IDE flash drive (model no. FIDE-8GB). The unit is 100% compatible with standard 2.5" IDE laptop hard drives, but as the name indicates, it's a solid state device that has no moving parts. SuperTalent's 8GB 2.5" 'FIDE-8GB' Flash Drive consumes less than power than a regular notebook hard drive (50mA while reading, 60mA during a write), which can have the added impact of prolonging notebook battery life too. It's 8GB storage capacity will limit the applications of the FIDE-8GB Flash drive to compact WindowsXP installations, or better yet Linux. Of course all this fancy technology comes at a price, the 8GB SuperTalent 2.5" IDE Flash Drive retails for about $200 CDN ($180 US, £95GBP), though models from 4GB to 16GB capacity are available.

SuperTalent 2.5" IDE Flash Drive



Includes:

IDE/Power Cable
The SuperTalent 2.5" 8GB FIDE flash drive uses the notebook 44 pin IDE standard and is DMA/4 (Ultra/66) compatible. Access and Seek times are quoted at less than 0.1ms each. The flash chips used in the device are quoted as 'Grade-A Single Level Cell NAND ICs'. The 2.5" IDE Flash drive is physically compatible with standard notebook mount points and the there are jumper settings for Master/Slave and Cable select settings. Data is transferred at 16.6MB/s over a PIO Mode 4 interface, or 66MB/s in UDMA Mode 4.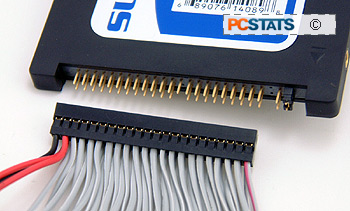 Desktop Applications
Notebook IDE hard drives receive power through the IDE connector which is why the SuperTalent 2.5" 8GB IDE flash drive comes with a special IDE cable for use in standard desktop applications. It's important to connect the molex power connector to the power supply before starting up a desktop computer where the FIDE-8GB is being used, if not the SuperTalent drive will not be seen by the operating system. Also, when you insert the IDE cable onto the SuperTalent 2.5" 8GB IDE flash drive, pin 1 (the red cable) should point towards the master/slave jumper. Don't worry though if you insert it wrong, it won't damage the flash drive.
The little IDE pins are pretty small, so be careful to pull the IDE cable out straight. With Serial ATA replacing the notebook IDE standard, it would be good for SuperTalent to release a SATA version as well. Thus far, IDE is the only interconnect standard supported.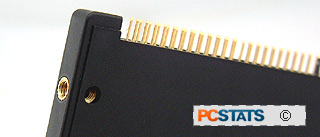 There's little data on the actual type of flash memory that SuperTalent uses (aside from its press information) but it's SLC NAND ICs, which suggests that it should be higher quality than what's used with other flash devices. Reliability has certainly increased dramatically within flash based storage systems, but then again hard drives must be reliable for a long time.
According to SuperTalent, the 2.5" IDE flash drive has a mean time between failure greater than 1 million hours. The unit has on the fly error correction and an estimated error rate of less than 1 bit error in 1014 bit reads. Write/Erase cycles are pegged at greater than 1 million - and this is an important point to note because flash based storage has a finite amount of times data can be written to memory. The SuperTalent 2.5" 8GB IDE Flash Drive can safely store data for over 10 years without issues, in a powered down state.
Since there are no moving parts inside the SuperTalent 2.5" 8GB IDE Flash Drive does not generate any noise nor does it produce any heat. It is also more durable than the average hard drive. The FIDE-8GB flash drive can withstand 1000 G operating shock and 15 G vibration shock. The drive is rated to operate at temperatures between 0 and 70 degrees Celsius, and can be safely stored at temperatures as low as -20C.