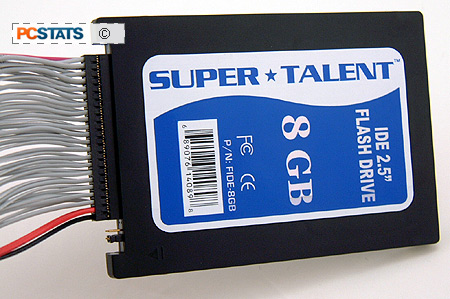 When it comes to computers and the internal devices, it's when a given device will fail, not if. From memory to power supplies and hard drives, it's only a matter of time before something fails, just hope that it doesn't take any vital information with it.
Computer hard drives are particularly susceptible to failure due to the various moving parts used within. With flash memory, you do not need to worry about mechanical failure because there are no moving parts. Of course flash memory will fail in other ways (handy flash memory recovery guide here ) but at least drops and shocks won't affect it.
SuperTalent's 8GB 2.5 IDE FIDE-8GB flash drive might be the start of something new in the hard drive industry... maybe even signalling the end of the conventional notebook hard drive. Flash memory certainly has many advantages over rotating platters; lower power consumption, quicker access times, more durable operating parameters, etc.
It's just a logical move, but storage capacities will need to grow significantly past 8GB for this to become truly viable. Right now an 8GB unit like this can be used for a full installation of WindowsXP, but the system won't be able to accommodate too much beyond a bare install.
Looking at the benchmarks, it's clear that the performance of the 8GB SuperTalent IDE flash drive is alright; it might take you a bit longer to install things but once that's done the drive is quick to access information. The FIDE-8GB performed at similar speeds to a four year old 12GB IBM Travelstar 2.5" notebook hard drive but was about half as fast as an OCZ Rally USB thumb drive. You have to compromise somewhere to get this durability and low power usage.
Flash memory has a lot of potential however it has a couple of major obstacles to overcome if it wants to replace current hard drive technology in mainstream notebook applications. First capacity has to dramatically increase, 8GB is a good start but it needs hit at least 100GB before the old standard will truly be threatened. Next bandwidth has to increase all around, 10MB/s is just not good enough. Access times are very quick, but I guess that should be expected from flash memory.
With a retail price of $200 CDN ($180 US, £95GBP) the SuperTalent 8GB 2.5 IDE flash drive offers you a very interesting alternative if you want to build a low power computer system for a specialized application. The FIDE-8GB is going to be best suited to Linux OS, so it could be ideal for a car PC where vibrations may damage mechanical hard drives quickly. In either case flash based notebook hard drives are certainly offering us a glimpse into the future... and we certainly appreciate that.
Find out about this and many other reviews by joining the Weekly PCstats.com Newsletter today! Catch all of PCSTATS latest reviews right here.
Related Articles
Here are a few other articles that you might enjoy as well...
- IcyDock MB453SPF-B SATA Multi-Bay Backplane Module Review
- Vantec NexStar GX USB2.0 Hub & HDD Enclosure Review
- Western Digital Caviar SE16 WD4000KD 400GB SATA Hard Drive Review
- Vantec SATA EZ-Swap MRK-200ST-BK Hard Drive Rack Review
- Vantec NexStar 3 USB2.0 HDD Enclosure Review