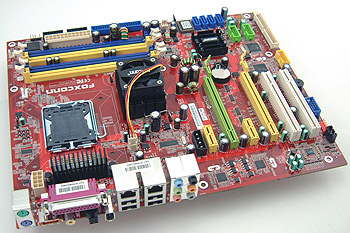 Foxconn may be an industry behemoth, but its attention to detail is steadily winning the hearts of many. The Foxconn 975X7AB-8EKRS2H is a flagship motherboard with a long list of 975X Express resident features. Yet if Intel doesn't support it, Foxconn hasn't gone out of its way to include it.... save for that extra IDE channel of course.
The result of all this is that we have yet another 975X Express based motherboard with very few technical features to differentiate it from any other flagship Intel 975X Express based motherboard out on the market. As the benchmarks indicate, with identical system configurations the Foxconn 975X7AB-8EKRS2H performs very well, and equivalent performs mirror those results.
Is this where the Intel "legend" of reliability comes from?
Intel standard features tackle all the noteworthy integrated peripherals a computer realistically requires in this day and age; we find 7.1 channel high definition audio, dual Gigabit network cards, IEEE 1394a Firewire, Serial ATA hard drives and RAID, and even an eSATA port. Like so many check boxes all lined up in a row and pre-mared, alll of this is just what the doctor ordered for a fully featured computer with more than enough networking and connectivity options. These features are all part and parcel of the Intel 975X and ICH7R chipsets - and any other manufacturer who builds a motherboard with this pair of chipsets will have a product with an identical feature set. This is the crux of the motherboard industry, it is increasingly difficult to diversify.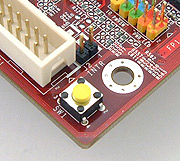 The Foxconn 975X7AB-8EKRS2H boasts two PCI Express x1 and two PCI slots for expansion devices, and a nice pair of PCI Express x16 slots for videocards. If we allow raw tech-specs to fuel our way of thinking for a moment the Intel solution is really not the most ideal dual videocard way of going about it. Where each PCI Express x16 videocard in an nVidia nForce 590 SLI based computer gets a full 16 lanes of PCI Express bandwidth, the Intel 975X Express-based counterparts make due with 8 lanes apiece.
Also, nVidia SLI is as of this writing not assured. If you crave serious 3D game rendering power its a pair of ATI CrossFire Radeon videocards for you!


Foxconn do bundle the 975X7AB-8EKRS2H motherboard with a nice collection of accessories, especially those bendable rounded cables, that you already know. In virtually all the benchmarks that PCSTATS ran, the 975X7AB-8EKRS2H competed for top spot; from SYSMark 2004 to 3DMark06 or Quake 4, that it's a fast platform is obvious. When it comes to overclocking, Foxconn's 975X7AB-8EKRS2H even a achieved a very quick speed of 368 MHz FSB!
With a retail price of $220 CDN ($200 US, £106 GBP) the Foxconn 975X7AB-8EKRS2H easily fills the role of workstation, multimedia, or gaming PC. Yet while have no qualms about recommending the 975X7AB-8EKRS2H motherboard to you, we find ourselves left wanting for significant features to differentiate this board, from any other of a dozen 975X Express platforms just like it.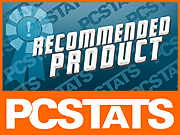 Related Articles
Here are a few other articles that you might enjoy as well...
- Asus M2R32-MVP CrossFire Xpress 3200 Motherboard Review
- ECS KA3 MVP Extreme Crossfire Xpress 3200 Motherboard Review
- Foxconn P9657AA-8KS2H P965 Express Core 2 Duo Motherboard Review
- Gigabyte GA-945GM-S2 945G Express Core 2 Duo Motherboard Review
- Epox EP-MF570 SLI nForce 570 SLI Motherboard Review