Overclocking Results:
The Intel Core 2 Duo E6600 processor that PCSTATS will be using to test the Foxconn 975X7AB-8EKRS2H motherboard runs with a default FSB of 1066 MHz (266 MHz motherboard clock speed).
For novice overclockers that means we're already starting pretty high up the ladder...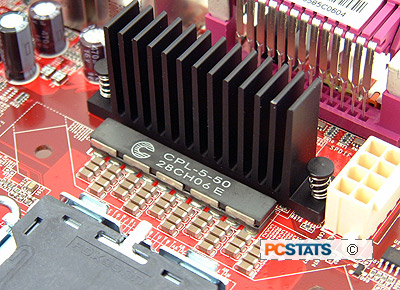 Right alongside the Core 2 Duo processor socket is the 975X7AB-8EKRS2H' "Digital PWM" circuitry. The new class of Digital Pulse Width Modulation (Digital PWM) components replace the standard collection of power MOSFETs, and associated inductors and capacitors. Running with less heat, the four tiny digital PWM drivers, power MOSFETs, a small passive heatsink, and four embedded "chokes" provide clean 4-phase voltage regulator down power to the processor.

Before the overclocking tests commenced, the 2GB set of Corsair Twin2X2048-6400C4 memory installed into the system was first adjusted to run in DDR2-400 MHz mode, this way the memory will not hold the Foxconn 975X7AB-8EKRS2H motherboard back.

Starting at 266 MHz the motherboard clock speed was increased in 5-10 MHz increments, if you're a novice overclocker you'll probably want to bump them up in smaller steps. It wasn't much of a surprise that the board easily cracked 300 MHz barrier, and then very shortly after that 325 MHz without even flinching! The Foxconn 975X7AB-8EKRS2H was definitely up to our overclocking challenge, but shortly after this it required a slight voltage increase.

The CPU voltage was increased by 0.2V above stock, and this change allowed us to reach the 350 MHz threshold. A few more minutes of tweaking and overclocking the 975X7AB-8EKRS2H and we settled for a top overclocked speed of 368 MHz. Pretty darn fast.

I get a sense that it may be possible to push things a little further than this, because by this point the Intel 975X Express chipset heatsink was very hot to the touch. Additional cooling as they say...

Foxconn's Nimble BIOS: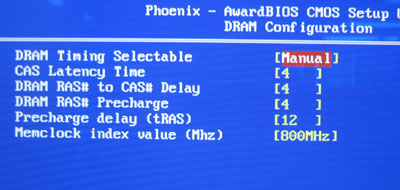 The Foxconn 975X7AB-8EKRS2H motherboard does not have as many memory tweaks as some other motherboards PCSTATS has tested recently, but the basics are here. CAS Latency, RAS to CAS delay and Precharge Delay as well as the ability to change the memory operating frequency are provided.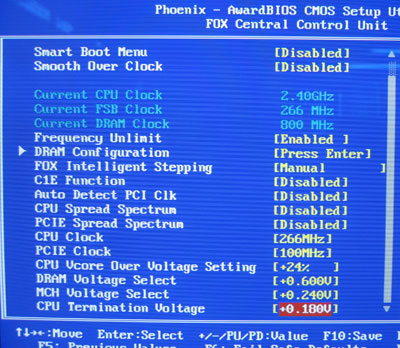 The FOX Central Control Unit has all the overclocking options. You can adjust the motherboard frequency from 266-600 MHz in 1 MHz increments. You can increase the CPU voltage 24% above stock, memory voltage 0.6V above stock and chipset 0.24V above stock.
Next up, benchmarks and test system specs.