While you may think it trivial to dwell on the rounded floppy and IDE cables that Foxconn include, we don't. After benchmarking and testing hundreds of motherboards, PCSTATS staffers can pretty much spot a junk pair of rounded cables from a hundred paces off. MSI Computer is notoriously bad in this regard. MSI's stiff, unflexible, folded and hard red tubing encased IDE and floppy cables have become something of a pet-peeve around here...
These black puppies on the other hand are genuine rounded cables; each a collection of 80 individual wires and soft flexible rubber sheathing. I guess it helps that a major division of Foxconn is the manufacture of virtually every cable, connector, jack and socket type used in computers.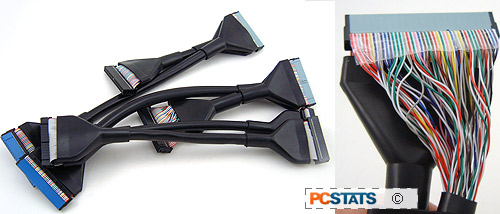 Also included in the Foxconn 975X7AB-8EKRS2H's box are three header brackets - one for USB2.0, one for Firewire, and suprisingly enough one for a COM port. There is a parallel printer port on the rear I/O but not COM jack, which particularly for Linux users and server management applications is a necessary tool. It's nice too to find the correct number of expansion brackets to match all the motherboard headers. Individually capped right-angle SATA cables put the figurative 'gold star' on Foxconn's ability to bundle in cables and brackets that are actually worthy of words being written about them. But enough of that.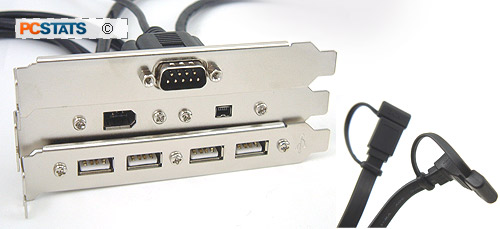 The board's manual is easy to read, but omits detailed installation instructions and skimps on how to set up dual Crossfire videocards. BIOS options and menus are covered in detail, as the FoxOne diagnostic and overclocking software tool. A separate quick installation guide covers the basics so novice users are covered.
Focus on the Fox One Chipset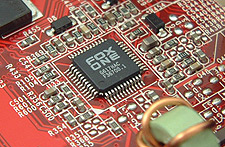 Foxconn's 'Fox One' chip controls the fan speed and noise output of the 975X7AB-8EKRS2H system, with an eye towards reducing noise as much as possible. It operates with a software program to provide WindowsXP-based system monitoring, overclocking, and even fan speed control. The catch is that SmartFan mode must first be enabled in the BIOS. To turn SmartFan on press the Del key at system POST and go to the PC Health Status section in the 975X7AB-8EKRS2H's BIOS. There you will find the SmartFan options. All you need to do is make sure it is set to 'PWM mode'. If that is the case, SmartFan will automatically adjust the heatsink fan speed according to the temperature values you set. All stock Intel LGA775 heatsinks uses a Pulse Width Modulation (PWM) powered fan, but many after market heatsinks may not.
You can differentiate a PWM fan from the standard variety by the 4-pin fan power cable. Standard 12V DC computer fans will use either 2-pin or 3-pin fan power cables. The 3-pin connector is by far the most common as the third pin acts as an RPM sensor. The 4-pin PWM motherboard CPU fan header is backwards compatible with the 3-pin fan variety, but the extra controls PWM fans bring to the table are specific to that class of fan.
External eSATA Device Support
eSATAII (aka external Serial ATA) support is one of the most exciting features to pop on motherboards recently. When it comes to external mass storage, bandwidth has always been an issue, and Serial ATA makes even IEEE 1394b's 800Mbps bandwidth look paltry by comparison.

Foxconn has opted to place an external SATA (eSATA) port on the rear I/O of the 975X7AB-8EKRS2H motherboard.
This connection uses a slightly modified SATA cable (not included), which is better suited to external connections. Standard internal Serial ATA cables are sufficient for internal connections, but SATA-IO governing body decided a while back that the external version should be a somewhat different format, thus creating the eSATA standard. eSATA enclosures for hard drives are widely available, and the great thing is that hard drives connected over this standard are just as fast as internal devices. The connectors are hot swapable, so it makes adding and removing an massive external hard drive about as complex as plugging in a USB memory key. For anyone who as ever had to move Gig's of data over a USB cable, eSATA is simply awesome.
Next up PCSTATS will be running through the basic features and capabilities of the Intel 975X Express chipset, and how it stacks up before diving into FoxONE, overclocking and plenty of office oriented and gaming benchmarks...