Usually cost is the biggest barrier to adopting technology, but with the prices of Dual Layer DVD burners these days there is really no excuse not to have one. If you're tight on funds, you can pick up a DL DVD burner for as little as $30 CDN. The AOpen DSW1812P that PCSTATS reviewed today runs a bit more ($45 CDN), but then again it is among the fastest DVD burners on the market. The DSW1812P also supports virtually all recordable disc formats and comes with a copy of Nero 7 Express software to get you started.
Single layer 4.7GB DVD-/+R discs have fallen greatly in price and you can get a spindles for well less than $0.50 per disc. Dual layer 8.5GB DVD discs still hold a larger price premium, but that's fallen to about $3-4 per disc.

Still if you need some serious storage capacity, or need a quick and easy way to backup your PC's data, there is nothing better than a DVD burner and a pile of discs.

AOpen offers you a rather plain looking drive in the DSW1812P, however it's one of few DVD writers on the market that support all standards. DVD-/+R and RW Dual Layer discs along with DVD-RAM support, whatever DVD media you use, the AOpen DSW1812P will support it.

At 18x burn speed for single layer DVD-/+R discs, the DSW1812P is also among the fastest DVD burners on the market too.

The small size of the AOpen DSW1812P makes it compatible with every computer from desktop to small form factor. Another nice touch is AOpen includes a secondary face plate (two in total, black and white) which allows you to match the other peripherals installed into your system. During testing we found the drive was very quiet, and vibrations were kept to a minimum even the AOpen DSW1812P spinning at high speeds.

The AOpen DSW1812P performed exactly as expected and that's very good. It's quick when it comes to data transfers and burning capabilities while keeping low access times and low CPU utilization. If you're in the market for a new DVD burner, the AOpen DSW1812P supports everything and is very quick. With the price of DVD burners these days you might as well get one as they become useful very quickly. ;-)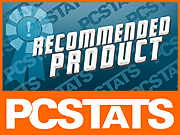 Find out about this and many other reviews by joining the Weekly PCstats.com Newsletter today! Catch all of PCSTATS latest reviews right here.
Related Articles
Here are a few other articles that you might enjoy as well...
- Samsung WriteMaster SE-W164 16x16x External DVD Writer Review
- Gigabyte GO-W1616A DVD Burner Review
- MSI DR16-B Dual-Layer DVD Burner Review
- LG GSA-4120B Super Multi DVD Rewriter
- AOpen DRW8800 8X DVD Burner Review