For the average person, backing up your computer is easiest done by burning your files to a recordable DVD. There are fancier and more liquid storage mediums like Network Attached Storage, tape, or RAID arrays, but none of these options are as easy or cheap to use as burning data onto disc. The price of a recordable DVD writer hovers around the $35-50 CDN price point, so it's not surprise that just about every PC has one already installed. Pretty much every Jane, Dick and Harry has a DVD writer in their PC system, DVD writers have become standard equipment - and oft under used as a means of backing up one's PC in 4.7GB chunks. With a Dual Layer compatible recordable DVD writer like the one we're testing today, that figure jumps to 8.4GB of data, per disk.
While recordable DVD drive prices have plummeted, it's sort of a different story with recordable DVD media; dual layer recordable DVD discs in particular are still surprisingly expensive. Is the movie industry leaning on media manufacturers to keep prices artificially high? Who knows, that's a discussion for conspiracy nuts. ;-)
The AOpen 18x Triple Format DVD Rewriter (DSW1812P) is one of the few recordable DVD drives on that market that supports every single recordable DVD format there is - we're talking DVD+R, DVD-R, DVD-RAM, DVD+RW, DVD-RW, DVD+R Dual Layer and DVD-R Dual Layer. But wait, that's not all! With the AOpen DSW1812P drive you also get the Chameleon Bezel, AOpens' mysterious "Silent Technology" and fabled UDMA66 transfer speeds! And if you act now, AOpen will also include CD-R, CD-RW, and regular CD-ROM compatibility!!!

AOpen DSW1812P DVD Writer

Includes:

Installation Guide, Front Panel Replacement Guide, Nero 7 Essentials CD, Black Front Bezel, Four Case Screws
But seriously folks, most DVD writers only write on DVD-/+RW, AOpen does one better by including DVD-RAM in the list of supported media. The AOpen DSW1812P can write to DVD+/-R media at 18x speed, DVD-RAM at 12x, DVD+RW at 8x, DVD-RW at 6x, DVD+/-R Dual Layer media at up to 8x. It will also burn regular CD media at up to 48x speeds and standard DVD-ROMs at 16x. The drive is Ultra/66 compatible, incorporates AOpen's Silent Technology and AOpen includes one black and one white bezel. The bezels are interchangeable so the drive won't stick out like a sore thumb in a black case, or vise versa.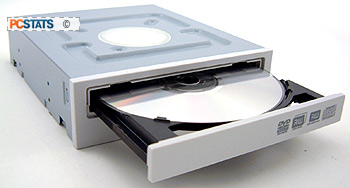 This AOpen DSW1812P retails for a remarkably inexpensive $45 CDN ($40 US, £21 GBP), which is pretty competitive for a Dual Layer compatible DVD burner.
The AOpen DSW1812P DVD writer has a very plain look, but I suppose the last thing you need is for your optical drives to stand out more than the case. Depending on the colour of the case and other peripherals, the bezel can be swapped out for a white or black look. The AOpen DSW1812P is 146 x 41 x 170 mm, so the short length means you won't have to worry about knocking into the motherboard if you're using a mid-tower case.
The drive has 2MB of cache memory and buffer underrun error protection to prevent disks from being junked if there is a delay with the computer sending information to the drive.
At the front of the AOpen DSW1812P drive there is an eject button, a LED indicator button and an emergency ejector hole for when discs get stuck in the drive. The DSW1812P does not come with a pin for that, but paperclips work just as we. There are also a few logos on the bezel that show the drive supports the DVD Multi, DVD+RL, DVD+R and CD-R burning standards.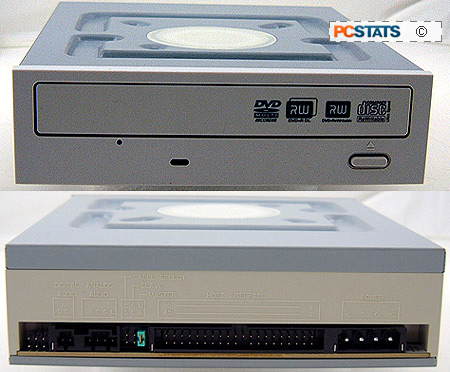 The rear of the AOpen DSW1812P Dual Layer DVD writer looks like any other writer on the market. Starting on the left, there's the two pin digital audio output connector, four pin analog audio connector, Master/Slave/Cable Select jumpers, IDE connector and Power connector.
The AOpen DSW1812P DVD writer supports a whole host of writing options. For burning CDs, the drive supports Track At Once (TAO), Disc At Once (Disc At Once), Session At Once (SAO), Multi-session, Fixed Packet, Variable Packet, Raw Mode Burning and Over burn. DVD writing modes include Multi-session recording (DVD+R), Random recording (DVD+RW), Disc At Once Multi-border (DVD-R), Disc At Once Multi-border (DVD-RW), Restrictive Overwrite and Random Access Write (DVD-RAM). Phew! Next up, PCSTATS takes a look at the software included with the AOpen DSW1812P drive.