Abstract: Flashy hardware like LED lights, special illuminated fans, plexiglass windows, chrome plating and modular cable systems do nothing. Corsair's HX620W power supply certainly has many good things going for it.


85% Rating:

Home > Reviews > Power Supply > Corsair HX620W
Green power supply, the HX620W is RoHS compliant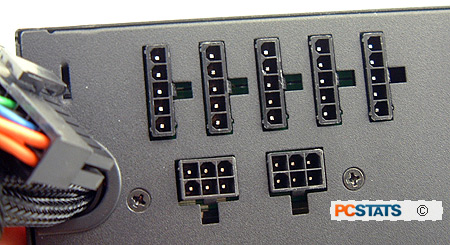 You may have started to notice a little garbage can with an X running through it on appearing on motherboards, videocards and other electronics circuit boards this year. It's a symbol used to represent Directive 2002/96/EC on Waste Electrical and Electronic Equipment, but it's also generally associated with Restriction of Hazardous Substances (RoHS) compliance as well. The latter is a European Union initiative which targets hazardous materials in consumer electrical and electronics equipment.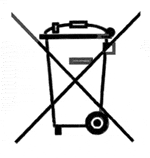 RoHS aims to remove heavy metals used in electronic components like Lead, Mercury, Cadium, Hexavalent Chormium, PBB and PDBE. In order to comply with EU's RoHS legislation, all substances must either be removed or reduced to within maximum permitted levels. This applies to all electrical components that will be sold within the European Union, so as a by product most electronics headed for North America are now also made compliant.
RoHS was originally discussed in the European Union in July of 2003 and was introduced as law as of July 1st 2006. Manufacturers caught putting non-compliant products onto the EU market will face stiff fines and have their products barred. While manufacturers are primarily affected by RoHS, the law is also seeking to change how we as consumers handle our old electronics at the end of its life cycle. End users are advised to handle electronic waste as "hazardous waste", and dispose of old electronics through proper waste channels - not simply toss these items into the trash. It is no longer okay to just throw old computer gear into the dust bin, and subsequently our land fills.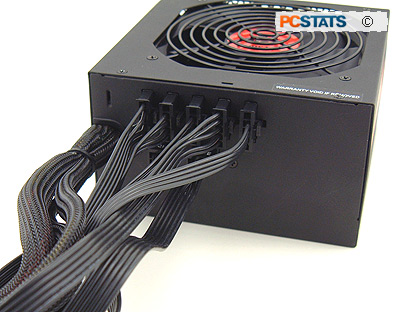 Modular Power Supplies Stacking Up?
The HX620W is the first power supply that Corsair has released, and as power supplies go it's pretty darn nice. With the ability to pump out 620W of sustained power, the Corsair HX620W retails for about $205 CDN ($180 US, £95 GBP), it's not inexpensive but you do get a good power supply for the money.
The HX620W comes with a five year warranty, which is longer than most PSU's, and Corsair has excellent product support.
The Corsair HX620W power supply is very easy to work with and should fit into any standard ATX case. The modular cable design allows you to keep your system free of clutter and cable management is a breeze thanks to the zip ties included with the package.
The HX620W is nVIDIA SLI and ATi CrossFire certified which is like a badge of honour. While the PSU does not officially support nVIDIA's GeForce 8800GTX in SLI, since the HX620W only has two PCI Express videocard connectors, I don't think it would have any problem powering that beast should you use a couple of molex to six pin converters. ATi's Radeon X1950 XTX will have no problems with the Corsair HX620W. ;-)
The Corsair HX620W power supply performed very well in the tests and we were particularly impressed with how efficient the power supply was with load. The HX620W was only bested by a few Seasonic power supplies and not by a lot. During testing the power supply remained very quiet and produced almost no vibrations which should help keep the system quiet.
The Corsair HX620W power supply is worthy of your consideration if you're going to be building that killer gaming rig. There are quite a few other power supplies in its price range, but look past the glitz and glamour and pick out something that's truly useful, not just pretty. Corsair, does both. :)
Find out about this and many other reviews by joining the Weekly PCstats.com Newsletter today! Catch all of PCSTATS latest reviews right here.
Related Articles
Here are a few other articles that you might enjoy as well...
- Seasonic M12 700W Power Supply Review
- Seasonic S12 Energy Plus SS-650HT 650W Power Supply Review
- Powerware 5125 1000VA UPS Review - Ready for Blackout Season?
- Mushkin Enhanced XP-650 Power Supply Review
- PC Power & Cooling Turbo-Cool 1KW Power Supply Review