Corsair is the king of enthusiast grade memory, and now the company is setting its' sights on another important and often unacknowledged component of a modern high end PC - the power supply. Expanding from memory to cooling, to power supplies is a familiar story for many of the enthusiast grade memory manufacturers. OCZ did it, Muskhin has done it, and now Corsair is walking down the fabled lane of Active Power Factor Correction, multiple power rails, and amperage and power wattage figures. Like with its memory, Corsair's power supplies are built like a tank.
Buying a good power supply is a somewhat complicated task right now. While power requirements of CPU's have fallen this generation, every other component requires more power (hello PC Power & Cooling 1kW). Picking up power supply that's future ready is a hard one with the way videocards have become the computer equivalent to a gas guzzling H3.
What's an enthusiast to do you ask? Easy, pick up a power supply with hefty amperage ratings on the 12V line/s. Even if the power supply you choose doesn't have the proper connector for future devices, there are usually molex adapter cables to make it adaptable. It's also worth your while to remember that the total output wattage is not the end all, there are tricks to boosting that figure artificially... The next thing you should look for is a power supply with as many molex power connectors as possible. Trust me, a high end system can never have enough molex connectors! ;-) Finally, if you're unsure about a power supply's quality check nVIDIA's and ATi's recommended list of SLI/CrossFire compatible models. Videocards are more demanding than CPUs, and if ATI/Nvidia have approved certain vendors and parts you can be assured it's worth its salt. Mediocre manufacturers tend not to send power supplies for certification because they won't meet requirements.
We've mentioned what's important, but how about the gimmicks which are totally unimportant? Flashy hardware like LED lights, special illuminated fans, plexiglass windows, chrome plating and modular cable systems do nothing. Luckily for those of you who like the eye candy, there are quite a few high quality power supplies available with a few nods to flashy tech.
Getting back to Corsair, its HX620W power supply is the companies first ever, and this unit certainly has many good things going for it. First off the Corsair HX620W power supply has received nVIDIA SLI and ATi CrossFire certification, so you know it's not a piece of junk. The 620W wattage rating is a sustained value, not peak. Lastly, it comes in a very pretty modular cable design. The Corsair HX620W power supply retails for $205 CDN ($180 US, £95 GBP) through most major online retailers.

Corsair HX620W Power Supply

Includes:

User's Manual, Power Cord, Velcro Ties, Zip Ties, Screws, Modular Cables
The Corsair HX620W power supply adheres to ATX12V 2.2 and ESP12V 2.91 standards and is backwards compatible with older ATX standards. That means the HX620W supports pretty much any PC that is on the market, and works with older hardware too. At 139 x 150x 85mm, the Corsair HX620W PSU is standard size and will fit in all desktop style cases.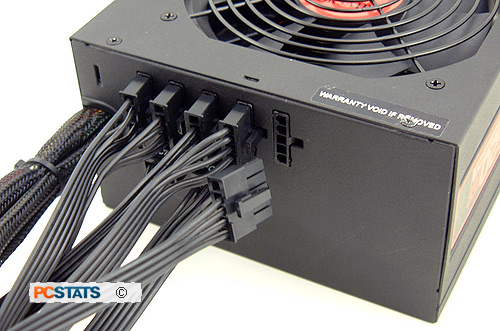 The Corsair HX620W power supply is cooled by one large 120mm ADDA fan which is temperature controlled. During testing the HX620W power supply was very quiet and you shouldn't notice it above the rest of the PC. Should the need arise the fan is replaceable although you'll void the warranty if you open up the unit.
According to the Corsair HX620W power supply label, the +3.3V line can deliver a maximum current of 24 Amps and the +5V rail 30 Amps. The two rails combined can output a maximum of 170W of power. There are three +12V lines each of which can handle up to 18 Amps for a total output of 600W.
The Corsair HX620W's maximum combined power wattage is 620W. It's important to note that Corsair lists sustained amperage values here, not peak!
On a minor note, we like to see the power supply value label placed on the side of the power supply rather than the bottom. Referencing this information can be useful, and as it is, the power supply will have to be removed to view this chart.
The Corsair HX620W power supply is Active Power Factor Correction (Active PFC) compatible, this improves power efficiency, reduces heat, and consumes less power. A-PFC circuitry eliminates the need for an external voltage level switch (115/230) on the powersupply as well, since it automatically works with a wider voltage range (115VAC of North America to 230VAC of Europe) by default.
It has been said that the Corsair HX620W power supply is actually produced by Seasonic, that would make sense as the HX620W has the look and feel of a Seasonic power supply (known for power efficiency and reliability). Checking the Underwriters Laboratories record number online only brings up the name 'Corsair,' earlier revisions of this power supply allegedly listed Seasonic. In any case, if the current generations of HX620W power supplies are indeed made by Seasonic, that's good news to us. Seasonic makes reliable power supplies. Good job Corsair on picking out a quality ODM manufacturer!
One area where Corsair potentially trumps Seasonic is support. Corsair has set up a 24/7 online customer support site at www.askthepowerguy.com . With a five year warranty, you really are covered at all angles. Having dealt with Corsair's customer support in the past as an anonymous user, I know Corsair does everything it can to help out when you're in trouble.
Now that we've covered all of that, let's take a closer look at the HX620W powersupply from a couple different angles, and take a quick peek inside...