Gigabyte is best known for its motherboards and videocards, but the company has broadened its horizons into processor cooling and case enclosures as of late. You may have seen a few Gigabyte heatsinks and watercooling kits the last time you stoped by your local computer store, and now the company is taking a second kick at the can with a hybrid case design of its own. Gigabyte is going for the elegant look with its watercooling friendly aluminum PC chassis, the 3D Aurora 570. This full sized aluminum case has the kind of watercooling integration other case manufacturers have oddly overlooked for many years.
Gigabyte's first foray into computer cases was the all aluminum 3D Aurora, and it received pretty good reviews for its time. What made that case a winner were its watercooling friendly features; areas to mount a heat exchanger, vents for tubing to pass through, nice quiet internal case fans, and full-aluminum construction. In its day, the original Gigabyte 3D Aurora was the first mass produced PC case to be compatible with watercooling systems right out of the box. More importantly perhaps, it also looked pretty cool to.
Like its predecessor, the all aluminum Gigabyte 3D Aurora 570 case is compatible with watercooling systems right out of the box. It is designed for maximum system cooling while maintaining quiet operating parameters - so while there are no less than three large 120mm cooling fans in this case, they all run without really being noticeable. Best of all, it has two tubing pass through vents for watercooling systems.
The 3D Aurora 570 case is constructed entirely out of 1.0mm thick aluminum, has a nice grilled side panel that can be swapped out with an included clear case window (how nice is that! It's even pre-drilled for quick installation), contains plenty of tooless expansion space for hard drives & DVD-ROMs, and accomodates a full sized Intel or AMD motherboard with room to spare. The Gigabyte 3D Aurora 570 case retails for $188 CDN ($168 US, £88GBP), without a power supply. If you need one of those, be sure to check out the nice Corsair HX620W PCSTATS just reviewed...

Gigabyte 3D Aurora 570 Aluminum Case

Includes

Instructions and necessary mounting hardware (screws and rails), (2) serial ATA power adaptors, keys, cable clips, custom logo window for front light. No power supply is included.
The Gigabyte 3D Aurora 570 is a full tower case that measures 205mm wide, 522mm deep and 566mm high. It's about 10% deeper than the previous model. The 3D Aurora 570 comes in silver and black colours. The case is based on the ATX formfactor and accepts ATX, Micro ATX and Flex ATX motherboards with a footprint as large as 305 x 305 mm. Up to seven PCI slots are available, and true to form there is a tooless mechanism for fixing the PCI brackets in position.
The Gigabyte Aurora 570 supports up to five 5.25" drive bays, two 3.5" FDD drive bays and five internal 3.5" hard drive racks. No tools are required to install the internal drives - optical disk, hard drive, or floppy drive. To internal hard drive spaces are occupied by a small (removable) black plastic toolbox which is useful for holding extra screws or drive rails. The case comes with a short manual, ten sets of rails for 3.5" HDDs, two molex to Serial ATA/Molex power connectors, cable clips, screws and a lens cleaner cloth. The black toolbox inside the case can store tools and other accessories like case mounting hardware. If you want to remove the black box for more HDD storage space, that can also be done and will yield space for another two drives.


At the bottom of the case are two rubber pass throughs which allow for easy access for watercooling tubes without having to cut your case up. Very useful for enthusiast users, the Gigabyte 3D Aurora 570 is definitely intended for enthusiast users. Gigabyte uses cable clips to keep fan cables tidy.

It's important to note that the Gigabyte 3D Aurora 570 does not come with a power supply. Good cases almost never do because an equally good dual or quad SLI compatible power supply costs upwards of $200 itself. The 3D Aurora 570 does feature three quiet blue LED illuminated 120mm case fans; there is tucked in at the front, two at the rear. The blue light shins through the side window or intake vent (which is user interchangeable).
The frame of the 3D Aurora 570 is constructed from 1mm thick aluminum, and the front bezel from plastic and hefty brushed aluminum components. The rear of the case is 1mm thick SECC steel, nickel plated to resist corrosion. If you've ever cursed an aluminum case in the past for stripped thread holes, this is the reason Gigabyte engineers chose to stick with a steel back panel.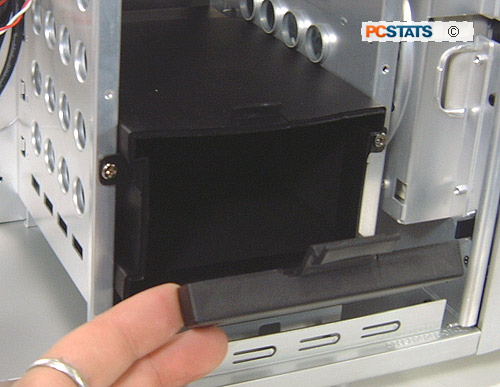 By default Gigabyte installs a small toolbox in the Gigabyte 3D Aurora 570, it contains all the drive rails and you can put even more tools into the box. You can remove this box if you want more HDD space.
The Gigabyte 3D Aurora 570 is definitely a looker and will attract a lot of attention thanks to its sleek design and plenty of blue LEDs peppered throughout the case. One really cool feature is how Gigabyte shines an internal blue LED Through a plastic filter which displays the "3D Aurora" logo on the table below. A blank projector bracket is included so you can create your own customizable words or images for display.