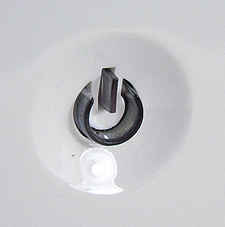 The visual appearance of the MSI Mega mPC 945 barebone small form factor system is clean and uncluttered. It doesn't look like a PC, more along the lines of a network attached storage device, or some really fancy toaster perhaps. This is part of the appeal for us with the MSI Mega mPC 945 barebones. The unconventional simplicity of design lends itself to perfect HTPC use.... except that the Intel 945G chipset this computer is based on really can't carry the full weight of such an application.
With a nice PCI Express videocard installed, one that happens to support HDMI or component output, the mega mPC 945 would look wicked next to any DVD or big screen TV system.
Anyhow, the MSI Mega mPC 945 system PCSTATS tested is based around the Intel 945G chipset, and it comes loaded with the usual allotment of integrated features. However the mPC 945 is able to stand out thanks inpart to a miniPCI slot and wireless 802.11b/g network card. Wireless networking is a rare feature to come integrated into a SFF PC, and with it you can network the PC from the media center to a main home PC, perhaps one with all the movies or music on it. Networking without running wires is a nice feature! The remaining feature include such common traits as Intel High Definition Azalia 7.1 audio, Intel's onboard GMA950 videocard, and a 7-in-1 flash memory card reader. As of this writting, the MSI Mega mPC 945 retails for about $290 CDN ($260 US, £142), making it a rather nice SFF barebones to build a system from.
Easy to Use, or a Royal Pain?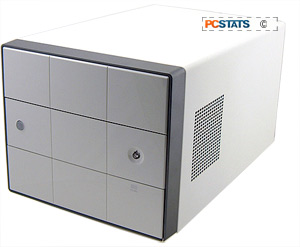 MSI has done an excellent job at designing the internals of the mPC 945 chassis - everything clicks together like clockwork, without the need to any tools. The system operates quietly for the most part, but during intense loads the fans do become increasingly audible. For tasks like watching a DVD or a downloaded movie, or listening to music the fans run pretty quiet.
The performance of the MSI MEGA mPC 945 system as tested was quite good in office oriented benchmarks, even with the Intel GMA950 videocard. In gaming benchmarks, the GMA950 is woefully underpowered and hardly useable. With a GeForce 7800GTX installed the system handles the games just as good as comparable Intel based motherboards.
The MSI MEGA mPC 945 definitely looks different from your average SFF PC. Thanks to this fresh approach we can see a whole host of possibilities for this system when married with a suitably competent videocard (preferably supporting HDMI or component output), and connected over the Gigabit ethernet or 802.11g wireless LAN... If you're looking for something simple and nice to look at, MSI really has come up with a solution worth your consideration.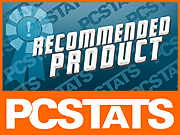 Find out about this and many other reviews by joining the Weekly PCstats.com Newsletter today! Catch all of PCSTATS latest reviews right here.
Related Articles
Here are a few other articles that you might enjoy as well...
- Shuttle XPC SN27P2 Small Formfactor Socket AM2 Barebones PC Review
- AOpen miniPC MP915-B Super Multi System Review
- Shuttle XPC SD11G5 Small Formfactor PC Review
- Canada Computers Content Creator X2 Workstation System Review
- Soltek EQ3501-300PW QBiC Mania SFF PC Review