As the word 'barebones' indicates, there are a few parts you'll need to supply to make the MSI mPC 945 into a complete computer. For starters, you'll need to pick up an socket 775 Intel Pentium D/4/EE processor, a SATA/IDE hard drive, an optical drive and at least 2GB of DDR-2 memory. Once you have everything installed into the MSI MEGA mPC 945, it's ready to rock and roll.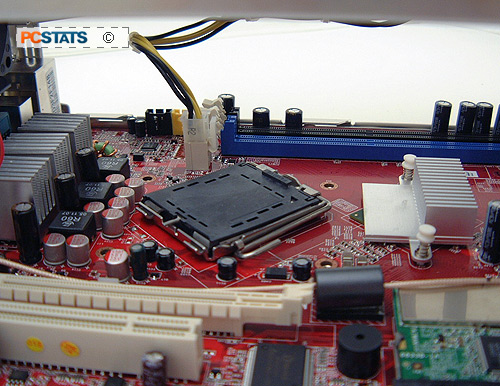 The inside of the MSI Mega mPC 945 small form factor system is well laid out so that one CPU heatsink cools the Intel 945G northbridge and motherboard MOSFETs and power circuitry. All power cables from the 260W power supply come pre-routed which is a nice touch.
In typical MSI fashion the user's manual for the Mega mPC 945 is full of good information; detailing how to instal the system, configure the BIOS, and find your way around the custom MSI MS-7196 motherboard. I think it would have been helpful if MSI had also included a larger fold out poster style quick installation guide. They tend to come in handy.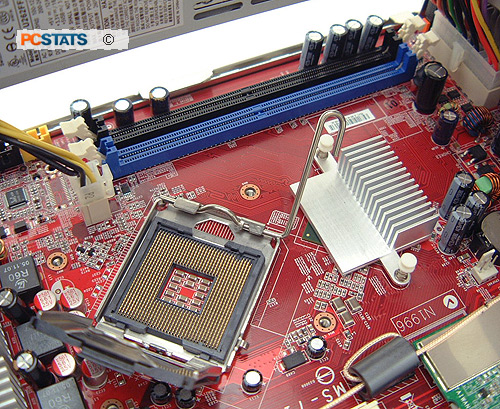 The MSI Mega mPC 945 small form factor comes with its own heatsink, the standard socket 775 heatsink will not fit properly due to the custom mounting mechanism and compact spaces inside the chassis. The Intel 945G chipset is passively cooled with a small aluminum heatsink that sits directly in front of the CPU fan.
Socket 775 socket pins are notoriously fragile but MSI does its part to make CPU installation easier by including a useful CPU installation tool. Only the the supplied heatsink can be used with the mPC 945 system, and once the HDD and ODD drive bay is swung up there is plenty of space to work with inside the case. The rest of the chassis is basically tool free, and it's super easy to get in under the hood, install the ODD/HDDs, or lock the expansion cards in place. A screwdriver is required for installing the special socket 775 heatsink.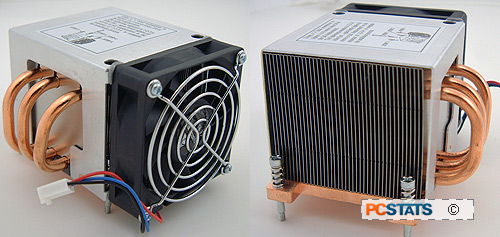 The custom heatsink that MSI includes with the mPC 945 has a thick copper base and three copper heatpipes to help distribute the heat from the processor the cooling fins. A 60mm fan with a wire fan guard blow air through these fins toward the rear of the PC chassis. At the very back, an 80mm fan exhausts this air out of the case so acceptable temperatures are maintained.
Inside the MSI Mega mPC 945 system you'll find that most important headers and connectors are located along the outer edges of the motherboard. This is done so you can reach the jumpers and headers you need to without half disassembling the entire SFF PC. Little touches like this are definitely appreciated.