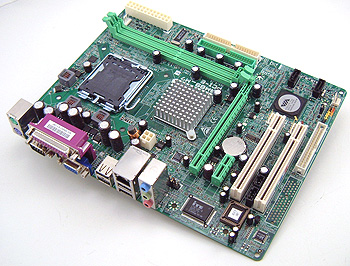 The entry level market is often neglected by the online computer community but it's the largest and most lucrative market for manufacturers. In general Intel rules this house, and given what we have seen from the Intel Core 2 Duo processor and the single channel memory controller equipped VIA P4M890 and VIA VT8237R+ chipsets you'll definitely want to check out what Biostar has done here.
For just $53 CDN ($46, £23 GBP), you get the tiny Biostar P4M890-M7 motherboard that's compatible with the most advanced Intel Core 2 Duo processors and it comes with an integrated VIA UniChrome Pro videocard too. The basic essentials like sound, 10/100 networking, SATA I RAID, IDE, USB and all the rest are covered too.
What's surprising is that with just a few more basic essentials you can put together a very low cost PC that's still powerful enough for most office and workstation applications.
The Biostar P4M890-M7 motherboard is fairly easy to work with even for novice users. The user's manual does a decent job at describing the headers and basic rundown on how to install and set up your new hardware.
Keeping in mind the intended audience, we certainly didn't expect much from the Biostar P4M890-M7 motherboard in terms of performance, but as you've seen that impression is quite wrong. Even with the single channel memory controller and DDR2 memory running at 533 MHz, the P4M890-M7 motherboard and an Intel Core 2 Duo E6600 processor performed quite well in the benchmark tests. It was the slowest Intel Core 2 Duo motherboard in the roundup, there's no getting around that, however it was still faster than the Intel Pentium D and AMD Athlon64 systems...
The Biostar P4M890-M7 motherboard was decent at overclocking, hitting 336 MHz FSB from a stock 266 MHz. You'll also be happy to hear that the VIA P4M890 and VT8237R+ chipsets do not generate much heat so passive cooling is all that is required.
If you're in the market for an incredibly inexpensive basic entry level computer, or the components to build one, definitely check out what the Biostar P4M890-M7 has to offer. It's not super fast, but with PCI Express expansion possibilities it has a lot of value to offer those looking for only the most essential features in a computer. Plus, as the benchmarks indicate it handles most workstation style applications satisfactorially.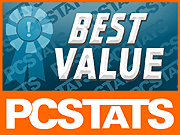 Related Articles
Here are a few other articles that you might enjoy as well...
- Albatron KI51PV-754 Mini-ITX Motherboard Review
- MSI P965 Platinum Intel Core 2 Duo Motherboard Review
- MSI 975X Platinum Motherboard Review
- Gigabyte GA-945PL-S3 945PL Express Motherboard Review
- Gigabyte GA-8I945GZME-RH 945GZ Express Motherboard Review