Overclocking Results: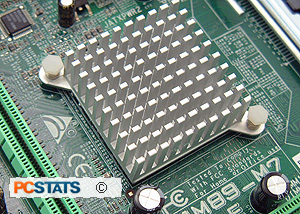 PCSTATS certainly didn't expect the Biostar P4M890-M7 motherboard to overclock like a batt out of hell, that's not what this board is made for. Entry level motherboards are made to work, so any overclocking you get after the fact is like a little bonus.
With a trusty Intel Core 2 Duo E6600 and 2GB of Corsair Twin2X2048-6400C4 memory installed, PCSTATS pushed the Biostar P4M890-M7 and its VIA P4M890 chipset, just to see what we could overclock things to. Results were pretty decent all things considered...
Starting at 266 MHz FSB the Biostar P4M890-M7 clock speed was slowly increased in 5 MHz increments. The motherboard actually handled this quite, and cracked 300 MHz without breaking a sweat. Ultimately though, the Biostar P4M890-M7 settled on an overclocked speed of 336 MHz. Anything higher and the system would start to become unstable.
An overclock to 366MHz is pretty good from a little Micro-ATX motherboard like this. Okay, enough of that, let's see what options Biostar give us in the BIOS.
Inside the BIOS Options: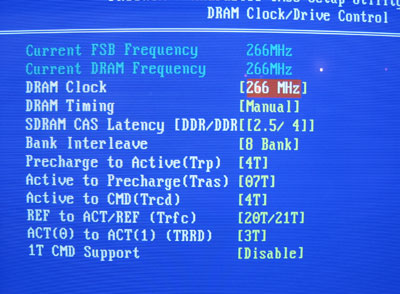 The VIA P4M890 chipset supports both DDR and DDR2 memory which is curiously why there are DDR timing options here. The Biostar P4M890-M7 motherboard only supports DDR2 memory so you'd want to use the CAS Latency value on the right. There are regular timing adjustments like Precharge to Active, Active to CMD and 1T CMD Support.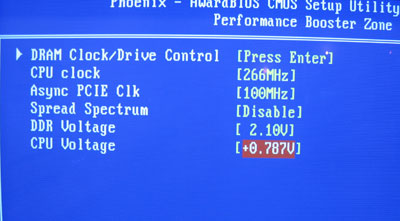 The processor FSB can be adjusted between 266-400 MHz in 1 MHz increments, the PCI Express frequency can also be adjusted but that's best left alone. DDR2 memory voltages rise as high as 2.1V, and CPU voltage can be increased 0.787V above stock.
Prelude to Benchmarks
The details of how the Biostar P4M890-M7 motherboard test system was configured for benchmarking, including the specific hardware, software drivers, operating system and benchmark versions are indicated below. In the second column are the general specs for the reference platforms this VIA P4M890 based system is to be compared against. Please take a moment to look over PCSTATS test system configurations before moving on to the individual benchmark results.

PCSTATS Test System Configurations