VIAs Intel Processor Platform Integrated Graphics Chipset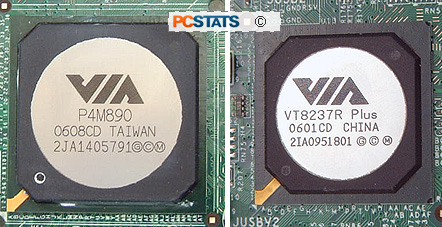 The VIA P4M890 is not a new chipset. As its name indicates, it was initially designed for the Intel Pentium 4 processor. Compatible with the Intel Core 2 Duo processor now, the VIA P4M890 chipset also supports the PCI Express architecture, comes with an integrated UniChrome Pro integrated graphics processor and supports both DDR and DDR2 memory. The Biostar P4M890-M7 motherboard only supports DDR-2 memory.
The VIA P4M890 chipset supports 533, 800 and 1066 MHz front side bus speeds. That means the chipset is compatible with Intel Celeron D, Pentium 4, Pentium D and Core 2 Duo processors.
VIA's StepUp memory controller supports DDR-400 memory as well as DDR2 up to the 533 MHz standard. The total memory capacity is 4GB. The memory controller only runs on a single channel which means the processor will be bandwidth limited, it'll only be an issue when running database type software or video games.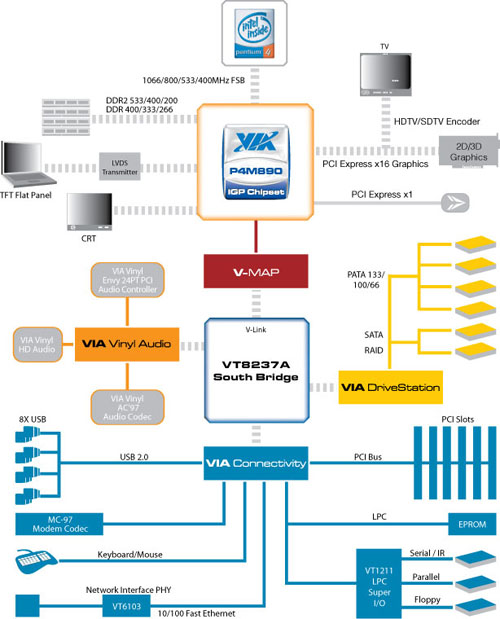 VIA UniChrome Pro IGP graphics core
The integrated VIA UniChrome Pro IGP supports both CRT and LCD monitors (the Biostar P4M890-M7 has an analog output) as well as standard definition TV and HDTV output. It's important to note that the UniChrome Pro is a DirectX 8 part and thus will not work with Microsoft's upcoming AeroGlass feature in Windows Vista.
VIAs 128-bit 2D/3D UniChrome Pro IGP features the Chromotion CE Video Display Engine and is capable of delivering Hi-Def experience up to 1080p resolution (a 1080p HDTV compatible TV-Out or DVI encoder chip is necessary). VIAs Chromotion CE Video Display Engine include integrated MPEG-2 decoding with reduced CPU-utilization, and rendering tools such as Adaptive De-Interlacing and Video Deblocking. The IGP adopts 64MB of memory from the system.
If you choose to install a more current DX10 videocard, the VIA P4M890 does support a single PCI Express x16 slot for standalone graphics cards. A new videocard is necessary to add full Windows Vista support to this board. There's also an open PCI Express x1 slot for high bandwidth devices as well.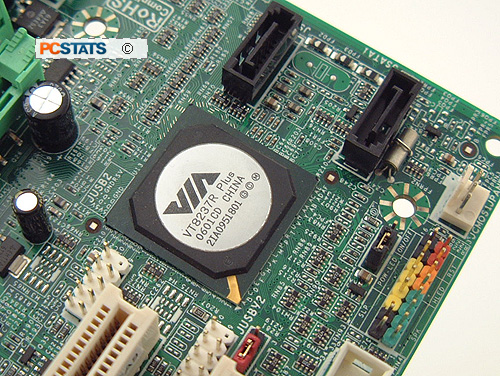 The VIA P4M890 chipset connects to the VT8237R+ Southbridge via a 533MB/s V-Link direct connection. The Southbridge supports a 5.1 channel AC'97 audio codec along with two Serial ATA RAID controllers and four parallel IDE ports. The Southbridge also supports six PCI bus mastering devices, a 10/100 MAC and eight USB 2.0 ports.
Feature wise the VIA VT8237R+ Southbridge is a bit dated, but it's got enough under the hood for workstation style PC's.
Next up PCSTATS will take a quick walk through of the board layout, and highlights.