DFI has brought the world of the super insane volt modding overclocker within reach of the average overclocker. Add a spec of good engineering, a touch of awesome voltage options, and a little of DFI's special magic and you have a platform that is killer fast right out of the box!
The latest gear from those tweakers at DFI is the LANPartyUT NF590 SLI-M2R/G motherboard, and it's looking like a real gem too. The Socket AM2 motherboard supports single and dual core AMD Athlon64, X2 and FX as well as budget Sempron processors. DFI have based the LanpartyUT NF590 SLI on nVIDIA's extremely competent nForce 590 SLI and MCP55PXE southbridge chipsets. The list of features reads like a must have novel for building a killer motherboard. The most important of which are dual Gigabit network cards, twin SLI compatible PCI Express x16 videocard slots, eight 3GB/s Serial ATA II ports (with RAID), six USB2.0 jacks at the rear I/O, an 8 channel Intel Azalia High Definition audio controller, Firewire, and much more. Every major "must have" feature for enthusiast grade motherboards is ticked off the list.
Of special note are the five fan headers available on the board itself, a Port 80 card, surface mounted reset and power on buttons, custom cooled VRM circuitry, nice low profile north and southbridge heatsinks, and half a dozen SATA headers set at right angles so the cables will stay well out of the way of pricy flagship videocards. And in the words of your favorite infomercial, "and that's not all..."
In terms of expansion the DFI LanpartyUT NF590 SLI-M2R/G can accommodate up to 8GB unbuffered non-ECC DDR2-800 memory (even though it says DDR2-667 in the manual). There are two PCI Express x16 slots for dual videocard loving, one PCI Express x8 slot for (perhaps..) nVIDIA's upcoming physics card and a PCI Express x4 slot for high bandwidth devices. There are three 32 bit PCI slots for legacy hardware, and finally, a nice friendly Silicon Image SiI3132 controller. The Sil3132 supports SATA port multiplier capabilities so you could potentially connect an additional ten hard drives to the computer. In all, the board has eight SATA2.0 jacks, and one IDE connector.
The DFI LANPartyUT NF590 SLI-M2R/G motherboard does not come cheap though, its retail price of $233 CDN ($206 US, £109 GBP) may scare a few people away. It's best to keep in mind that no other Socket AM2 motherboard on the market has as much overclocking potential as the DFI NF590 SLI-M2R/G does; if you want to push your system to the max, this is the board you've been looking for...

DFI LANPartyUT NF590 SLI-M2R/G Motherboard



Includes:

User's Manual, Quick Installation Guide, Rounded IDE Cable, Rounded Floppy Cable, Four Serial ATA Cables, One Molex to Two Serial ATA Power Cable, RAID Driver Diskette, Driver CD, I/O Shield, LANParty Sticker, SLI Bridge
The DFI LANPartyUT NF590 SLI-M2R/G is a full size ATX motherboard that weighs in with a footprint of 240 x 305 mm. It's recommended that you use an ATX2.0 spec power supply (native 24 pin) with an eight pin ESP12V connector. All modern high end power supplies support this connection, so if your PSU doesn't, it's a good time to upgrade.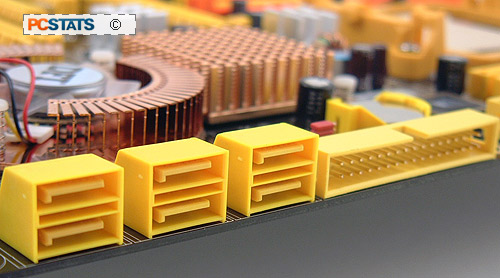 The layout of slots and connectors on the DFI LANPartyUT NF590 SLI-M2R/G motherboard is a little odd at first glance; the DDR-2 memory slots sit to the left of the CPU socket, the audio jacks are detachable, and the six SATA headers are parallel to the motherboard PCB.
DFI used this layout configuration with good success on its previous generation of Socket 939 motherboards. It it worked then, why mess around with a good formula when the architecture for socket AM2 is so similar?
The LANPartyUT NF590 SLI-M2R/G does a great job at positioning all major connectors on the right hand side of the PCB. From the power connector to floppy, IDE and Serial ATA ports, everything is easy to connect and the cables do not interfere with the other system devices.
I particularly like the way the six nVIDIA Southbridge Serial ATA II slots and floppy connector are aligned. This makes cable management a little easier, and directs the mass of wires away from increasingly longer videocards.
There is plenty of space around the AMD CPU socket to install large heatsinks, waterblocks or even a phase change cooler like the Mach II GT. If you the water cooling or phase change cooling route, keep in mind that board mounted components near the CPU will still require active cooling (like the large MOSFET heatsink to the right of the CPU socket). It's advisable to set up a small fan to blow air in this general direction.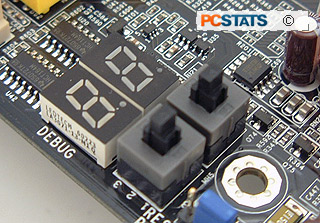 A glaring omission from the DFI LANPartyUT NF590 SLI-M2R/G is the lack of an external SATA jack... an essential port these days in our opinion. The board has every major port and connector covered; six USB 2.0 ports, an IEEE 1394a port, etc. It is fairly legacy free however, there are no serial ports, or parallel ports for things like older scanners and printers.
The onboard Port 80 card is a standard DFI feature, but hard reset and power buttons are nice touch. The Port 80 card displays two-digit alphanumeric codes that indicate where the computer might be encountering a problem during boot up, making troubleshooting a heavily overclocked computer much easier.
The DFI LANPartyUT NF590 SLI-M2R/G motherboard comes with a large heatsink on the nVidia MCP55PXE Southbridge and a passive heatsink on the nVidia C51XE Northbridge. Both thermal solutions are situated very close to each other, so that will be one of the hottest spots on the board automatically. PCSTATS recommends good case cooling for your system when using this DFI motherboard. Both BGA heatsinks are replaceable if a fancy after market chipset heatsink catches your fancy. Up next, nVidia's flagship AM2 chipset.