Intel is a rejuvenated company in 2007, its Core 2 Duo processors are sweeping the market and the company is clawing back lost market share from AMD in spades. While most of news has been focusing on the high end market, it's in the entry level arena that Intel is making the greatest headway. Here the performance to cost ratio is key, and Intel wins against AMD and company hands down.
The 965 Express series chipsets gives Intel something that it has been lacking for a couple of years; a versatile chipset that offers excellent performance for a low price. Add in a graphics capability and you have an excellent workstation chipset with plenty of power.

The Foxconn G9657MA-8KS2H motherboard is a prime example of what Foxconn can do. Based on the Intel G965 Express and ICH8R chipsets, the board supports all Socket 775 Intel CPUs from the Celeron D to the Pentium 4/D/XE, and of course Core 2 Duo.
The Intel G965 Express chipset operates with a 533/800/1066MHz Front Side Bus (FSB). It features 3GB/s SATA II RAID (0, 1, 5, 0+1) so you can hook up four SATA hard drives like the Western Digital WD740 Raptor together for data redundancy in RAID 1, or the pure speed of RAID 0. One port is devoted to eSATA devices at the rear I/O. A JMicron 'JMB361' controller brings an IDE and an extra SATA channel into the fold. On board memory is skewed for dual channel pairs of DDR-II RAM of course, and as much as 8GB of PC2-800/667/533 memory can be installed. PCSTATS will be using 2GB of Corsair Twin2X2048-6400C4 in the Foxconn G9657MA-8KS2H test system today, and with Microsoft Windows Vista installed you expect 1GB RAM the absolute minimum.
Off the shelf, the Foxconn G9657MA-8KS2H comes with the "-8KS2H" feature set; 8 for 8-channel High Definition 'Azalia' audio, K for dual Gigabit LAN, S for plenty of Serial ATA II hard drive support, 2 for DDR-2 and H because this slab of solder and circuits is RoHS compliant. A closer examination reveals five internal SATAII channels, one external (eSATA) jack for external data storage devices, eight 480Mbps USB2.0 ports (four at rear & four headers) and no Firewire support at all.
There is a good level of device integration built into the Foxconn G9657MA-8KS2H , with expansion possible via the PCI Express x16 slot for a stand alone videocard, the PCI Express x1 and two 32-bit PCI slots for legacy hardware. The G9657MA-8KS2H features the Intel G965 Express GMA3000 integrated videocard, so a PCI Express x16 videocard really isn't even required if all you intended on using the system for is Microsoft Office, the internet, or email. The Foxconn G9657MA-8KS2H retails for about $139 CDN ($118 US, £59 GBP).

Foxconn G9657MA-8KS2H Motherboard



Includes:

User's Manual, Driver CD, 2x IDE Cable, Floppy Cable, 2x Serial ATA Cables, 2x Molex to Serial ATA Power Cable, I/O Shield.
The Foxconn G9657MA-8KS2H motherboard is standard MicroATX size and at 24.3 x 24.3 cm will fit in pretty much any case out there. Despite the lack of real estate Foxconn did an excellent job with the layout of the motherboard. There's easy access to the memory slots as well as the various headers around the motherboard. The Intel G965 Express Northbridge and ICH8R Southbridge generate a fair amount of heat, that's why Foxconn places aluminum heatsinks on both.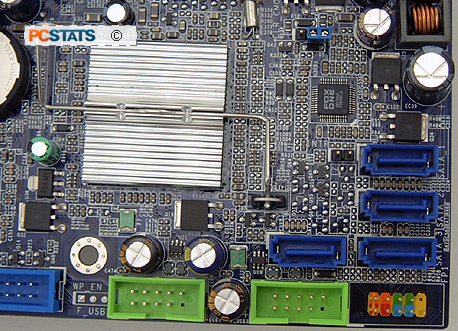 To ease installation headaches, ports and connectors and jacks on the Foxconn G9657MA-8KS2H are colour coordinated.
Memory DIMM slots are paired to indicate which are channel A, and which are channel B. Other bits and bobs like the USB 2.0 and IDE & SATA connectors are all in matching shades. The case front panel I/O connector pins are suitably labelled too.
Power Supply and Wattage Demands
Legacy ATX 1.4 spec power supplies (given away by a 20-pin main ATX power connector) will still work with the Foxconn G9657MA-8KS2H motherboard. Just make sure it has enough at least 30A+ capacity on the 12V line.
It's good practice to use an ATX 2.0 spec power supply (noted by the 24-pins of its main ATX connector) power supply, like the modular cable Seasonic M12 700W, or PC Power & Cooling's monster Turbo-Cool 510W Express/SLI. Either of these recommendations has the ESP12V connector. Most high end motherboards call for the EPS12V connector to deliver a stable and sufficient supply of power to the CPU, and realistically sooner or later legacy support for just a 4-pin auxiliary power connector is going to get dropped.
Foxconn's Fox One

Foxconn's 'Fox One' chip controls the fan speed and noise output of the G9657MA-8KS2H system, with an eye towards reducing noise as much as possible. It operates with a software program to provide WindowsXP-based system monitoring, overclocking, and even fan speed control.
The catch is that SmartFan mode must first be enabled in the BIOS. To turn SmartFan on press the Del key at system POST and go to the PC Health Status section in the G9657MA-8KS2H 's BIOS. There you will find the SmartFan options. All you need to do is make sure it is set to 'PWM mode'. If that is the case, SmartFan will automatically adjust the heatsink fan speed according to the temperature values you set. All stock Intel LGA775 heatsinks uses a Pulse Width Modulation (PWM) powered fan, but many after market heatsinks may not.
You can differentiate a PWM fan from the standard variety by the 4-pin fan power cable. Standard 12V DC computer fans will use either 2-pin or 3-pin fan power cables. The 3-pin connector is by far the most common as the third pin acts as an RPM sensor. The 4-pin PWM motherboard CPU fan header is backwards compatible with the 3-pin fan variety, but the extra controls PWM fans bring to the table are specific to that class of fan.
External eSATA Device Support
eSATAII (aka external Serial ATA) support is one of the most exciting features to pop on motherboards recently. When it comes to external mass storage, bandwidth has always been an issue, and Serial ATA makes even IEEE 1394b's 800Mbps bandwidth look paltry by comparison. An external SATA (eSATA) port is located at the rear I/O of the Foxconn G9657MA-8KS2H motherboard.
This connection uses a slightly modified SATA cable (not included), which is better suited to external connections. Standard internal Serial ATA cables are sufficient for internal connections, but SATA-IO governing body decided a while back that the external version should be a somewhat different format, thus creating the eSATA standard. eSATA enclosures for hard drives are widely available, and the great thing is that hard drives connected over this standard are just as fast as internal devices.
The connectors are hot swapable, so it makes adding and removing an massive external hard drive about as complex as pluging in a USB memory key. For anyone who as ever had to move Gig's of data over a USB cable, eSATA is simply awesome. Next up PCSTATS will be running through the basic features and capabilities of the Intel G965 Express chipset, and how it stacks up before diving into overclocking and plenty of office oriented and gaming benchmarks..