Abstract: Corsair's DOMINATOR Twin2X2048-9136C5D part is a 2GB dual channel memory kit, each module bing 1024MB in size. The Twin2X2048-9136C5D is rated to run at speeds up to DDR2-1142 MHz with 5-5-5-15 memory timings.


90% Rating:

Home > Reviews > Memory > Corsair Twin2X2048-9136C5D
Overclocking the DOMINATOR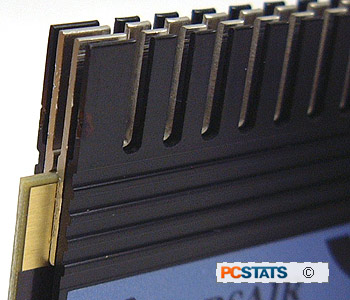 PCSTATS Test Methodology: On Intel Socket 775 test systems, we're only interested in seeing how high we can go with the DDR-2 memory running 1:1, as running with other dividers puts the overclocking bottleneck elsewhere and not with the system memory. The DDR2 RAM latency must run at its lowest possible setting, as quick access is more important to the CPU design.
Just for arguments sake, we will also be conducting overclocking tests to see how high the memory will go with lax timings (5-5-5-15), although we will only benchmark the system with the tight memory timings mentioned above. Let's get started!

Overclocking Results:
The Corsair DOMINATOR Twin2X2048-9136C5D is designed for high speeds, so we figured overclocking it at tight 4-4-4-12 memory timings would be appropriate. Starting at DDR2-800 speeds, the PC2-9136 memory was first set to run with a CAS latency of 4-4-4-12.
To our pleasant surprise, the Dominator memory had no problems running at such a quick pace. Things are certainly starting off well here...
The ECS PN2 SLI2+ nVIDIA nForce 680i motherboard used as our test platform today, enables adjustment of the memory clock speed without increasing the FSB. This is a handy feature sine it allows one to test the true affect of memory overclocking on the system.
Anyway, increasing the memory frequency in 40 MHz jumps (nVIDIA calculates things at bus speed level, so divide by 4 to get actual memory operating frequency) from a starting point of 800MHz, quickly made things interesting.
The Corsair DOMINATOR Twin2X2048-9136C5D easy cracked 900 MHz mark, and even reached 1000MHz with those tight 4-4-4-12 timings, however that required the memory voltage to be increased slightly to 2.0V.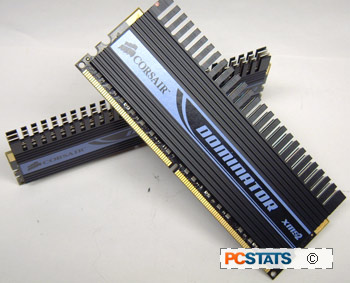 Since the Twin2X2048-9136C5D is designed for high speeds, we wrapped up low latency tests early when it reached a top speed of 1040 MHz.
Loosening up the memory timings to stock, which is 5-5-5-15, we started the overclocking process once again. This time around, we immediately jumped to 1142 MHz, and started our overclocking in earnest from this point.
The Corsair DOMINATOR Twin2X2048-9136C5D did 1142MHz without even breaking a sweat - it should after all, that is the stock setting. ;-)
The memory was then overclocked in 20 MHz intervals, reaching 1200 MHz with a slight voltage boost to 2.2V. At these speeds and temperatures, the DOMINATOR Twin2X2048-9136C5D memory heatsinks were downright hot to the touch.
If you plan on doing some hardcore overclocking, PCSTATS strongly recommends good case cooling or air blowing directly on the memory modules. The Corsair Dominator Fan is certainly a great tool for this.
In the end, the maximum speed we were able to achieve with the Corsair DOMINATOR Twin2X2048-9136C5D memory kit was a mind blowing speed of 1240 MHz. Anything higher than this caused the motherboard's Port 80 diagnostics card to spit out a C1 error. A speed of 1240 MHz with CAS Latency of 5-5-5-15 is pretty darn fast, just check out what it does in the benchmarks!