PCSTATS has certainly seen memory evolve quite a bit over the years. Putting all the speed changes and latency improvements aside, heatsinks for memory have changed from fluffy marketing props to actual necessity. Initially, memory heat spreaders were added for cosmetic reasons, to sell more memory. Since the emergence of DDR2 memory, and now domination by it, memory heatspreaders have become standard equipment on all performance grade RAM modules in the market.
As memory technologies have advanced, heat output increased in step. For quite a while though, most manufacturers were using heatspreaders originally designed for high speed SDRAM or DDR RAM, not DDR2. The BGA DRAM modules that are DDR2 DRAM, disperse heat in different ways, and the old 'slap some double sided tape and a thin strip of aluminum' method is quickly becoming insufficient.
Enthusiast overclockers know well that dealing with the heat memory modules produce can make a big difference, dealing with it correctly will allow the memory to reach top speeds... failing to will only lead to instability. Up until now, the typical remedy to overheating overclocked memory has been increased airflow. For some, pointing an 80mm fan directly at the system memory does the trick. Unfortunately these kinds of Band-Aid fixes aren't addressing the fundamental flaw in the majority of RAM heatspreaders on the market.
Corsair's DOMINATOR Twin2X2048-9136C5D memory takes a very bold step in the right direction by ditching the old stick on RAM heatspreaders and going with a fresh approach. Corsair redesigned the memory thermal solution by redesigning the memory module itself. We'll get to what Corsair has done in a bit, first here are some specs on the high performance Dominator Twin2X2048-9136C5D memory that is really the star of the show.

Corsair DOMINATOR Twin2X2048-9136C5D
RAM Memory Type: DDR2-1142 / PC2-9136
Individual Module Capacity: 1024MB
Native Speed & Latency: 1142 MHz @ CAS 5-5-5-15 (on nForce 680i)
Enhanced Performance Profiles (EPP): Yes
Corsair's DOMINATOR Twin2X2048-9136C5D part is a 2GB dual channel memory kit, each module bing 1024MB in size. The Twin2X2048-9136C5D is rated to run at speeds up to DDR2-1142 MHz with 5-5-5-15 memory timings - that's very quick. The memory supports nVidia's Enhanced Performance Profiles (EPP) and really designed with nVIDIA nForce 680i based motherboards in particular. Now that's not to say these DDR2-1142 modules will not work with other platforms, it's just that the nForce 680i offers overclockers the best chance to hit those high speeds.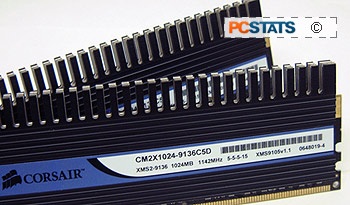 With a retail price of $530 CDN ($459 US, £234 GBP) for this 2GB kit of DDR2-1142 memory, only extreme computer users need apply.
The first thing you'll notice when looking at the Corsair DOMINATOR Twin2X2048-9136C5D memory is how tall the modules are. At 50mm, it's a good idea to double check that the area around the DDR2 DIMM slots on your motherboard is clear of obstructions (overhanging CPU heatsinks being the most likely issue).
Also, you'll need to use caution when installing other devices to make sure you do not knock the memory modules around as that could damage the memory and motherboard.
The aluminum heatsinks on the Dominator are bonded to the DRAM with a liquid adhesive, and cannot be removed without damaging the memory permanently... so don't try. Next up, PCSTATS examines the thermal solution on this memory, and explains why it may help you overclock faster...