High end gaming is a difficult terrain to navigate through, mainly because there are just so many choices.... Pick the wrong piece of hardware and boom, your whole system is obsolete the minute you pay for the parts! Choose your hardware components wisely and your computers' future will be bright and long lived.... although there is certainly no such thing as a future proof PC anymore.
First on your list of "the right hardware" should be an Intel Core 2 Duo processor. Right now, it trumps the competition in raw performance processing. However, Intel's weak spot has always been the high end gaming market - videocards are not something Intel does well. While ATi has given its blessings to run CrossFire on the Intel 975X and P965 Express chipsets, it is nVIDIA's SLI that really gets gammers hearts pumping. Since its release, PCSTATS has tested the best and brightest SLI videocard setups, but we've yet to see even a single pair of Crossfire videocards.
With the merger of AMD and ATi, it will only be a matter of time before the cosy relationship between AMD and nVIDIA cools off to the point it ices over. The flagship nVidia nForce 680i chipset is a good first snub in fact.

In this review PCSTATS is testing out an Intel motherboard based on an nVidia chipset slightly older than the nForce 680i, but it's still wickedly fast. The Asus P5N32-SLI Premium is an nVIDIA nForce 590 SLI Intel Edition motherboard.
The nForce 590 SLI Intel Edition chipset supports all Socket 775 processors from the lowly Celeron D to the Pentium 4/D/XE and of course Intel's flagship Core 2 Duo/Quad/Extreme Edition CPU (FSB 533/800/1066MHz). The motherboard's four DDR2 memory slots accommodate up to 8GB of DDR2-800/667/533 memory. There are two PCI Express x16 slots for SLI compatible videocards, and one additional PCI Express x16 slot (operates at PCI Express x8 speeds) for nVIDIA's upcoming Physics accelerator. The two SLI videocard slots operate with a full 16 PCI Express lanes apiece.
Rattling off the standard features we find six 3GB/s SATA II channels which offer RAID, dual Gigabit networking jacks, a stand alone ADI 1988B high definition Intel Azalia 8-channel audio card, IEEE 1394a Firewire, plenty of USB2.0, one IDE controller (for optical drives), an additional Silicon Image SiI3132 Serial ATA II RAID controller (at the rear I/O for eSATA support) and no less than an onboard 802.11g/b 54Mbps wireless networking LAN!

Asus P5N32-SLI Premium Motherboard



Includes:

User's Manual, Driver DVD, WinDVD Suite Enhanced CD, PCI Express x1 Soundcard, Microphone, 1x Ultra/133 IDE Cable, 1x Floppy Cable, 6x Serial ATA Cables, 3x Dual Serial ATA to Molex Power Cables, Heatsink Fan, 3x Transistors, Zip Ties, Asus Q Connector, USB Bracket, IEEE 1394 Bracket, Key Chain
With a long list of integrated peripherals already, the Asus P5N32-SLI Premium motherboard still has plenty of expansion to offer. Apart from the three PCI Express x16 slots (two at x16 mode, the other x8) there is one PCI Express x1 slot for higher bandwidth devices, and two 32-bit PCI slots for legacy expansion cards. There are eight USB 2.0 slots in total, four supported natively through the rear I/O and two through motherboard headers. The board comes with one Firewire and one USB bracket. Around back, we find two eSATA ports for external storage requirements - very handy indeed!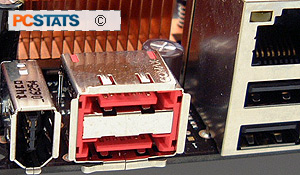 At $250 CDN ($230 US, £116 GBP) for the Asus P5N32-SLI Premium, this motherboard is priced towards the premium side of the scale, but it's also one of the best equipped Socket 775 motherboards available anywhere.
The Asus P5N32-SLI Premium motherboard is certainly a looker, and one of the fanciest motherboards we've seen in quite some time. The P5N32-SLI Premium comes in with a footprint of 305 x 245mm, and it's also quite heavy at a hair just over 950grams!
The layout of the Asus P5N32-SLI Premium is quite nice, and I think enthusiasts will have an easy time working with this platform. Asus place all major connectors on the right hand side of the PCB (IDE, floppy, 24 pin ATX power and Serial ATA channels) which makes cable management a breeze. I particularly like how Asus places all six Serial ATA headers at the edge of the PCB, with a block of right angle sockets.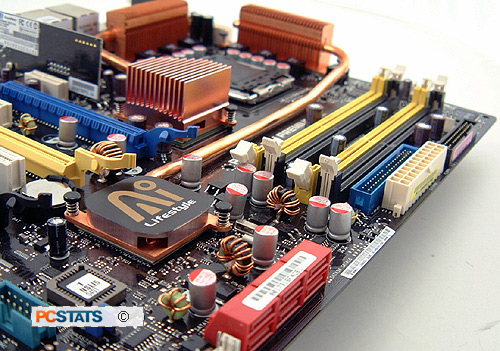 The nVIDIA nForce 590 SLI Intel Edition chipset can get quite hot which is why Asus equips the P5N32-SLI Premium motherboard with an elaborate heatpipe cooling system. Another nice feature is Asus' header plug adapters. It simplifies connecting front panel USB, IEEE 1394 and I/O connectors from the chassis.
Asus does a good job at including everything you'll need to take advantage of the onboard goodies. From the USB/IEEE 1394 header brackets, to the six Serial ATA cables and an ultra flexible SLI bridge connector, you have every cable you need to take advantage of what the P5N32-SLI features. Furthermore, there is a stand alone audio card, two auxiliary cooling fans, a stereo desktop microphone, 802.11g/b dipole antenna and two instruction manuals.
If you're a novice/newbie enthusiast, you've picked a good motherboard to start on. The Asus P5N32-SLI Premium motherboard comes with an excellent user's manual and we were particularly impressed with the separate WiFi AP Solo 3in1 Wireless LAN adapter guide. Everything is written in easy to understand English and will help if you happen to get stuck.
The Asus P5N32-SLI Premium motherboard is compatible with older ATX 1.4 spec power supplies but if you plan on running a high end system an ATX power supply that adheres to the 2.0 specification (24 pin main connector) is definitely recommended. Asus suggests a 550W power supply, we say you should look past the overall wattage value and pick out something that delivers 35-40 amps on the 12V line. Up next, a closer look at some of the many accessories that ship with the Asus P5N32-SLI Premium motherboard.