Abstract: DDR2 memory has come a long way from its humble beginnings as just a few DRAM chips on a sliver of green PCB. Now, memory isn't memory unless it has extravagant cooling systems and reaches insane clock speeds.


89% Rating:

Home > Reviews > Memory > Corsair DOMINATOR Twin2X2048-8888C4DF
DOMINATOR Memory and Fan Highlights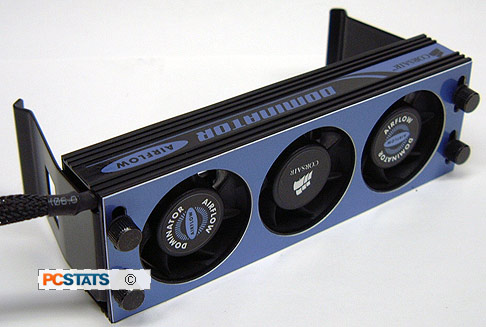 The clips are held in place with thumb screws, which when loosened allow some adjustment in the direction of airflow on the memory below. In practice, the 8-9mm of movement is negligible.
Each of the three 40x40x20mm fans is firmly screwed in place along the bottom metal part of the fan frame. The body of the frame is made of anodized aluminum, the legs of powder coated steel.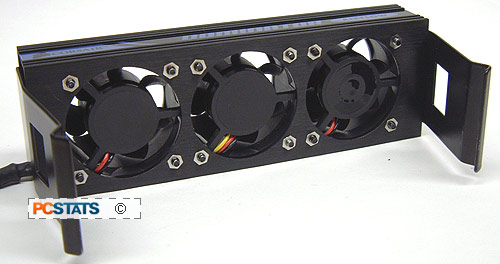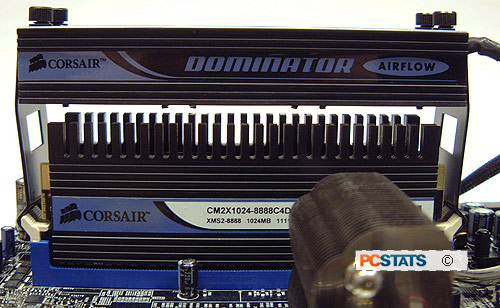 The Dominator fan stands 86mm above the surface of the motherboard when installed on the memory sockets. The actual unit is about 74mm tall, including the legs. Each Dominator memory module is 52mm tall, the heatsink being 46mm x 126mm, and 5.5mm thick. There is about 7mm of space between the top of the Dominator memory module cooling fins and the bottom of the fan frame. It stands 26mm above a standard memory module, so there is plenty of clearance no matter what kind of RAM is installed.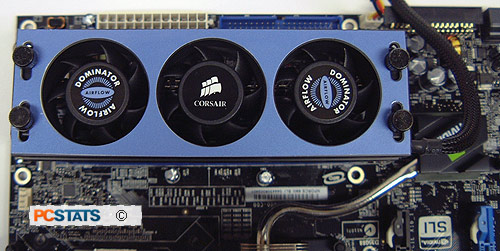 The Dominator clip on fan frame good 46mm wide and 145mm long. The thumb screws on either side are for adjusting the clip position. Power is supplied via any 3-pin fan header on the motherboard.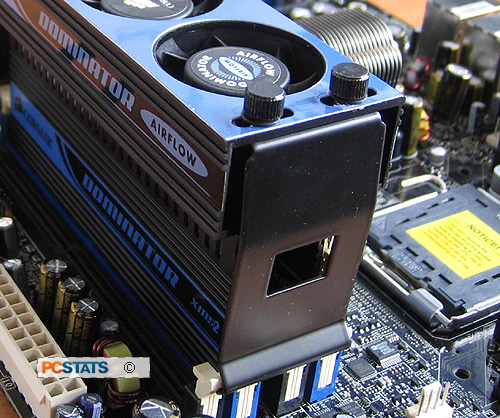 A word of advice, don't attempt to unscrew the clips with the fan unit installed, it can easily slip off the memory slot and come crashing down on the motherboard PCB below.