DDR2 memory has come a long way from its humble beginnings as just a few DRAM chips on a sliver of green PCB. Now, memory isn't memory unless it has extravagant cooling systems, DRAM capable of reaching insane clock speeds, and voltage levels which breatk all JDEC standards. Corsair is a pioneer in this area, and much of this companies attention as been focused on high end DDR2 for the serious computer enthusiast.
Corsair has up'd the ante with its new DOMINATOR Twin2X2048-8888C4DF memory. Not only does Corsair increase the stock voltage for this set of memory to 2.4V, it also utilizes a fancy-pants external fan system to keep the modules from spontaneously combustion (they wouldn't actually do that...). Corsair's new DHX heatsinks and the DOMINATOR Airflow fan are the talk of the town.
This marks the first time a company is advising its customers to actively cool certain memory modules. Whether it's a marketing ploy or a necessity for overclockers only, a new boundary has just been crossed... and we like it!
The 2GB Corsair DOMINATOR Twin2X2048-8888C4DF kit tries to offer enthusiast the best of all worlds; these bad boys haverelatively low 4-4-4-12 CAS latency, and a high 1111 MHz operating frequency. At 2GB in total size (1024MB per DIMM) you also know that you're covered fully for high end games and Microsoft's Windows Vista operating system. With a retail price of $717 CDN ($610 US, £313 GBP) for the pair, we need to underscore that this killer fast memory is best suited to super computer enthusiasts with equally tuned PCs to match! If you've got a Dell... dude, just keep on walking.

Corsair DOMINATOR Twin2X2048-8888C4DF DDR2 Memory
RAM Memory Type: DDR2-1111 / PC2-8888
Individual Module Capacity: 1024MB
Native Speed & Latency: 1111 MHz @ CAS 4-4-4-12
Enhanced Performance Profiles (EPP): Yes
The Corsair DOMINATOR Twin2X2048-8888C4DF memory modules are all, standing 50mm in fact. For some cases or nearby heatsinks this may cause interference issues, to measure first, buy once.
PCSTATS also advises a little measured caution when installing other devices, knocking one of the DOMINATOR modules around is pretty easy because of the height, so take things slow and careful. The Corsair DOMINATOR memory comes with a three year warranty.
Corsair's newly designed memory and heatsink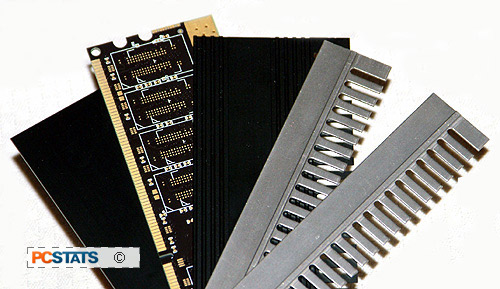 Each of Corsair DOMINATOR Twin2X2048-8888C4DF memory modules is cooled by four individual aluminum heat spreaders that act as one.
The two large black heatsinks come in contact with the DDR2 BGA memory modules like conventional heat spreaders do, and these are attached with a strong thermal adhesive.
There is no way to remove any of the heatsinks on this memory without damage, so don't try. In addition, the real trick with the DOMINATOR are its two smaller silver heat spreaders which conduct heat from the PCB itself.
With the way BGA chips are designed, most of the heat generated in the DRAM actually travels through the solder balls at the bottom and into the PCB. With that in mind, Corsair has redesigned the DOMINATOR PCB for board level thermal management.
Basically copper trace lines conduct heat via thermal vias to a large gold section along the top of the module, which comes in contact with two small aluminum heatsinks (one on either side). These heatsinks draw the excess heat away from the PCB for more efficient cooling of the memory modules, and circuit board.

Corsair's redesign does a much better job at keeping DDR2 memory cool than conventional designs. A lot of memory manufacturers have been gloating about their cooling systems, but this is the only one to actually address the issue of memory module heat. Great job here, the Dominator Twin2X2048-8888C4DF truly has a cooling system that is a cut above the rest.

Corsair's Dominator fan frame can be attached to any motherboard with DDR2 or DDR slots. It works on as little as two memory slots, but four is really the ideal number.
To further improve the cooling ability of its memory, Corsair bundles (or sells separately) the DOMINATOR Airflow fan bracket. Equipped with three 40mm fans, this little aluminum device clips onto four memory sockets and blows air directly down onto the DOMINATOR memory heatsinks. During testing the Airflow fan bracket generated little to no noise.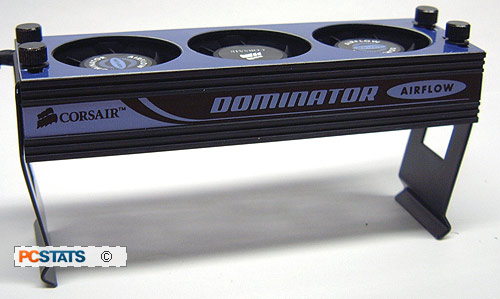 The Corsair Dominator Fan frame cools up to four memory modules below with a steady stream of quiet airflow.
The Corsair DOMINATOR Airflow cooler looks strikingly similar to a set up we were using a few years ago. ;-) Back then I modified a 5-1/4" drive bay cooler to clip onto the memory slots for additional cooling of DDR memory. DDR memory can get hot when running 280+ MHz and with 3.8V+. :) Have a look at this custom device in PCSTATS' AMD Athlon64 3700+ overclocking article.
Up next, a few glossy shots of the DOMINATOR memory, and its' custom fan bracket showing how it is used on the motherboard.