Abstract: DDR2 memory has come a long way from its humble beginnings as just a few DRAM chips on a sliver of green PCB. Now, memory isn't memory unless it has extravagant cooling systems and reaches insane clock speeds.


89% Rating:

Home > Reviews > Memory > Corsair DOMINATOR Twin2X2048-8888C4DF
EPP, Enhanced Performance Profiles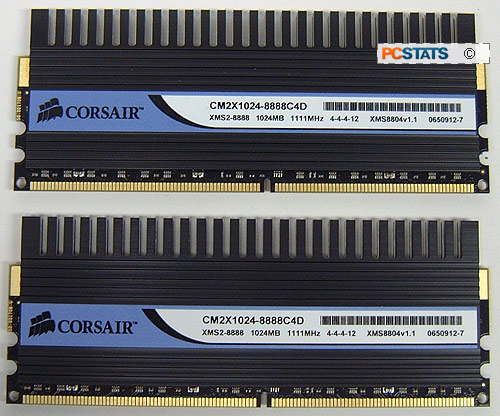 Enhanced Performance Profiles take over from where the Serial Presence Detect (SPD) EEPROM that is on every stick of memory leaves off, and adds extra information about how much faster the memory can run while remaining completely stable.
The EPP information permits compatible motherboard chipsets and BIOS' to dynamically adjust memory timings and voltages for improved overall performance without any user interaction. If you're an expert overclocker EPP provides a jumping off point, if you're a novice it does all the hard work for you automatically.
With automatic motherboard overclocking already a hit in the retail market, Enhanced Performance Profiles compatibility adds memory tuning to the performance mix. At the moment EPP memory is only compatible with the nVIDIA nForce 590 SLI or higher chipsets, but VIA and Intel are expected to follow suit the idea is being proposed to JEDEC as an open standard. We expect all chipset manufacturers will adopt EPP memory support in the BIOS for high end products soon.
Trouble in DOMINATOR Land?
We always mention Corsair's customer service, and when testing its DOMINATOR Twin2X2048-8888C4DF RAM we certainly needed assistance... During the initial round of overclocking tests, for some reason the DOMINATOR Twin2X2048-8888C4DF would not play nicely with the test motherboard, an ECS PN2 SLI2+ running on the nVidia nForce 680i chipset.
The specific issue we witnessed was that the memory did not like being installed in the first and third DDR-2 DIMM slots. In those positions the system would become very unstable and wouldn't even reach the memory's stock DDR2-1111 speed. Very weird, so we called up Corsair tech support to see if they could suggest a fix.
We spoke to the same general Corsair tech support personnel any consumer would reach. Corsair tech support asked me a few general questions about system configuration, BIOS settings, device voltages and such. Immediately it was suggested that the ECS PN2 SLI+ nVIDIA nForce 680i motherboard was the cause of the problems... and we were given a mini lecture about overclocking with 'entry level' parts.
After a moment, I mentioned that the ECS PN2 SLI2+ wasn't actually produced by ECS, it's one of the "Designed by nVIDIA" motherboards floating around. (For those in doubt, the ECS PN2 SLI2+ is one of the fastest Intel Core 2 Duo motherboards we've tested.)
Motherboards aside, Corsair tech support gave us some helpful suggestions; update the board's BIOS to the latest version, test with a single stick of DOMINATOR memory to see if one stick of memory is bad, and massage certain memory timings. Overall the experience was satisfactory, I'm not sure if telling a customer that their hardware is lousy is the right way to go, but we were able to get the Corsair DOMINATOR Twin2X2048-8888C4DF memory working. Having a toll free 1-800 technical support number is also handy, other manufacturers could learn from Corsair's lead here.
The Fix: A BIOS Update
In the end it all came down to the beta BIOS on the board, and a recent BIOS revision from ECS fixed everything. Memory compatibility is often a forgotten issue in this day and age, but it definitely reared its ugly head when we were testing the Corsair DOMINATOR Twin2X2048-8888C4DF memory. After flashing the ECS PN2 SLI2+ motherboard with BIOS revision P25, all the issues we experienced were resolved. The DOMINATOR memory had no problems running in DIMM slots 1 & 3 or with lax memory timings.
Of course, the new BIOS did not allow the DOMINATOR memory to overclock any higher but it certainly improved compatibility between the Corsair memory and ECS PN2 SLI2+ motherboard. Since there are quite a few manufacturers using the "Designed by nVIDIA" motherboard, if you're using one you'd be well served by updating your BIOS now. You can see PCSTATS Beginners Guide to BIOS updates for tips and advice on how to do just this. Enthusiasts who have adopted the nForce 680i probably will dabble with many different types of memory, flashing your motherboard now can save a lot of potential headaches in the future!
Up next, overclocking the DOMINATOR memory into the stratosphere!