Let's be frank. The question isn't whether AMD or Intel are leading the charge, it's nVIDIA. For the last couple of years anyway, the graphics boys in Santa Carla have shown the PC world how to make a good chipset and a feature packed motherboard. For end users like you and me, well, we've been treated to features that at one time were solely left for the workstation and server markets.
The pace of change has certainly been frantic, thanks in great spades to Intel's Core 2 Duo processor. AMD started off with a great 64-bit bang, but Socket 775 is where all the action is now. The flagship nVidia nForce 680i chipset extends the performance and feature lead over Intel's best core logic, right where the nForce 590 SLI Intel Edition left off.
The nForce 680i SLI supports technologies like nVIDIA SLI, FirstPacket, Enhanced Performance Profiles, and DualNet. Whether you fully take advantage of these features or not, it's still nice to have the options available. Top things off with overclocking software like nVidia nTune, boards based on the nForce chipset have the potential to drive computer enthusiasts into a frenzy. For the moment at least, it will be the enthusiast who adopts the 680i chipset, and being "overclocker friendly" certainly helps.
The ECS PN2 SLI2+ is one the many "Designed by nVIDIA" motherboards hitting the streets. It is based on the nVidia nForce 680i SPP and nForce 680i MCP chipsets. Compared to the previous high end nVIDIA nForce 590 Intel Edition chipset, the nForce 680i SLI really only officially supports a higher FSB (up to 1333 MHz by default). According to nVIDIA documentation, another improvement with the the nForce 680i SLI is that it will support overclocking better than the previous chipset, important if you're going to be targeting mainly enthusiasts. Other than this one major change, the nForce 680i SLI and nForce 590 SLI Intel Edition hold nearly identical feature sets.

ECS PN2 SLI2+ Motherboard



Includes:

User's Manual, Driver CD, Hardware Installation Guidebook, (2) Ultra/133 IDE Cables, Floppy Cable, (4) Serial ATA Cables, I/O Shield, BIOS backup, 3.5" Front Panel, Parallel port bracket, eSATA bracket, USB/firewire bracket, 6-foot Ethernet crossover cable, SATA power splitter.
Standard features on the ECS PN2 SLI2+ motherboard include six Serial ATA II channels with nVIDIA's MediaShield technology (RAID 0,1,0+1,5,JBOD with NCQ), dual Gigabit network cards which support nVidia FirstPacket and Dualnet technologies and a 7.1 channel High Definition Azalia audio controller. To top things off, the board has a 400Mbps IEEE 1394a Firewire controller and silent passive chipset cooling system. There are four DDR2 memory slots which can accommodate up to 8GB of DDR2-800 memory, and "SLI-Ready" memory rated up to 1200 MHz. The 680i SLI chipset naturally supports dual PCI Express x16 videocards in SLI, with a full 16 PCI Express lanes each (the third PCI Express x16 slot is capped at x8). We'll get to the full peripheral expansion options in a moment.
The ECS PN2 SLI2+ motherboard supports every Socket 775 Intel processor on the street; from the lowly Celeron D to the Pentium 4/D/XE and Intel Core 2 Duo or Core 2 Quad processors. Given the PN2 SLI2+'s Front Side Bus speed ranges from 533/800/1066 to 1333 MHz, it is most certainly geared towards the quad core processor family. The ECS PN2 SLI2+ motherboard comes with a small mountain of extras in the box (pictured below), and for this you can expect to pay $271 CDN ($230 US, £116 GBP) at your local online computer store. This motherboard supports Microsoft Windows XP 32-bit and 64-bit versions, and Windows Vista.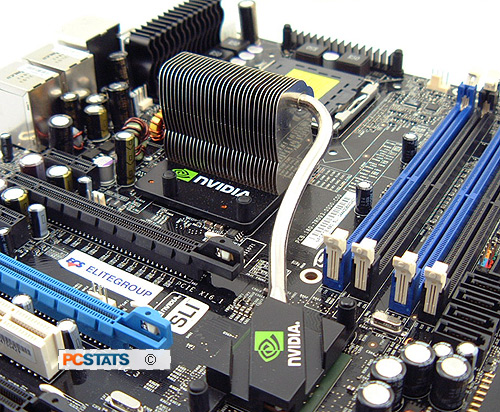 Both the nForce 680i SPP and MCP are cooled by a large aluminum heatsink that's on the Northbridge. A small fan comes with the ECS PN2 SLI+ motherboard, it fits onto the heatsink here to blow through the fins when necessary.
The ECS PN2 SLI2+ motherboard is a pretty busy slab of PCB, but just about everything you need to build a powerful computer is there right from the start; network, RAID, audio, USB.20/Firewire... it's all there. The board layout is good for the most part, but there are a few areas where big fingers won't go easily. Alternatively, little things like having the PCI Express x16 slot locks on the back side of the card make removing bulky 2-slot wide videocards a breeze.
Just try that with a 2-slot wide videocard when the lock is on the opposite side! The Serial ATA II, lone IDE and floppy connectors, main 24 pin ATX power connector (and auxiliary 4-pin molex too) are all located along the leading edge of the board to the right of the DDR2 memory slots. It's a good out of the way place for cables to go.
Two of the SATA II slots are mounted at 90degrees to the board, while the four remaining are set rather close to the DDR-2 slots which is not entirely ideal in our opinion. With an IDE cable, and that molex power cable hooked up, things get rather tight.
Now, with three PCI Express x16 slots, you've got to be wondering what kind of videocard powerhouse this board would make. That's up next....