When it was introduced, Serial ATA was a quantum leap over the parallel IDE architecture. Today IDE is clinging on by one last thread, and I'm sure most computer users won't shed a tear when it is finally dropped for good. Aside from the overall convenience of Serial ATA (small connectors, easy to hook up, faster data speeds), it also supports a whole host of useful features like Native Command Queing, hot swapping and even native external drives... not to mention port multipliers. With multiple levels of RAID integrated in virtually every Serial ATA controller hitting the streets, there really is no excuse not to set up a RAID 1 array in your PC and insulate your data from loss. Trust PCSTATS, it's worth the extra hard drive.
If it were not for optical drive manufacturers "dragging their feet", the move towards Serial ATA would already have been done... but that's a story for another day. Serial ATA is the defacto storage standard for years to come, and it's great to see motherboard manufacturers openly embrace it by plunking down forests of SATA jacks. Now whether you're looking for a budget or high end motherboard, chances are good that the Southbridge's Serial ATA ports have been supplemented with third party versions.
The fact that the ABIT AB9 Pro motherboard has ten Serial ATA ports is probably the first thing you've noticed. There's no mistaking those dark red Serial ATA II ports, nine of them spaced all over the motherboard, one eSATA type at the rear. Since we're dealing with the Intel ICH8R southbridge, SATA RAID 0/1/5/10/JBOD is standard. Of course there's more to the AB9 Pro than just Serial ATA, this Socket 775 Intel P965 Express based motherboard has a lot going for it.

ABIT AB9 Pro Motherboard



Includes:

User's Manual, Installation Guide, 4x Serial ATA II cables, Ultra/133 IDE Cable, Floppy Cable, 2x eSATA brackets, 2x External Serial ATA Cables, 2x External Molex power cable.
From the top of the list, gamers will appreciate a full ten USB 2.0 slots (four on the rear I/O, six through headers), dual PCI Express-based GigABIT network jacks, two IEEE 1394a ports, a port 80 card for overclocking trouble shooting, a totally silent chipset cooling solution, and of course the ever present 7.1 channel High Definition Audio. The AB9 Pro motherboard boasts support for all Socket 775 processors from Intel's Celeron D right through to the Core 2 Duo/Quad (1066/800/533MHz inclusive). The boards' four DDR2 memory slots will accommodate up to 8GB of DDR2-800 memory, and if you plan on running Windows Vista Ultimate you had better install at least 2GB from the start. This set of SuperTalent T1000UX2G4 memory is a good cost-effective option.
Peripheral support comes care of two PCI Express x1 slots for high bandwidth expansion, and two 32 bit PCI slots for legacy devices. The ABIT AB9 Pro has one PCI Express x16 slot for a videocard, and retails for a moderate $179 CDN ($152 US, £78 GBP). Oh, there is one IDE connection for optical drives and the like too.
The ABIT AB9 Pro uses a rather distinctive layout, so at first glance some connectors look haphazardly placed. In practice the board is pretty easy to hook up, and where connectors look out of place there is actually extra room to accommodate them - the SATA connectors are a good example. The AB9 Pro has no less than six fan headers strategically located around the PCB, with at least one 4-pin PWM connection for the CPU fan heatsink. The board uses Rubycon electrolytic capacitors.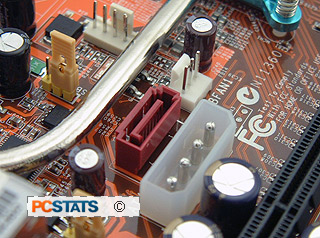 Accessory wise, Universal ABIT has done a thorough job of including most every connector and bracket you can use, with the board right from the start. Let's face it, a lot of USB or IEEE 1394a ports are useless if the manufacturer doesn't include the proper expansion brackets right?
It's good to ABIT adopt the newer generation of Click Connect Serial ATA cables for the AB9 Pro motherboard. Click Connect Serial ATA cables securely attach the cable to the motherboard. With first generation of Serial ATA cables, it is not uncommon for a cable to work its way loose.
Inside the box you'll also find something rather remarkable - floppy disks with SATA RAID drivers for the Intel Southbridge RAID controller, and 32 and 64 bit versions for the Silicon Image SiI3132 SATAII/RAID controller and one for the JMicron Serial ATA II RAID controller. No matter which device you connect your hard drives to, you're covered! Most manufacturers include these drivers on the CD, but if you don't have another computer handy to move them onto a floppy for your boot disks, it's kind of useless.
Depending on how old the rest of your computer gear is, the fact that the ABIT AB9 Pro does not have a parallel printer port, nor Serial ports may or may not be important to you. There are no headers for either port either. On the plus side, the AB9 Pro does have optical SP/DIF IN and OUT ports, somewhat of a luxury these days.
Up next, PCSTATS tests the overclockability of this board with some killer fast DDR-2 and a Core 2 Duo processor! First, a look at the Port 80 and the motherboard highlights!