nVIDIA is on an absolute roll, and there are no challengers in sight! Its GeForce 8800 series have captivated enthusiast gamers but the real action will be in the mainstream market. While we all like to fawn over the latest and greatest, it's the mainstream videocards that we all end up buying for our computers. Admit it. In that arena, nVIDIA has had the best videocards for the last couple generations now.
But enough of that, you're hear to learn what the GeForce 8600GTS has to offer! The new class of Geforce 8600GTS, 8600GS, and 8500GT cards have some big shoes to fill - the GeForce 7600GT and GeForce 6600GT were both very well equipped. More importantly perhaps, is that the mainstream Geforce 8-series are full Microsoft Windows Vista DirectX 10 compatible gaming solutions.
From the enthusiasts perspective, the nVidia GeForce 8600GTS is also rumored to be an excellent overclocker. Pre-production models allegedly hit sky high clock speeds, so final silicon should be even better. You can bet MSI will spice things up and its NX8600GTS-T2D256E-OC videocard, and you'll be surprised to see how far PCSTATS overclocked this puppy too!
As its name indicates, MSI's NX8600GTS-T2D256E-OC videocard is based on the new nVIDIA GeForce 8600GTS core. The card packs in a modest 256MB of GDDR3 memory. High Definition is the next big gaming challenge, and so it's not surprising that we have dual DVI (dual link) outputs along with component HDTV output via dongle. The NX8600GTS-T2D256E-OC installs into a PCI Express x16 slot, supports nVidia SLI if you have two of them, and is fully DirectX 10 and OpenGL 2.0 compatible.
What really makes the MSI NX8600GTS-T2D256E-OC special is that MSI factory overclock the card to 700 MHz core, 2100 MHz memory. A stock GeForce 8600GTS videocard hums along at 675 MHz and 2000 MHz respectively. To top things off, the NX8600GTS-T2D256E-OC has sweet custom dual slot cooler that apparently keeps the GeForce 8600GTS ~15 degrees Celsius cooler than the reference design!
The MSI NX8600GTS-T2D256E-OC doesn't come with many extras; just an S-Video to S-Video cable, a component output cable dongle, two DVI-to-Analog converters and a dual molex to six pin power connector. There is a driver CD and that's about it in terms of the bundle. MSI's NX8600GTS-T2D256E-OC videocard retails for $224 CDN ($199 USD, £99 GBP) which is quite affordable and surely to delight most mainstream gamers with its performance in the benchmarks.

MSI NX8600GTS-T2D256E-OC Videocard




Includes:

Driver CD, 2x DVI to Analog Converters, Component Output Cable, S-Video Cable, Dual Molex to PCI-E Six pin Power Connector
Videocard makers had a lot of lead time with the GeForce 8600GTS, that's why MSI's NX8600GTS-T2D256E-OC isn't just a reference card with a different sticker on the heatsink. The videocard is based on the reference layout, but the PCB is MSI's signature red. Instead of going with nVIDIA's stock heatsink, MSI equips the NX8600GTS-T2D256E-OC with what looks like a custom designed Arctic Cooling videocard heatsink. We'll get into the cooler later, first here are a few details on the card.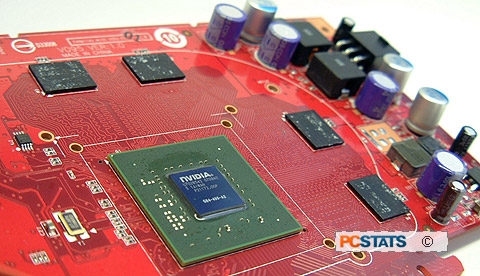 The Geforce 8600GTS MSI NX8600GTS-T2D256E-OC is shorter than the GeForce 8800 series before it, coming in at ~19cm in length. The regular GeForce 8600GTS is a single slot solution but since MSI elected to go with a beefier heatsink, the NX8600GTS-T2D256E-OC is a dual slot videocard. Not a big deal though, who puts an expansion card right below the videocard anyway?
The MSI NX8600GTS-T2D256E-OC is the first nVIDIA mainstream generation videocard to require extra power. Hidden behind the massive heatsink is the six pin videocard power connector. If you are using an older power supply without one of these connectors, do not worry MSI includes a dual molex to six pin power converter.
Interestingly enough the nVIDIA drivers do not complain when the MSI NX8600GTS-T2D256E-OC extra power is not connected and it doesn't seem to affect 3D performance either. 3DMark05/06 scores and FEAR framerates were the same no matter if the six pin power cable was connected or not. Still, better be safe and plug it in.
It was a surprise to see that MSI did not include much of a software bundle with the NX8600GTS-T2D256E-OC. About the only thing of interest is of Norton Internet Security 2005, an odd utility to include with a videocard... wouldn't you say? Without software, MSI is able to pass the savings along to the end user. Case in point - the videocard comes with a better heatsink and is overclocked by default, so in the long run I'd take that over any stale game titles.