At the heart of the Asus EN8800GTS/HTDP/320M videocard is nVidia's 'G80' GPU, built on TSMC's 90 nanometer manufacturing process. The Geforce 8800GTS GPU contains 681 million transistors, by way of comparison the Geforce 7800GTX 'G70' had 302 million transistors. In its current form nVidia's 'G80' demands a lot of power and generates a lot of heat. The GPU puts out upwards of 80W-85W under load. This is why the reference videocard design utilizes such a large heatpipe cooled thermal solution.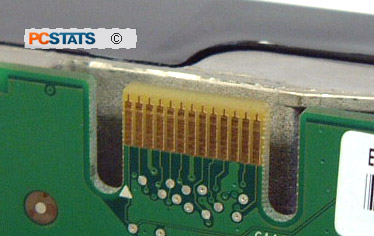 More importantly than transistor counts and power output is that nVIDIA's 'G80' is the first DirectX 10 compatible GPU-series on the market, and it is completely different from videocards of the past. The 'G80' utilizes a unified architecture, which is another way of saying that it merges vertex and pixel shaders into one floating point processor. There have been other GPUs to take this route, notably the ATi graphics processor inside the Xbox 360, but nVIDIA is first to release this type of technology for the home PC.
The GeForce 8800GTS is based on the same G80 core that powers the GeForce 8800GTX, however nVIDIA disables a few rendering pipelines here and there, and trims the memory bus to ensure that the GeForce 8800GTS is slower than the GTX. It's not as bad as it sounds, the GeForce 8800GTS 320MB videocard is still a wickedly fast platforms for games.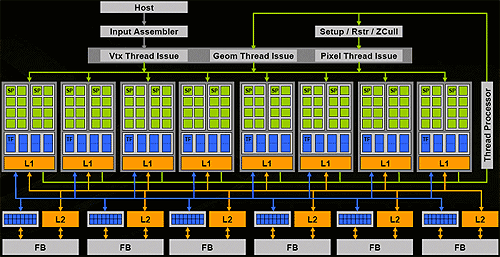 GeForce 8800GTX Core Shown
The nVIDIA GeForce 8800GTS GPU has access to six "Thread Processors" as opposed to eight with the GeForce 8800GTX. Each has 16 Stream Processors (SP), for a total 96. Gone are the hard coded Vertex and pixel shaders, they have been replaced with the more flexible Stream Processor that calculates both types of data. The Stream Processors run at a blistering 1.35 GHz. Traditional core clock speeds as we know it are dead, as several internal processors are running at different speeds.
Each Thread Processor has two groups of eight SP, and each group talks to an exclusive texture address filter unit as well as well as being connected to the shared L1 cache. When more memory is needed the Thread Processor connects to the crossbar memory controller. nVIDIA's crossbar memory controller is broken up into five 64 bit chunks (six with the GeForce 8800GTX), which means the width is essentially 320 bits wide (384 bits for the 8800GS).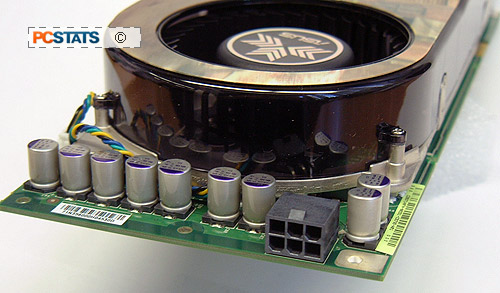 By moving the GPU towards a threaded design, the nvidia G80 is much more like a processor than any graphics cores of the past. Any type of data, be it pixel, vertex, or geometry shader can be processed within the SP. This allows load balancing to occur between the various tasks.
Although DirectX 9 does not support unified shader instructions, load balancing is handled automatically by the GPU so it's not something developers have to worry about. Load balancing ensures optimal performance from the GPU no matter what the situation, as pixel and vertex processing shifts greatly during game play.
While there are 96 Stream Processors broken down into 16 8-section chunks, there are only 32 texturing units total, 4 per thread processor. The texturing units run at core clock speed, and as indicated can handle 32 textures per clock. One of the most important "features" is that the texture unit operates independently of the SP, so texturing can occur at the same time as shader rendering.
One other new feature the G80 brings to the table is a stand alone video display engine completely designed for this GPU generation. Set off to the left of the 'G80' GPU is nVIDIA's new discrete display chip. This chip supports both TDMS logic for LCD monitors and RAMDACs for analog displays. By moving the display engine outside the GPU, it allows nVIDIA to have less overhead with multi-GPU videocards.
nVIDIA PureVideo and High Definition Content

High definition is the future entertainment standard of tomorrow's video's. Playing high definition content on current generation PCs can bog down even the fastest processors because there is more data to handle. Similar to the need for DVD accelerators a few years ago, nVIDIA PureVideo enables computer users to view MPEG-2/DVD and WMV9 High Definition formats on the monitor without slowing the system to a crawl.
The PureVideo standard incorporates a hardware accelerator for the afore mentioned MPEG-2/DVD, and Microsoft Windows Media High Definition Video standards (WMV9 HD). According to nVIDIA's documentation on PureVideo, the GPU (GeForce 6, 7 and 8 series GPUs) takes on video decoding tasks from the CPU, and the end result is smoother, shutter free High Definition playback. nVIDIA PureVideo also supports most current and future high definition formats.
PureVideo is more than just a media accelerator; it also includes features to improve video picture quality. DVD, cable and satellite video provide poor crispness, clearness and smoothness that consumers have been desperate to be "saved from." nVIDIA's PureVideo technology applies spatial temporal de-interlacing to apparently deliver a better image than traditional de-interlacing can muster.
PureVideo also fixes the 3:2 pull down problem that can arise from 24 fps video being converted to 30 fps for viewing on TVs or monitors. By recovering the original 24 frame content, PureVideo allows for a clear crisper image.
Examining CPU Load with PureVideo
To test PureVideo's High Definition accelerating capabilities on the Asus EN8800GTS/HTDP/320M, PCSTATS will play back a video downloaded from Microsoft's WMV HD Content Showcase through Windows Media Player 10. "The Discoverers" (IMAX) video is available in both 720P and 1080P formats. AMD processor utilization will be monitored via Task Manager.

When playing the 720P version of the Discoverers video the CPU usage jumped between 15-20% which is pretty good. That leaves a lot of resources for background tasks.

CPU usage when running the 1080P version of the Discoverers video was even lower, usage stayed between 11-17%! That's great, with a videocard like the Asus EN8800GTS/HTDP/320M, you don't have to worry about running high definition videos. Next up, overclocking the Asus EN8800GTS/HTDP/320M videocard!