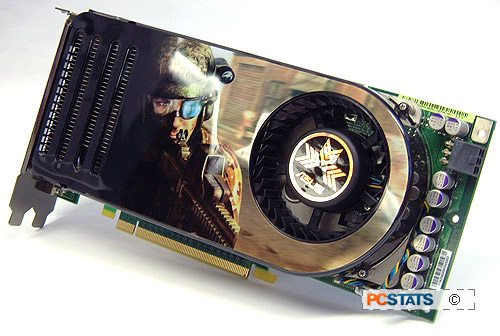 The power of today's videocards is pretty astounding. You can play games online with AA and AF enabled, at 1600x1200 if you want! Talk about being spoiled. ;-) Back in my day with at 8-bit colour, and we were happy with that!
Asus has put together a well rounded package with its EN8800GTS/HTDP/320M videocard. This is standard Geforce 8800GTS fare that isn't pre-overclocked by the factory, but instead comes with a wicked game title.
This videocard is not slow by any means, and it keeps up with the competition very well. Asus include full copies of Race the WTCC and Ghost Recon Advanced Warfighter. With a retail price of $341 CDN ($308 US, £154 GBP), the Asus EN8800GTS/HTDP/320M videocard his is just a bit more expensive than a budget GeForce 8800GTS 320MB .
Based entirely on the reference Geforce 8800GTS design, the thermal solution works well, and work quietly to keep the monster GPU below running smoothly. During PCSTATS tests, the heatsink operated quietly even when running at 100% load with all the AA/AF goodies enabled. Overclocking did not cause the fan to generate much more noise.
As you've seen, the Asus EN8800GTS/HTDP/320M handled PCSTATS line up of benchmarks very well, and had no problems keeping up with pre overclocked GeForce 8800GTS models. To truly get the most out of the high end videocards though, you need to play with all the eye candy enabled and at high resolutions, anything else and it's a waste. If you don't have a 19" monitor already, get one, or better yet a 24" LCD.
If for some reason you find the Asus EN8800GTS/HTDP/320M slow, overclock it. The videocard handled overclocking very well with the core hitting 675 MHz (from 500 MHz stock) and memory 2060 MHz (1600 MHz stock) in the PCSTATS test labs. It gave the EN8800GTS/HTDP/320M a nice performance boost too.
The bottom line is that the Asus EN8800GTS/HTDP/320M is like all other GeForce 8800GTS 320MB videocards. Fast. We particularly like the copy of Ghost Recon Advanced Warfighter included here, as otherwise there is very little to differentiate one Geforce 8800GTS-320 from the next. Such is the case when all vendors are selling reference videocards, accessories and clock speeds are the only changes they can really use to make each offering stand out. In any case, if you've been holding out for a good value Direct X 10 ready videocard, you really can't beat anything based on the GeForce 8800GTS GPU that's for sure.
Find out about this and many other reviews by joining the Weekly PCstats.com Newsletter today! Catch all of PCSTATS latest reviews right here.
Related Articles
Here are a few other articles that you might enjoy as well...
- Foxconn 8600GTS-256 Geforce 8600GTS DirectX10 Videocard Review
- MSI NX8600GTS-T2D256E-OC GeForce 8600GTS Videocard Review
- MSI NX8800GTS-T2D320E-HD-OC 320MB Geforce 8800GTS Videocard Review
- MSI NX7900GS-T2D512E-OC Geforce 7900GS Videocard Review
- PowerColor Radeon X1550 512MB Videocard Review