Overclocking Results:
The Asus EN8800GTS/HTDP/320M videocard comes out of the box clocked at default nVIDIA GeForce 8800GTS 320MB speeds; 500 MHz core, 1600 MHz memory. Starting with the core first, PCSTATS overclocked its speed in 7 MHz increments. To do this we used nVIDIA's nTune software.
The two previous GeForce 8800GTS 320MB videocard cores PCSTATS overclocked handled the task very well, so we expected the same here. Starting at 500 MHz the G80 GPU easily hit 600 MHz, 630MHz, 640MHz and 650 MHz without any problems.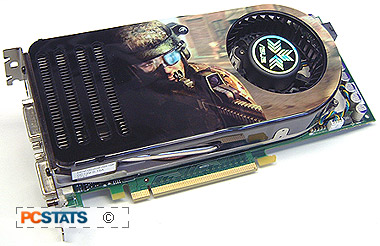 Quickly there after the GeForce 8800GTS core maxed out at its top speed of 675 MHz. That is a good score all things considered. Even though the Asus EN8800GTS/HTDP/320M comes with stock clock speeds, it can still handle overclocking quite well.
Next we'll try our hand overclocking the videocard memory. Let's hope it's as good as the core handles! ;-)
Starting at 1600 MHz the goal was to push the 320MB of GDDR3 to a full 2 GHz. Good thing for us the memory was up to the overclocking task, PCSTATS reached 2 GHz without the Asus EN8800GTS/HTDP/320M videocard breaking a sweat. The memory reached a maximum speed of 2060 MHz, anything higher and nTune would start to complain about clock speeds.
The core and memory had no problems with each component running at its respective maximum clock speed. This is nice, previous GPU generations sometimes had problems in this area.
Prelude to Benchmarks
The details of how the Asus EN8800GTS/HTDP/320M test system was configured for benchmarking; the specific hardware, software drivers, operating system and benchmark versions are indicated below. In the second column are the general specs for the reference platforms this nVIDIA GeForce 8800GTS 320MB based videocard is to be compared against. Please take a moment to look over PCSTATS test system configurations before moving on to the individual benchmark results on the next page.