As the computer industry moves towards parallel processing one thing is for certain, memory bandwidth will have to increase greatly to keep up with system demand. With previous single-core processor families, moving between generations required a modest increase in memory bandwidth. When there are two or four processing cores to contend with, as the CPU industry is actively persuing now, memory bandwidth requirements effectively double or quadruple.
To meet the demands of a whole new generation of multi-core CPUs, Intel has introduced a new family of chipsets. The new mainstream Intel P35 Express Northbridge looks quite a lot like Intel's old P965 series chipset (on paper at least), but with two very major inclusions; support for 1333 MHz Front Side Bus and official support for DDR3 RAM. The Intel P35 Express still includes legacy support for DDR2 RAM, and judging by the rumblings PCSTATS has heard most memory manufacturers don't expect DDR3 to really take off until mid to late 2008. We'll talk about the DDR3/DDR2 situation a little later in this review, I'm sure you have a tone of questions...
Along with the Intel P35 'Bearlake' Northbridge, there is also a new Southbridge called the Intel ICH9. More on that in a moment.
The new P35 'Bearlake' chipset supports all current Socket 775 Intel processors that operate with a 800/1066/1333 MHz FSB. That includes the Conroe-L to the Pentium D/XE series and Core 2 Duo/Quad processor line. The Intel P35 Express is almost made to order for Intel's upcoming "Penryn" core processor. The "Penryn" is a 45nm chip running at 1333MHZ FSB, due out at the end of 2007 or early 2008.

Gigabyte GA-P35-DQ6 Motherboard



Includes:
Driver CD, User's Manual, Installation Guide, 4x Serial ATA Cables, Ultra/133 IDE Cable, Floppy Cable, 2x USB Header Brackets, 2x Serial ATA Brackets, 2x Molex to Serial ATA power cable, 2x eSATA Cables, I/O Shield
The Gigabyte GA-P35-DQ6 motherboard you see here is built on Intel's P35 Express Northbridge and ICH9R Southbridge (R = RAID). The board supports the usual fare of 7.1 channel high definition Azalia audio, Gigabit networking, 3.0GB/s Serial ATA II (six via ICH9R, two via Gigabyte SATA2 chip), one parallel IDE port, three IEEE 1394a ports and my gawd... 12 USB ports! The board supports up to 8GB of DDR2-800/667 RAM, and does not support DDR3. In case you're wondering, DDR3 and DDR2 have different pin outs so the sticks cannot be used interchangeably - each requires its own specific slot. Since the demand for DDR3 variants of the P35 chipset is low, there are currently only a handful of models built for DDR3 RAM like the Gigabyte GA-P35T-DQ6 .
In terms of expansion the Gigabyte GA-P35-DQ6 has two PCI Express x16 slots (first slot is x16, second is x4 when CrossFire enabled), three PCI Express x1 slots and two 32 bit PCI slots for legacy hardware. Gigabyte equips the GA-P35-DQ6 with a rather extravagant passive copper cooling solution to keep the Northbridge, Southbridge and MOSFET temperatures in check. The Gigabyte GA-P35-DQ6 retails for a $303 CDN ($279 USD, £140GBP) so it's not for the faint of heart.
Incidently, the Gigabyte GA-P35-DQ6 motherboard is compatible with the Zalman CNPS9700-series heatsink, no matter which direction the cooler is mounted. The large chipset heatsinks on the board don't cause any problems for this large Zalman heatsink, and it fits with room to spare. (we've had a few people write in about his question).
Introducing the Intel P35 Express and ICH9 Chipsets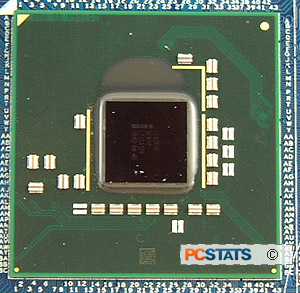 Intel P35 'Bearlake' chipset.

The Intel P35 Express Northbridge chipset replaces the P965 Express as Intel's mainstream performance core logic part.
The P35 Express handles all LGA775 processors running on 800/1066/1333 MHz Front Side bus (theoretical 10.6GB/s bandwidth), so it is ideally suited towards Intel's upcoming 45nm "Penryn" CPU. Along with the P35 Express is Intel's new ICH9 southbridge. In the case of the Gigabyte GA-P35-DQ6 motherboard PCSTATS is testing, it's the ICH9R model. This southbridge supports RAID via Intel's Matrix storage technology.
With Intel projecting quad core processors to be the mainstream choice by 2008, motherboard chipsets have to keep up with increasing demands from multi-core CPUs. The boys in blue address this issue by increasing the FSB from 1066MHz to 1333 MHz. An increased FSB speeds up data communication between the processor and system bus.
Intel also modified the memory controller in the P35, boosting DDR2 memory support to 1066 MHz and consequently increasing maximum theoretical bandwidth to 17GB/s (in a dual channel DDR3 configuration).
These changes are all incremental, the most significant improvement in the P35 Express chipset has been the inclusion of DDR3 RAM support. Initial DDR3 memory modules from Crucial, Corsair and OCZ will be pegged at 800 and 1066 MHz speeds, but as the standard matures it's likely 1333MHz will come shortly. The Intel P35 Express supports a maximum of 8GB of non ECC unbuffered memory, either DDR3 or DDR2, depending on the motherboard's manufacturers choice of implementation.
Intel P35 & 975 / 965 Series Chipset Feature Breakdown
Intel 975X Express
Intel P35 Express Express
Intel P965 Express
Intel G965 Express
CPU
LGA775 Core 2 Duo
LGA775 Core 2 Duo
LGA775 Core 2 Duo
LGA775 Core 2 Duo
Front Side Bus (FSB)
1066/800 MHz
1333/1066/800 MHz
1066/800/533 MHz
1066/800/533 MHz
Intel Flex Memory Technology
Yes
Yes
Yes
Yes
Dual Channel Memory Support
DDR2 800/667/533
DDR2 1066/800/667
DDR3 1333(unofficial)/1066/800
DDR2 800/667/533
DDR2 667
Maximum Memory Capacity
8GB
8GB
8GB
8GB
Integrated Graphics
-
-
-
GMA 3000
PCI Express x16
2
1
1
1
PCI Express x1
4
6
4
4
Intel Matrix Storage Technology
Yes
Yes
Yes
Yes
SATA/IDE HDD
4/1
6/0
6/0
6/0
SATA Speed
3Gb/s
3Gb/s
3Gb/s
3Gb/s
RAID
0, 1, 5, 10 (with ICH7R)
0, 1, 5, 10 (with ICH9R)
0, 1, 5, 10 (with ICH8R)
0, 1, 5, 10 (with ICH8R)
Hard Drive NCQ
-
Yes
Yes
Yes
USB 2.0 Ports
8
12
8
10
PCI Masters
6
6
6
6
Audio
High Definition Audio (Azalia)
High Definition Audio (Azalia)
High Definition Audio (Azalia)
High Definition Audio (Azalia)
Here's a quick look at how the new P35 stacks up to the P965 Express and 975X chipsets. Apart from the speed increases and new memory standard, there are a few extra ports here and there.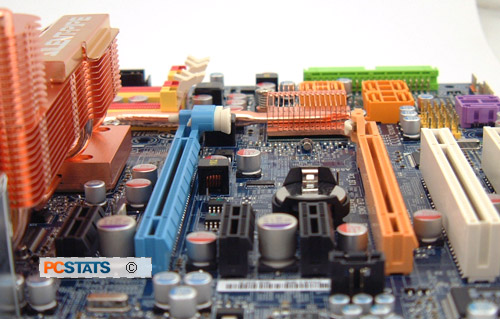 The Gigabyte GA-P35-DQ6 motherboard supports AMD CrossFire when using two appropriate videocards are used. The blue PCI Express x16 slot operates internally with 16 PCI Express lanes while the orange secondary slot only has 4 PCI Express lanes. There is plenty of space between the two PCI Express x16 slots in case you use larger videocard coolers.
By default the Intel P35 Express chipset only supports a single 8GB/s PCI Express x16 slot for videocards with 16 PCI Express lanes, however most boards like the Gigabyte GA-P35-DQ6 has two physical slots. There are six PCI Express lanes associated with the ICH9R Southbridge and four of them can be used for a secondary graphics card, thus the second PCI Express x16 slot. It's not as ideal a solution as two videocards receiving a full 16 or 8 PCI Express lanes each, but it works and allows the Intel P35 Express to support AMD CrossFire. It's been said that Intel tweaked the P35 Express to support CrossFire more efficiently than with the P965.
We'll take a quick peek at what the P35 and G35 have to offer next....