PNY's new XLR8 line of extreme performance DDR-2 memory promise to vault the company up into the stratosphere with the likes of Corsair, Mushkin and OCZ. Performance memory can make a big impact to performance-tuned computer systems, so it pays to shop around and get the best deal you can. As you may have read, a few days ago PCSTATS tested a set of PNY's XLR8 D22GX93XLP-5 memory with some pretty impressive results. That 2GB memory kit was the fastest set we've ever tested in terms of overclocking, with lax timings specifically, so we're keenly interested in how the PNY D22GX85XL-5 models on the test bench today will handle.
With a retail price of $234 CDN ($219 USD, £110 GBP) for 2GB of PNY XLR8 D22GX85XL-5 memory, this product is pretty aggressively priced for its class. I think it will be most attractive to overclockers on a budget. PNY guarantees that its memory will run at DDR2-1066 MHz (PC2-8500) speeds, in tune with Intel's 333 MHz Core 2 Duo/Quad processors and the new Intel P35 Express chipset. Default CAS Latency timings for this set of modules is 5-5-5-15.
Of course if you're an AMD user, the PNY XLR8 D22GX85XL-5 is also compatible with that venerable processor platform. Unlike the D22GX93XLP-5 modules, this 2GB pair of DDR-2 RAM operates quite nicely with tight CAS Latency timings too. High speeds and low latency friendly DDR-2, these are the hallmarks of RAM that is compatible with all processor platforms.

PNY XLR8 D22GX85XL-5 Memory
RAM Memory Type: DDR2-1066 / PC2-8500
Individual Module Capacity: 1024MB
Native Speed & Latency: 1066 MHz @ CAS 5-5-5-15
Enhanced Performance Profiles (EPP): Yes
The PNY XLR8 D22GX85XL-5 memory kit is certainly a looker with its large black aluminum heat spreaders.The heatsinks look very similar to the kind Corsair use on the DOMINATOR memory series, although PNY finishes its heatsinks better and there are no sharp edges. PNY's XLR8 D22GX85XL-5 memory modules stand pretty tall (45mm), so you may need to make sure there is enough space above the DIMM slots in your computer.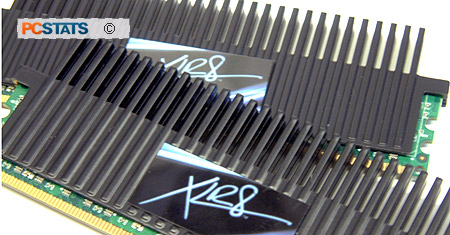 The PNY XLR8 D22GX85XL-5 dual channel memory kit has a default clock speed of DDR2-1066 MHz while using 5-5-5-15 timings and a voltage of 2.2V. The XLR8 D22GX85XL-5 is compatible with nVIDIA's EPP standard so that means if you're a novice overclocker, team the memory up with the proper motherboard and the system will overclock itself.
At slow speeds (and voltages) PNY's XLR8 D22GX85XL-5 2GB dual channel memory kit does not require any additional cooling. When you overclock it to "enthusiast levels" the heatspreaders are certainly a reassuring touch. If you're going to be using high voltages, make sure you have air running through the fins for maximum cooling.
PCSTATS Test Methodology
On Intel Socket 775 Core 2 Duo test systems, we're only interested in seeing how high we can go with the DDR-2 memory running 1:1, as running with other dividers puts the overclocking bottleneck elsewhere and not with the system memory. The DDR-2 RAM latency must run at its lowest possible setting, as quick access is more important to the CPU design. Just for arguments sake, we will also be conducting overclocking tests to see how high the memory will go with lax timings (5-5-5-15), although we will only benchmark the system with the tight memory timings mentioned above. Let's get started and overclock these blue babies!