We tend to focus a lot on enthusiast class memory at PCSTATS, but there's more to computers than overclocking and gaming. Those of tasked with building a home computer, an office workstation or server have a tricky job when picking out system memory. Quality varies from manufacturer to another, and reliability is generally the key in these situations. When it comes to building a PC with more than 2GB of installed DDR2, memory compatibility often rears its ugly head too.

For example, if you were to take four 1GB sticks of PC2-6400 DDR2 from four different vendors and install them all in one computer, chances are high the computer would just stare blankly back at you when turned on. Mixing and matching memory modules in this day and age is never a good idea, but it's particularly troublesome if more than 2GB of RAM is involved. Forcing four 1GB memory sticks of RAM from different manufacturers to work together often causes weird problems, if the computer boots at all.

The most common memory compatibility symptom is significantly less memory being reported by the system, regardless of the fact 4GB is actually plugged in. Bottom line, if your computer applications call for 4GB of memory, you need to install 4GB of RAM from the same manufacturer. Ensure all modules are the same kind of memory, whether that's four 1GB sticks, or two 2GB sticks the rule holds pretty true.

Naturally, it's less expensive to use pick up four 1GB sticks of DDR2 than the equivalent in 2GB or 4GB modules. This is the route that PCSTATS will take in this review today, as we examine the benefits of installing four 1GB Crucial PC2-6400 memory modules in a Intel Core 2 Duo based computer and toss a bunch of benchmarks at it. Crucial's CT12864AA80E memory is rated at to speeds of DDR2-800 / PC2-6400 with a CAS latency of 5-5-5-15, and classed as unbuffered non-ECC. Each individual module is priced at $61.99US through Crucial.com, so we're looking at a total cost of $242 CDN ($226 US, £114 GBP) for all 4GB of RAM.

Given the high cost of enthusiast grade memory out there, Crucial's 4x1GB PC2-6400 Crucial memory kit is quite affordable, and indeed each module is also covered by a lifetime warranty.

Crucial PC2-6400 / DDR2-800 Memory
RAM Memory Type: DDR2-800 / PC2-6400
Individual Module Capacity: 1024MB
Native Speed & Latency: 800MHz @ CAS 5-5-5-15
Enhanced Performance Profiles (EPP): No
These 4x1GB modules of Crucial PC2-6400 memory are nothing fancy to look at, there is no memory heat spreaders on these DIMMs so handle with them caution. BGA DRAM modules can be damaged, and physical damage is not covered by Crucial's warranty. ;-)
The Crucial PC2-6400 memory modules are rated to run at speeds of DDR2-800 (PC2-6400) with 5-5-5-15 memory timings at a voltage of 1.8V. The specifications of the memory may not be that exciting for enthusiasts, but then again this memory is built for situations where stability is important.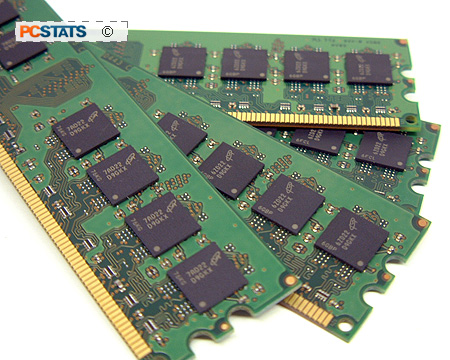 In the mainstream market cost is the largest consideration when buying computer RAM. The cheap stuff is really inexpensive, and while it may work fine for years the failure rate of generic memory on the whole is much higher.
If generic memory dies, you're typically on your own. Brand name memory isn't immune to failure, far from it in fact, but companies like Kingston, Corsair and Crucial have much stricter Quality Control processes. Most importantly, good memory comes with lifetime warranty and support channels. Crucial has a large knowledge base which is full of useful information, whether you're a memory expert or novice.
If you're experiencing problems with your Crucial memory, there's always its "Live Chat with an expert" method of communication or its toll free 1-800 number. There's nothing more frustrating when your system is down and the only form of contact with the manufacturer is through email.
Operating System Note
Even though the motherboard PCSTATS tested these 4x1GB babies on fully recognized that 4GB of PC2-6400 memory was installed, WindowsXP didn't. According to WindowsXP, the system was installed with 3.25GB of memory. This is a limitation of a 32 bit OS, the "missing 750MB" of memory is reserved for hardware devices.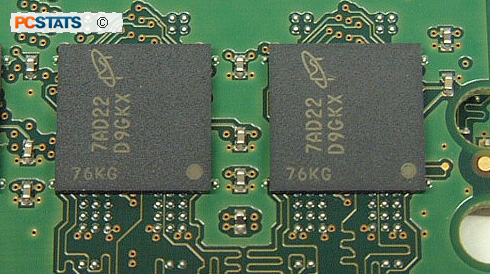 It's possible for the operating system to bypass the 32 bit memory limit of 4GB to recognize more memory, but that is due to a Physical Address Extensions (PAE), which until recently was primarily a workstation/server option.
Intel has detailed this issue here and another option is to run a 64 bit operating system like Microsoft WindowsXP 64 bit Edition or the 64 bit versions Windows Vista.
PCSTATS Test Methodology
On Intel Socket 775 Core 2 Duo test systems, we're only interested in seeing how high we can go with the DDR-2 memory running 1:1, as running with other dividers puts the overclocking bottleneck elsewhere and not with the system memory.
The DDR-2 RAM latency must run at its lowest possible setting, as quick access is more important to the CPU design. Just for arguments sake, we will also be conducting overclocking tests to see how high the memory will go with lax timings (5-5-5-15), although we will only benchmark the system with the tight memory timings mentioned above.
First up a little overclocking then we'll dive right into the benchmarks.... this is going to be fun!