Finding a new computer can be a confusing process if you're not techno-literate. Like anything that makes you toss your hands up in the air and curse, it's always a good idea to break it up into little pieces, and start small. The first step is to identify what your computer needs are, and roughly how much you're willing to spend.

Once you have a general idea on those two fronts, the next decision is whether to get a PC that suits you from a large vendor like Dell, a local computer store or even try building it yourself. All three are valid routes, but if you are technically inclined, building a computer from scratch is a fun way to ensure you get exactly what you want.

For example, if you already have a computer case and some working hard drives kicking around, building your own computer will let you substitute that hardware in place of new parts you would otherwise need to purchase. End result, you save money. If you go to Dell, this kind of customization just isn't an option.

Over the next couple pages PCSTATS will be highlighting a collection of computer parts we've chosen from hardware we've actually tested. PCSTATS will build an entry level budget computer system that costs very little, but handles moderate PC tasks well. This computer can be used for homework, light office applications, perhaps some moderate gaming, surfing the web, writing email, and just about anything an average user will encounter. The only difference between the PC hardware we've put together here, and a top of the line flagship computer costing significantly more is that we've cut the right corners. Instead of using just released computer hardware, we'll choose mainstream components that have been around for a while and are known to perform reasonably well. Rather than picking $1000 CPUs, we'll choose a cheap mainstream processor that's great for its class.

Our goal is to avoid the junk, and zero in on the affordable feature-packed computer hardware that offers a lot of bang for the buck. We've sifted through thousands of PC components and put together a budget PC which you can use as a template to assemble your own super affordable computer system. So, consider this article the framework for what you can do with the PC hardware out right now, and in the future. There is no denying that models change rapidly, but if you apply the approach we've taken you can shop smart on even the smallest budget.

The First Step in Building a Computer

The first thing you should do before buying any computer parts, or a PC system for that matter, is figure out what your needs are. What will you be using this new computer for? Who will be using it most of the time? If there is a particular software program you work with, if so what are its minimum hardware requirements? Think about those questions for a moment... answers ready? Good let's begin!

Most students, for example, tend to use their computers PC's for work like writing essays, doing up reports, researching on the internet, and writing emails. An internet connection is a very necessary requirement so they can social network via MSN, Facebook and Myspace, listen to music online and surf the web. Applications that fall into any one of these points are pretty light on the hardware requirements though, so you absolutely do not need to blow a lot of money on a fancy computer.

All work and no play makes Bill a dull boy (and Jill a dull girl), so heed our advice and shop carefully! With a little careful technology planning it's easy to pick out a motherboard that will let you play DVDs on a nearby TV, listen to music over a 7.1 channel sound system, and avoid buying peripherals like a network card, firewire, or even videocard.

PCSTATS has already covered all the bases of building a PC from scratch in the illustrated Beginners Guide to Assembling Your Own PC. For the purposes of brevity, we're going to skip all the nitty gritty of how to actually put a computer together in this article. That Guide handles those questions in a clear and concise manner. If you want guidance on building your PC, be sure to flip through that PCSTATS' Guide - you'll learn everything you need to know there.

Now, on with the cheap computer build!

Step Two, Find the Best Computer Hardware Within Your Budget

Let's start with the processor and motherboard since they are the backbone of any computer. After this we'll move onto memory, videocard, hard drive and other peripherals. For the purposes of this article we're going to limit ourselves to just the computer hardware going into the PC case.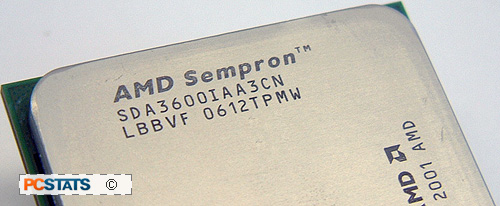 Computer hardware affects the total cost and final capabilities of a PC the most. You will need to sort out things like the monitor, keyboard/mouse, and the case too.
If you're lucky you can borrow or reuse most of these parts.
For the operating system we're going to stick with Microsoft Windows XP, and I'll explain why in just a moment. Software can be expensive, buy with web applications like Google Desktop you can get a lot of the functionality needed in a modern PC for naught.
Picking a Computer Processor
There are a lot of very attractive processors to choose from right now, each with different clock speeds and some with multiple processing cores. Best of all, prices are constantly being slashed. PCSTATS is going to pick an inexpensive AMD Sempron single-core processor (socket AM2) for this article, for a couple of reasons.
For starters it offers consumers greater value for money than Intel's Celeron D CPU. There is a broader range of inexpensive feature-packed motherboards to support socket AM2, and it's easy on the power draw. Save the environment by thinking green! Right!? We could just as easily opt for an Intel Core 2 Duo based processor, but integrated motherboards on the Intel socket 775 front are a little more restricted when it comes to features on the cheap.
AMD Socket AM2 Entry Level & Mainstream Processors
Socket AM2 Processors
Standard Efficiency
Clock Speed
Cache Size
Price
Athlon64 4000+
62W
2.6 GHz
512KB
$79
Athlon64 3800+
62W
2.4 GHz
512KB
$69
Athlon64 3500+
62W
2.2 GHz
512KB
$58
Athlon64 3200+
62W
2.0 GHz
512KB
$48
Sempron 3800+
62W
2.2 GHz
256KB
$53
Sempron 3600+
62W
2.0 GHz
256KB
$42
Sempron 3500+
62W
2.0 GHz
128KB
-
Sempron 3400+
62W
1.8 GHz
256KB
$37
Sempron 3200+
62W
1.8 GHz
128KB
$31
Sempron 3000+
62W
1.6 GHz
256KB
-
The Sempron is an acceptable route to go, just be sure it's the Socket AM2 version. Earlier Sempron models are based on the older Socket 754 platform which is now completely obsolete. We're going to go with an AMD Sempron 3600+ processor however if you find that your budget is really tight, a Sempron 3200+ or 3400+ is also a good deal. We wouldn't recommend a Sempron 3500+, its small 128KB of L2 cache is too small for most applications. If you want to splurge $6, the AMD Athlon 64 3200+ will net you a nicer chip with even more L2 cache.
Now that the processor has been chosen the next decision is what motherboard to get.