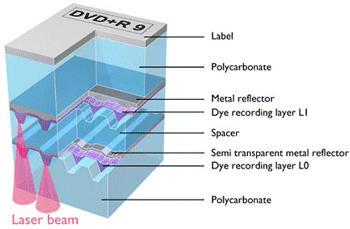 Dual-layer DVD media can store 8.4GB of data, which is approximately twice that of its single-layer counterparts capacity of 4.7GB. This is because Dual Layer DVD media has two dye layers for data recording. Heat caused by the drive's laser beam modifies the physical and chemical structure of each dye layer to form patterns which can be read by the same laser (at a lower intensity) as digital data.
Each dye layer is separated by a spacer and a metal reflector. The metal layer reflects the laser light, allowing the drive to 'read' the data by observing the reflections. The first reflector (positioned after the first dye layer) is semi-transparent; when the laser is focused a certain way, it will pass through this reflector and continue through to the second dye layer and bounce off the second metal reflector.
This allows the drive to read the second layer of data. The second reflector is completely opaque and will not allow the laser beam to pass any further. Thus, by modulating the frequency of its laser beam, a dual-layer capable DVD-writer can read and write to dual-layer DVD discs.
There are a couple of ways to indicate dual-layer media. The most common is 'DVD+R DL' but it's also sometimes indicated as DVD+R9. Obviously, both the drive and the media need to be dual-layer capable in order to access the extra storage space afforded by these 8.4GB optical discs!
The LG GSA-H62N DVD writer is compatible with DVD-/+R Dual Layer media at up to 10x write speeds.
Prelude to Benchmarks
The details of how the LG GSA-H62N dual layer SATA DVD burner was configured for benchmarking, including the specific hardware, software drivers, operating system and benchmark versions are indicated below. The general specs for the reference platforms are the same. Please take a moment to look over PCSTATS test system configurations before moving on to the individual benchmark results.

PCSTATS Test System Specs:
processor:

intel Core 2 Duo E6750

Clock Speed:

8 x 333 MHz = 2.66 GHz

Motherboards:

Asus P5N32-E SLI Plus

Videocard:
Memory:

2x 1024MB Corsair Twin2X2048-6400C4

Hard Drive:
74GB Western Digital Raptor WD740
CDROM:
LG GSA-H62N
Heatsink:
Intel Reference Cooler
PowerSupply:
PC Power & Cooling TurboCool 510 SLI
Software Setup

Microsoft WindowsXP SP2
nVIDIA Forceware 9.35
nVIDIA Forceware 91.47

Workstation Benchmarks

CD Winbench 99
SiSoft Sandra 2005
Nero CD Speed
| | |
| --- | --- |
| CD Winbench 99 | Source: Zdnet |
The CD Winbench99 benchmark runs a series of scripted programs from a special CD in the drive and measures the speed of the data transfer. Higher numbers mean better performance.
CD Winbench 99
Optical Drives
Results
Ranking
LG GSA-4082B (DVD-/+RW)
2240 kb/s
AOpen 5232 Combo (CD-RW/DVD-ROM)

2510 kb/s

AOpen DRW8800 (DVD-/+RW)
2150 kb/s
MSI DR16-B (DVD-/+RW)
1400 kb/s
Gigabyte GO-W1616A (DVD-/+RW)
2160 kb/s
Samsung WriteMaster SE-W164 (DVD-/+RW)
2190 kb/s
AOpen DSW1812P (DVD-/+RW)
2250 kb/s
LG GSA-H62N (DVD-/+RW)
2360 kb/s
The LG GSA-H62N writer is one of the fastest drives in terms of throughput. In the grand scheme of things, the differences are very small and it won't really make playing a CD a better experience.
| | |
| --- | --- |
| SiSoft Sandra 2005 | Source: Sandra |
Sandra is designed to test the theoretical power of a complete system as well as the individual components. The results are also purely theoretical and may not represent real world performance.
Sisoft Sandra 2005 Benchmark Results

Optical Drive

LG GSA-H62N

AOpen DSW1812P

Samsung WriteMaster SE-W164

Gigabyte GO-W1616A

MSI DR16-B

AOpen DRW8800

AOpen 5232 Combo

LG GSA-4082B

Disc Type
Data
Data
Data
Data
Data
Data
Data
Data
Drive Index
3785 kb/s
3495 kb/s
3005 kb/s
3041 kb/s
2912 kb/s
3056 kb/s
2574
1627
Buffered Read:
3414 kb/s
3040 kb/s
2564 kb/s
2345 kb/s
2480 kb/s
2567 kb/s
6000 kb/s
779 kb/s
Sequential Read:
3983 kb/s
3710 kb/s
3140 kb/s
3347 kb/s
3135 kb/s
3258 kb/s
2712 kb/s
2362 kb/s
Random Read:
3357 kb/s
3187 kb/s
2802 kb/s
2641 kb/s
2577 kb/s
2752 kb/s
2336 kb/s
524 kb/s
Access Time:
243ms
179ms
157ms
213ms
283ms
231ms
220 ms
761ms
The LG GSA-H62N has a lot of bandwidth available to it, particularly when compared to the other optical drives PCSTATS has tested. Access times are a bit on the high side, at 242ms, but nothing too out of the ordinary.