Serial ATA optical drives are now readily available, and the timing couldn't be better as motherboards are quickly loosing the last vestiges of the IDE connector. Parallel IDE has been on the outs forever, but optical drives have only recently adopted SATA to replace it. For the longest time Plextor was the only optical drive manufacturer that offered SATA DVD and CD-ROM drives. Those drives were priced at three to four times what regular optical drives cost... but now it's easy to find an Serial ATA optical drive for under $40. Newer, faster, cheaper - that's the PC industry!
PCSTATS stopped by a couple computer stores on Toronto's famous College St. to gage SATA optical drive availability. Lined up on the shelves were SATA versions from Lite-On, LG, Samsung, Sony, Pioneer, etc. The nice thing about SATA optical drives like the LG GSA-H62N Dual Layer DVD burner PCSTATS is testing for you today is that SATA ODD's have the same benefits we've become accustomed to with SATA HDDs. The coolest bit - being able to hot swap optical drives. Yes you read that right, with Serial ATA optical drives you can remove them from your system without turning it off!
If you're in the market for a speedy new dual layer DVD burner the LG GSA-H62N is a good a choice as any. The SATA optical drive is one of the new generation 18x DVD writers, and it supports all three DVD standards; DVD-R (DL included), DVD+R (DL included) and DVD-RAM. The drive that PCSTATS will play with is an OEM model, which means it comes with nothing besides operating instructions, software and a warranty card. The best bit, LG's GSA-H62N Serial ATA DVD writer costs just $36 CDN ($34 US, £17 GBP) !

LG GSA-H62N Serial ATA DVD Writer

Includes:

User's Manual, SATA cable and molex power adaptor
The LG GSA-H62N looks like any other DVD writer. It lacks a headphone jack and volume wheel, but otherwise the drive supports all DVD writing standards. It can burn DVD-/+R media at 18x speed, DVD-RAM at 12x, DVD+RW at 8x, DVD-RW at 6x and DVD-/+R DL media at 10x. The GSA-H62N can handle CD-R media at 48x speed and CD-RW at 10x. The drive has a 2MB internal cache and physically measures 16.2 x 14.6 x 4.1 cm in size.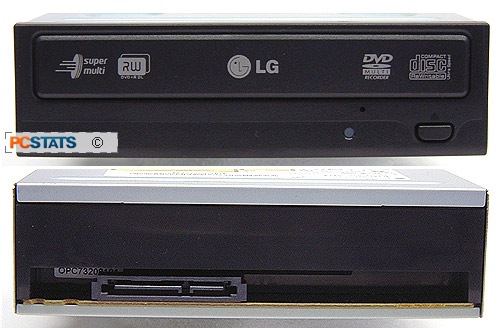 The LG GSA-H62N is rather plain looking, and as you can see we are looking at the black version. LG proudly states its DVD standard compatibility, DVD+R/RW, DVD-R/RW, CD-R/RW and Super Multi. On the front you'll also find the eject button, a LED indicator and an emergency hole for ejecting the tray when it's stick. Around back there is a SATA data jack and SATA-style power connector. There is no analog audio connector or jumper for selecting master or slave because SATA devices never share channels.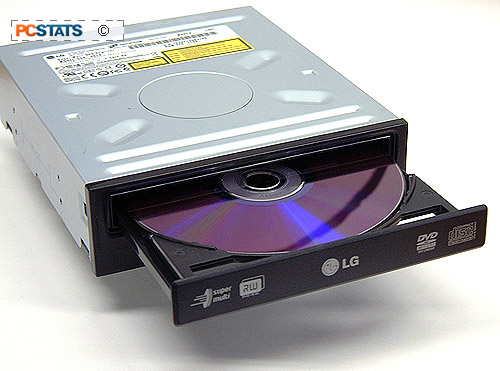 According to LG the GSA-H62N will never make a coaster from your blank media because it has a 2MB buffer and Superlink buffer underrun error protection technology. In reality, while this helps, coasters do happen every so often. LG does its best to make sure it's a once in a "blue moon" type situation.
Serial ATA Optical Drive
Serial ATA must be the most exciting feature to hit optical drives since the days of the 52X CD-ROM.
Because the LG GSA-H62N is a SATA device it also supports hot swapping - a convenient feature for enthusiasts who like to tinker with multiple PC systems.
To hot swap the LG GSA-H62N, your motherboard must be fairly new, with Serial ATA channels and support Serial ATA hot swapping.
If it does, the process is a as simple as clicking on the "Safely Remove Hardware" icon in the task bar, selecting the drive, and viola you're done.
Disconnect the cables and pull the drive out. If you want to use the device again, secure the optical drive in place, plug in the Serial ATA data and power cables and you're all set. In case you're wondering, Serial ATA optical drives do use the same cables at Serial ATA hard drives.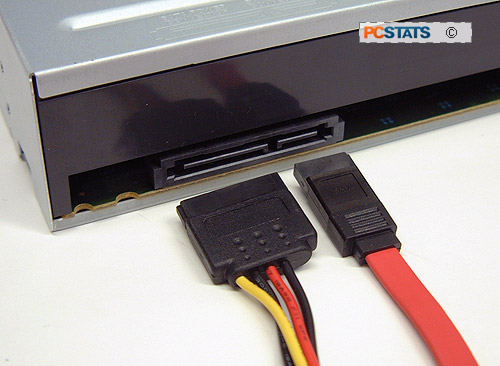 The LG GSA-H62N DVD writer supports a whole host of writing options. For burning CDs, the drive supports Track At Once (TAO), Disc At Once (Disc At Once), Session At Once (SAO), Multi-session, Fixed Packet, Variable Packet, Raw Mode Burning and Over burn. DVD writing modes include Multi-session recording (DVD+R), Random recording (DVD+RW), Disc At Once Multi-border (DVD-R), Disc At Once Multi-border (DVD-RW), Restrictive Overwrite and Random Access Write (DVD-RAM). Phew!
Next up, drive speed benchmarks and a quick overview of dual layer DVD technology.