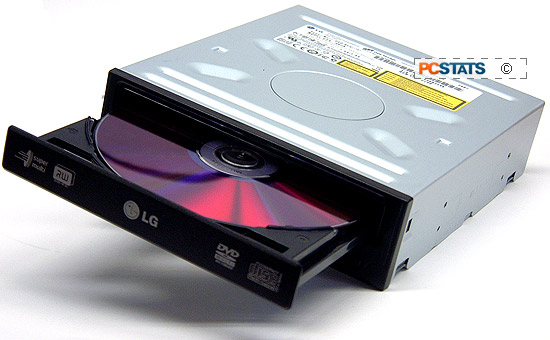 It certainly took the PC industry long enough, but Serial ATA optical drives are finally readily available from all the major brands. With the death of IDE long written in stone, the abundance of SATA optical drives certainly makes building a new PC or upgrading to a new motherboard a lot easier.
Most new Intel motherboards retain only a single IDE channel, and a growing number of motherboards are starting to emerge with none at all. Parallel IDE is just one of those technologies that is being phased out completely.
If you're in the market for a new DVD writer make sure you check out what the LG GSA-H62N optical drive has to offer. The drive comes in black and beige colours, and supports all three DVD standards (DVD-/+R and DVD-RAM). Dual layer media is handy if you like to burn videos onto DVD, or want to back up a collection of family digital photos. The LG GSA-H62N is nice and affordable, priced at just $36 CDN ($34 US, £17 GBP) (including one year warranty).
The LG GSA-H62N DVD writer natively supports the Serial ATA standard which means you can hot swap it if you wanted. That's definitely a very cool feature and useful if you have a PC which you cannot turn off (server anyone?). Hot swapping at least on the software side is as easy as a few clicks of the mouse.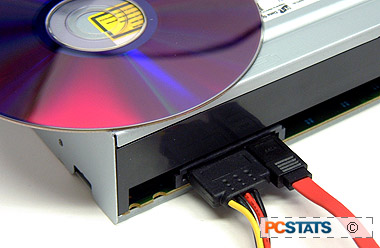 In terms of performance the LG GSA-H62N Serial ATA DVD writer came in as expected. Please keep in mind the Serial ATA standard does not boost speed or bandwidth, those two aspects are limited to the technology behind optical drives and disc rotation speed. The drive has fairly good throughput and low CPU utilization numbers, but it's not any faster than any other dual layer DVD optical drive tested recently.
During testing we did find that the LG GSA-H62N generated a fair amount of heat during operation, but that's normal as most drives get warm when spinning discs at high speeds.
If you're upgrading an old burner, you might as well get a dual layer DVD unit based on the Serial ATA data standard. The LG GSA-H62N DVD writer is one of the nicer ones on the market.
Find out about this and many other reviews by joining the Weekly PCstats.com Newsletter today! Catch all of PCSTATS latest reviews right here.
Related Articles
Here are a few other articles that you might enjoy as well...
- AOpen DSW1812P 18x Triple Format DVD Rewriter Review
- Samsung WriteMaster SE-W164 16x16x External DVD Writer Review
- Gigabyte GO-W1616A DVD Burner Review
- MSI DR16-B Dual-Layer DVD Burner Review
- LG GSA-4120B Super Multi DVD Rewriter