Overclocking Results:
The Corsair DOMINATOR Twin3X2048-1800C7D memory was installed onto the Asus BLITZ EXTREME (Intel P35 Express / DDR3) motherboard for testing. Before the overclocking began the (1333MHz FSB) Intel Core 2 Duo E6750 processor's clock multiplier was first lowered from 8x to 6x. Starting at 1333 MHz, the DOMINATOR Twin3X2048-1800C7D memory clock speed was increased in 20 MHz increments.

While keeping the DDR3 voltage steady at 1.5V, it will be interesting to see how long the Twin3X2048-1800C7D can last before it needs more juice.
And that was a short experiment... At 1472 MHz the memory required a voltage increase to 1.6V to maintain stability. The memory started to give the system stability problems at 1596 MHz, so voltage was increased to 1.7V.
At 1732 MHz, the memory got another voltage boost, this time to 1.8V.
With 1.9V coursing through the veins of the Corsair DOMINATOR Twin3X2048-1800C7D memory, it was able to reach a maximum speed of 1844 MHz with 7-7-7-20 timings. I know Corsair rates its memory to run at 2.0V, but raising the voltage to that level did not allow PCSTATS to overclock it any further. Still, 1844 MHz is a pretty respectable number, and that is smoking fast! DDR2 eat your heart out!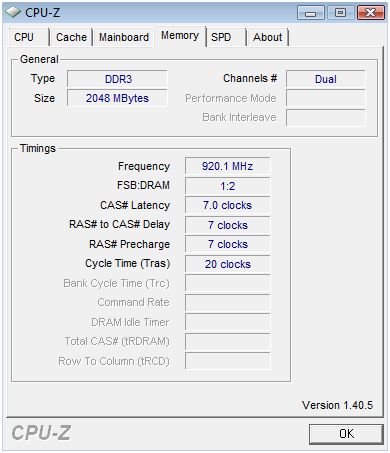 Loosening the memory timings to 8-8-8-24 allowed the Corsair DOMINATOR Twin3X2048-1800C7D memory to reach just a bit further, as is often the case when latencies are reduced. The memory rose to 1900 MHz before finally settling for 1920 MHz. Because the top overclocked speeds with tight and lax timings were so close, performance with the tighter CAS latency configuration will obviously yield better results in the benchmarks. That's where we're headed next!
Prelude to Benchmarks
The details of how the Corsair DOMINATOR Twin3X2048-1800C7D memory test system was configured for benchmarking, including the specific hardware, software drivers, operating system and benchmark versions are indicated below. In the second column are the general specs for the reference platforms this pair of PC3-14400 DDR3 memory is to be compared against. Please take a moment to look over PCSTATS test system configurations before moving on to the individual benchmark results.