Dual core processors and DDR2 memory mix quite well together, so does that mean quad core processors and DDR3 memory are to be married at the hip? In a word, yes. Slated to become mainstream in 2008, quad core processors from Intel and AMD face a potentially serious memory bandwidth crunch. As is usual in tech, it's the age old problem of one standard not scaling up to support the next. In this case, current DDR2 memory cannot scale high enough, or fast enough to meet all the demands of quad core processors.
That's where DDR3 memory comes in, and Intel has taken the lead in laying the foundation for the new memory standard. While its upcoming Core 2 Quad processors are compatible with current generation platforms, Intel is doing its best to make sure those quad core CPUs are not starved of memory bandwidth.
So I bet you're wondering, is it the right time for hardware enthusiasts to upgrade to a DDR3 platform? Are there overwhelming benefits from DDR3 memory, particularly if the PC is just equipped with a dual core processor? These are both very valid questions, and it's something PCSTATS is definitely going to explore.
The first step is testing out some fresh new DDR3 memory, and first on the test bench is a 2GB kit of Corsair PC3-1800 DDR3 RAM. Memory manufacturers are scrambling to release high end DDR3 RAM kits, but we're a little surprised to see memory speeds already shooting through the roof. Time will tell if the memory makers are jumping the gun a little, but for consumers who can afford to splurge, there's a growing inventory of really nice, really fast, enthusiast grade DDR3 to consider.

Corsair DOMINATOR Twin3X2048-1800C7D DDR3 Memory
RAM Memory Type: DDR3-1800 / PC3-14400
Individual Module Capacity: 2048MB
Native Speed & Latency: 1800 MHz @ CAS 7-7-7-20
Corsair's DOMINATOR Twin3X2048-1800C7D kit certainly has impressive specs; two 1GB sticks of DDR3 rated at DDR3-1800 (PC3-14400) speed, and a CAS latency of 7-7-7-20. Default voltage is 1.5V. The DOMINATOR series also ship with a RAM Fan which mounts above the DIMM slots. It blows cool air directly at the tops of the DOMINATOR RAM which has specially engineered heatsinks bonded to the DRAM, and to thermal vias on the PCB substrate as well. (grab a look-see under the heatsinks here)
Hanging out with the bleeding edge crowd is always an exclusive affair, and expensive. Corsair's DOMINATOR Twin3X2048-1800C7D will cost you $678 CDN ($645 US, £320 GBP), which is about par for this class of DDR3 memory right now. Look to Canada Computers, NCIX, and Newegg for these babies. Don't give me that look - to build a killer fast PC with best gear in town, you do know you have to sell your soul right?
The DOMINATOR Twin3X2048-1800C7D memory has CAS latency timings of 7-7-7-20 when running at 1800MHz, and that requires a voltage of 2.0V. Yet when set to DDR3-1066, the memory can run with more aggressive CAS 7-7-7-18 latency timings.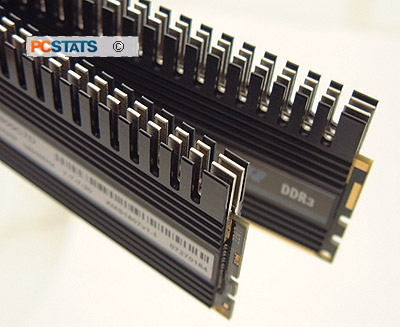 Each stick of DOMINATOR Twin3X2048-1800C7D memory is equipped with Corsair's 'Dual-Path Heat Xchange Heatsink' to keep the memory running cool. Adhesive is used to secure the heatspreader to the memory module, and PCB. Neither are removable, do not try. Doing so will void the warranty on the memory, and probably rip the BGA DRAM right off.
If you'd like to equip your computer with DDR3 memory, motherboards based Intel's P35 Express chipset are the only option... and then only models specifically built to support DDR3 DIMMs.
The Intel X38 Express chipset, that companies' flagship core logic, will support DDR3 when it's released mid September. nVIDIA has not refreshed its nForce motherboard chipset lineup in a while, so we anticipate it will shortly to encompass DDR3 memory.
If you are a loyal AMD user, you'll have to wait a bit longer as AMD has no immediate plans to adopt the DDR3 memory standard.
Each AMD processor has its memory controller built right into the core, so DDR3 can only be adopted when the underlying CPU architecture calls for it. As it stands, the AMD 'AM3' processor, due late 2008/early 2009 is the first AMD CPU to adopt the DDR3 memory standard. Generally speaking, the AMD Athlon64 processor series does not have major bandwidth issues, due to a well designed memory controller.