I have to wonder how running the watercooling circuit through the small 1/4" ID channel of the memory waterblocks will affect flowrates (when there is a reservoir). If the memory is placed last in line, the water may not be cooling the memory at all, as it will have absorbed a lot of heat from the processor and/or videocard by that point.
Next, how is one to clean out the gunk that builds over time? Conventional waterblocks can be disassembled, the same can't be said for the FlexXLC waterblock, at least without destroying it.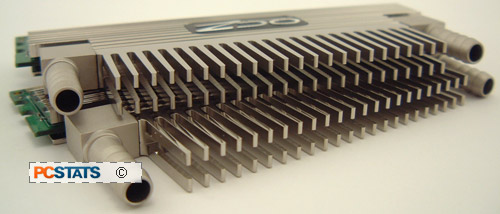 Putting all that aside, I also have to complain about how the OCZ PC2-9200 FlexXLC Edition memory is put together, at least partially. The main body of the heatspreader makes good contact with one half of the memory module, but on the flip side the retaining plate only touches the edge of the DDR2 BGA DRAM. About a third of the DRAMs on this side of the module are not in contact with the thermal pad that is supplied.

All in all, while watercooling is memory is definitely novel and neat looking, I don't think it's really necessary. DDR2 memory does not generate enough heat to warrant the setting up a watercooling loop just for the memory. If you're adding it to an existing watercooling setup, you may be in fact heating the memory up, or sacrificing flow rates for other hardware.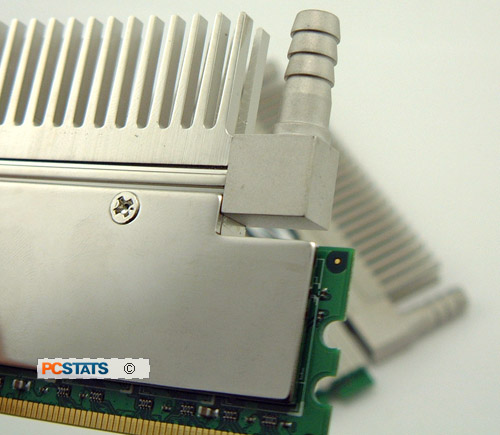 Yeah it's neat to see memory with waterblocks installed... but don't feel obligated to get a watercooling loop if you're using OCZ's PC2-9200 FlexXLC Edition memory. PCSTATS was able to overclock it quite nicely with air cooling alone, so keep that in mind.
PCSTATS Test Methodology:
On Intel Socket 775 Core 2 Duo test systems, we're only interested in seeing how high we can go with the DDR-2 memory running 1:1, as running with other dividers puts the overclocking bottleneck elsewhere and not with the system memory. The DDR-2 RAM latency must run at its lowest possible setting, as quick access is more important to the CPU design. Just for arguments sake, we will also be conducting overclocking tests to see how high the memory will go with lax timings (5-5-5-15), although we will only benchmark the system with the tight memory timings mentioned above. Let's get started!