By the look of the heat spreaders on performance memory these days, you'd be forgiven for thinking RAM runs hotter than surface of the sun! Heat is an issue, particularly for enthusiasts that heavily overclock their computers. For that reason, enthusiast grade "overclocker" memory is often decked out in extensive cooling attachments; textured aluminum and copper heat spreaders, elaborately designed memory PCBs with thermal vias, and even watercooling or external fans.
OCZ has long been equipping its memory modules with fancy thermal solutions, partly to make them stand out on store shelves, partially to address heat from overclocking and over-volting. In this review, OCZ brings to the table the most hardcore form of memory cooling PCSTATS has ever seen commercially available. Watercooling for memory. Yup, watercooling.
Is it really necessary? Probably not. Is it cool? You bet. OCZ's FlexXLC (for Flex Xtreme Liquid Cooling) edition memory has a large heat spreader/heatsink with an integrated water cooling channel. The FlexXLC memory is a little thicker than standard DDR2 modules, with large aluminum heatsink fins running along the top. The memory can be run without watercooling thanks to these fins, or if your PC is already equipped with a watercooling system you have the option of hooking up the OD 3/8" taps and running coolant through the head spreaders of the OCZ FlexXLC RAM.
Of course, if you don't have a watercooling setup in your PC the OCZ FlexXLC RAM will still work just fine. Many enthusiasts already watercool the CPU, videocard and motherboard chipsets, so extending the cooling circuit to memory was the next logical step.

OCZ PC2-9200 FlexXLC DDR2 Memory
RAM Memory Type: DDR2-1150 / PC2-9200
Individual Module Capacity: 1024MB
Native Speed & Latency: 1150 MHz @ CAS 5-5-5-18
Enhanced Performance Profiles (EPP): Yes
On with the review! OCZ's PC2-9200 FlexXLC Edition DDR2 memory runs in a dual channel configuration with a stock speed rating of 1150 MHz, on timings of 5-5-5-18. OCZ recommends 2.3V be applied, and the 2GB memory kit retails for $267 CDN ($252 USD, £125 GBP). Compared to other enthusiast grade RAM, this is a reasonable price considering what you're getting.
The heatsink fins and water barbs on the OCZ PC2-9200 FlexXLC Edition memory stand 65mm in height, so these modules are best suited to tower cases. With the height of the memory modules, use a bit of caution when maneuvering inside your case, or when installing CDROM drives. One wrong move and you could knock them around in the memory slot quite easily.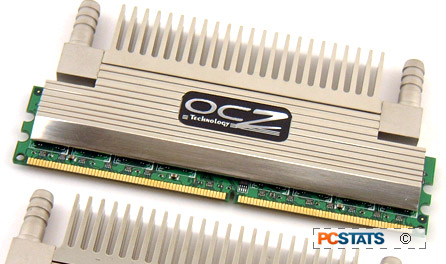 The OCZ PC2-9200 FlexXLC Edition memory modules are quite impressive to look at.
What you can't see is that with all that metal the FlexXLC DIMMs weigh quite a bit. The memory module is double sided which means there are DDR2 BGA DRAM modules on either side of the PCB. OCZ offers a limited lifetime warranty on its products and I was happy to see that OCZ lists a toll free 1-800 number on the packaging should you run into trouble. Nothing is more frustrating than having your computer down with only email support available.
Watercooling and FlexXLC
Definitely the most intriguing aspect of OCZ's FlexXLC memory is its ability to connect to existing watercooling loops or setups. The barbs have a 1/4" ID and natively work with 3/8" ID tubing.
It's interesting that OCZ went with a 3/8" ID tubing size, most commercial watercooling setups available online, or custom built, have migrated to 1/2" ID hardware for improved flow rates.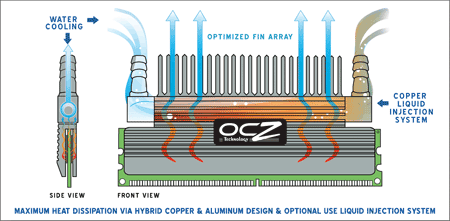 As the picture above indicates, the body of the memory heatsink conducts the heat towards the water channel, where it is picked up by the fluid circuit if present. It's not exactly the most efficient design, but in theory it should keep the heatsink temperature down which will allow for better cooling. It's important to note that if you do not have a watercooling setup, the FlexXLC memory will operate just fine with just air running along the fins.
As a former watercooling user myself, I do have some concerns about the FlexXLC setup....