Internally the Enermax Infiniti 720W is organized and spacious. The 135mm Silence RL4T-B1352512MB-3M fan is detachable from the power supply PCB (12V, 0.38A) and we're pleased to see that the replaceable fuse inside the power supply. Please note though that if you do decide to replace it (if it were to blow), you're voiding the warranty. The power supply is deigned to operate in temperatures between 0-50 degrees Celsius and in a relative humidity between 20-80%. A large group of aluminum heatsinks are used to cool down components, and they are situated directly behind the 135mm fan.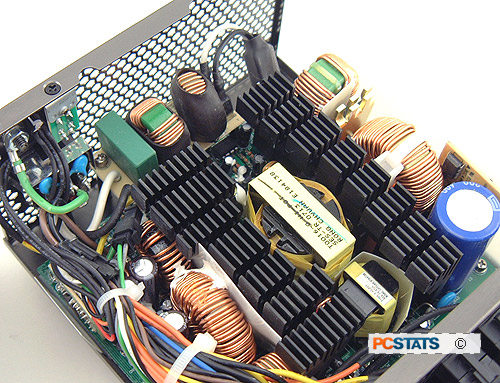 Internals of the Enermax Infiniti 720W power supply.
If the 135mm ever seizes, or the fuse is blow by a power surge, you really shouldn't open up a power supply unless you know what you're doing.
Many overclocking enthusiasts like to tweak the voltages for each rail, but that requires the manufacturer to provide potentiometers that are user accessible. The Infiniti 720W lacks these components, so if you find the 12V rail sagging under load, there is nothing you can do.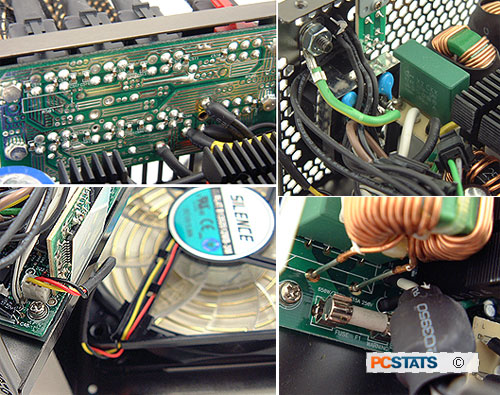 Up close with the Infiniti 720W. Build quality is generally good, but the plug for example is not EMI shielded. The fan power connector is detachable, not soldered. Replacing a seized fan years down the road will be easier.
The Enermax Infiniti 720W is 80 PLUS compliant and Enermax claims that the power supply is 82-85% efficient. That's a pretty lofty claim, let's check out whether the Infiniti can live up to the hype by testing its power capabilities.