Considering the direction modern computers are headed, a good quality power supply is critical. Regardless of how much time and money has been invested into a personal PC, poor quality or under-powered powersupplies can lead to intermittent crashing, and in the worst case even fried system components. If the power supply is garbage, you're building on shaky ground. In fact, power is the number one reason behind the Top 10 ways to kill a PC.
Along with attributes like an 80+ rating and Active Power Factor Correction, power supplies have generally become quieter and easier to operate. It's common for large fans to be used to cool the PC without noise, and modular cable systems have virtually made case clutter a thing of the past.
Enermax is a brand we're all familiar with in the power supply world, it's been a mainstream fan favorite for a long time. While Enermax has offered some of the great value power supplies on the market, in the past it didn't compete strongly against high end brands like PC Power & Cooling, Antec or Seasonic. Enermax is definitely turning up the quality now, and if the Infiniti 720W is any indication, its products are heads and shoulders above what it used to produce.
The Enermax Infiniti is a 720W power supply PCSTATS is testing today incorporates three +12V rails (each with a 28-30A ceiling), a modular cable system, PCI Express 2.0 power connectors (for highend DirectX10 videocards), a quiet 135mm fan, an 80 Plus rating, Active Power Factor Correction and even an LED status indicator. The unit comes in a sleek brushed grey glossy finish, which is unfortunately a magnet for fingerprints.
Enermax's Infiniti 720W version (EIN720AWT) sports all the goodies described retails for about $197 CDN ($197 US £97 GBP). It's priced at the premium level, so let's see if the Enermax Infiniti 720W is worth it!

Enermax Infiniti 720W (EIN720AWT) Power Supply

Includes:

User's Manual, Power Cord, Screws, Molex to Dual Floppy Power Connector
The Enermax Infiniti 720W power supply has some pretty beefy specifications however it's still compact (160 x 149 x 85mm in size). It's not uncommon for 700W+ power supplies to be physically larger, causing problems in smaller cases. It's a little bigger than a standard ATX power supply, but not by much. It has a good hefty weight to it, an unscientific method of judging that can be rather telling of PSU quality.
On the underside of the Enermax Infiniti 720W we find a large 135mm fan which draws air into the power supply, a honeycomb grid at the back allows the hot air to escape the unit with the least amount of noise while still offering good EMI shielding. This is pretty standard, and almost all power supply manufacturers follow this method now.
The Enermax Infiniti 720W is an ATX 2.2 compatible power supply. It has a main 24 pin ATX power connector which is not detachable, and nor should it be. Enermax does not bundle a 24 to 20 pin converter, so those of you with older motherboards may be out of luck.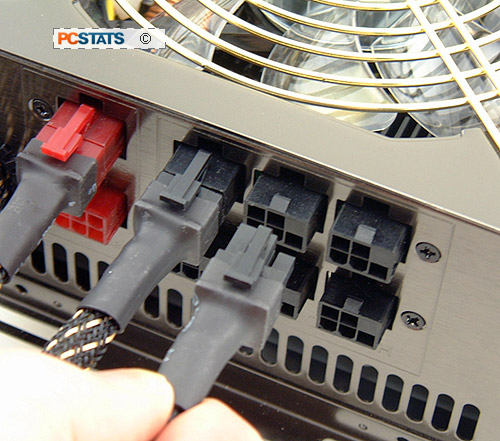 According to the label on the Enermax power supply, the +3.3V rail can deliver 25 amps and the +5V rail 30 amps for a combined output of 160W. There are three +12V rails, the first two can output 28 amps while the third can deliver as 30 amps for a combined output of 672W of power. The Infiniti 720W supports Active Power Factor Correction (A-PFC). That improves efficiency, reduces heat and uses less power. A-PFC circuitry works with a wider voltage range (115VAC of North America to 230VAC of Europe), so there is no voltage switch on the power supply either.
All the cables other than the main ATX power connector are modular, and will plug into one of eight ports at the rear of the unit. The jacks are separated into two groups, and the cables are conveniently wrapped.
Next up, PCSTATS takes a look at the Infiniti 720W's exterior attributes in more detail...