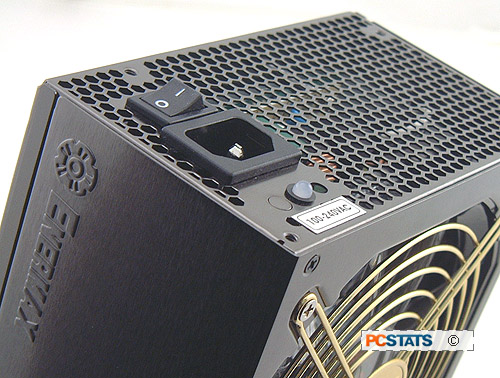 Enermax is power supply brand that differentiates itself on features and appearance. Both are good qualities, but power efficiency is something it should improve upon. A power efficient PSU that is difficult to use isn't much good, and the same rings true for a unit which has all the physical qualities take care of, but isn't as power efficient as it could be.
Enermax's Infiniti 720W power supply has a nice appearance and impressive specs on paper. We did find the beeping PowerGuard system a bit annoying tough. It can be a handy visual and audible tool to know when something is up, but in the process of testing it went off every time we pulled the plug to move to the Infiniti 720W onto the next test.
On the plus side, Infiniti 720W's modular cable system offered up a customized collection of cables that keep the inside of the PC tidy.
The power supply unit itself is slightly larger than a regular ATX PSU, so the only problem that may occur is when all the modular cable connects butt up against a nearby CDROM or set of bay drives. Modular power supplies are best used in full sized cases so the modular cables are easy to disengage and insert.
Enermax employs a large 135mm fan, up from the standard 120mm size, which quietly keeps the power supply cool. The fan was not audible during PCSTATS tests. Enermax claims that the Infiniti 720W power supply is 80 Plus compliant however our with our current test setup, we are not able to test this claim. The test 120W dummy load can only put the Enermax Infiniti at 16.7% total load.
With a retail price of $197 CDN ($197 US £97 GBP), the Enermax Infiniti 720W power supply is priced at a premium. There is certainly a lot of competition in this price range, and on the whole Enermax has improved its product line. The Infiniti 720W has robust Amp levels, and three 12V rails. It's modular cable connections are vast and varied, and the unit itself has a sleek appealing appearance. However, Enermax still has a way to go in terms of power efficiency if it wants to be considered top of the line like Seasonic or PC Power & Cooling.
Find out about this and many other reviews by joining the Weekly PCstats.com Newsletter today! Catch all of PCSTATS latest reviews right here.
Related Articles
Here are a few other articles that you might enjoy as well...
- Seasonic S12-II 500W Power Supply Review
- Cooler Master Real Power Pro 750W Power Supply Review
- GlacialPower GP-PS550BP 550W Power Supply Review
- HEC Zephyr 650W Power Supply Review
- Zalman ZM600-HP 600W Heatpipe Cooled Modular Power Supply Review