Abstract: COOLMAX is aiming at the trendy environmental aspect with its GREEN POWER line. The COOLMAX CUQ-1200B has official nVIDIA SLI/AMD CrossFire support, adheres to the 80% PLUS standard (boasting 87% efficiency!) has four 12V rails, quad SLI....


85% Rating:

Home > Reviews > Power Supply > Coolmax CUQ-1200B
Let's check out the internals!
Internally the COOLMAX GREEN POWER CUQ-1200B is organized and spacious. The 135mm Globe Fan RL4Z-B1352512MB-3M fan is detachable from the power supply PCB (12V, 0.28A) and there is a non replaceable fuse inside the power supply. Please note though that if you open the power supply for any reason, you void the warranty. The power supply is deigned to operate in temperatures between 0-50 degrees Celsius and in a relative humidity between 20-80%. A large group of aluminum heatsinks are used to cool down components, and they are situated directly below the 135mm fan.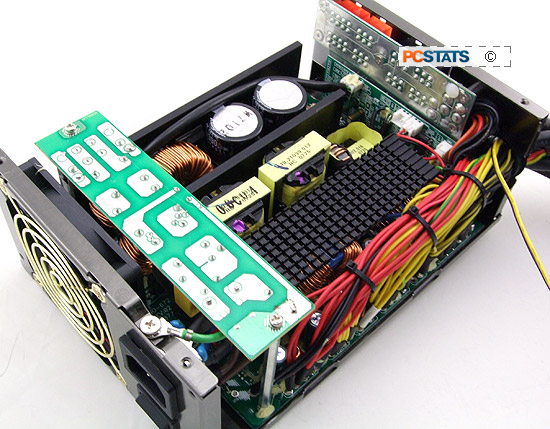 Many overclocking enthusiasts like to tweak the voltages for each rail, but that requires the manufacturer to provide potentiometers that are user accessible. The GREEN POWER CUQ-1200B lacks these components, so if you find the 12V rail sagging under load, there is nothing you can do.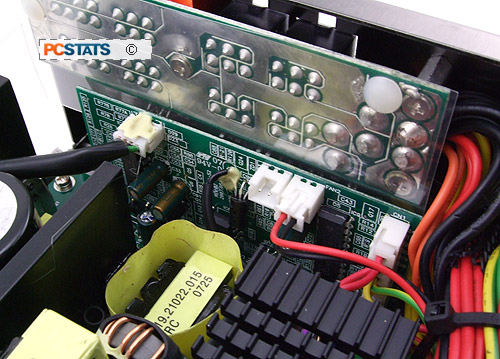 The COOLMAX GREEN POWER CUQ-1200B is 80 PLUS compliant and COOLMAX claims that the power supply is 87% efficient. That's a pretty lofty claim, let's check out whether it can live up to the hype as PCSTATS tests the power capabilities next.