Intel and AMD have done a good job at cutting the power consumption of desktop processors, but the same cannot be said of nVIDIA and AMD's latest flagship videocards. The power consumption of a single top of the line videocard is frankly astronomical. To make matters worse, future high end graphics systems are leaning towards multi-unit systems, either two videocards working in tandem or even three or four in some cases! The prospect of gaming PCs running three or more videocards is very real, and it's with this in mind that +1000W power supplies are becoming the norm rather than the exception.
One thousand Watts (or one KiloWatt) is a lot of power especially when we consider that until a few years ago the average power supply was 250W, and units offering more than 350W were rare. Now 500W seems to be the bare minimum for enthusiast PCs, and often more power is better.
In this review PCSTATS is testing out a 1200W powersupply from the company COOLMAX. The increased competition in the power supply industry has greatly improved quality between the various manufacturers. While there are still gimmicky manufacturers like Ultra, many other players, from Seasonic to OCZ and Corsair to Antec, duke it out in terms of quality and power efficiency. These are the qualities PCSTATS likes to seen in a computer power supply.
COOLMAX is aiming at the trendy environmental aspect with its GREEN POWER line. The COOLMAX CUQ-1200B has official nVIDIA SLI/AMD CrossFire support, adheres to the 80% PLUS standard (boasting 87% efficiency!) has four 12V rails, quad SLI and dual Crossfire videocard power connectors. On paper it looks like COOLMAX has done its homework.
The COOLMAX GREEN POWER CUQ-1200B is a mammoth 1200W ATX 2.2 power supply, retail for $286 CDN ($300 US, £145 GBP). In the +1000W class power supplies are priced at a premium, so let's see if the CUQ-1200B is worth it.

Coolmax Green Power CUQ-1200B Power Supply

Includes:

User's Manual, Power Cord, Screws, Modular Cables
The COOLMAX GREEN POWER CUQ-1200B is a massive power supply measuring 22 x 14.9 x 8.5 cm. Its extra length compared to a standard power supply means its best suited for mid-tower or full tower cases. Preferably you'll want a case that has additional rails under the area the power supply slides into to support the weight of it.
COOLMAX keeps the massive GREEN POWER CUQ-1200B power supply cool with two fans; a 135mm intake and an 80mm exhaust fan. The power supply is quiet and you won't notice it when installed into the case. Because the CUQ-1200B uses modular cables, make sure there is enough space between the top 5.25" drive bays and the rear of the unit so cables can be installed or removed easily. The sockets stick out 5cm or so. It's also a good idea to have at least 15 cm of space between the back of the computer and the wall, so exhaust airflow is not interrupted.
The COOLMAX GREEN POWER CUQ-1200B is compliant with the ATX 2.2 standard, and what that means is that it has a 24 pin main ATX power connector (not detachable) as well as the eight pin ESP12V connector. If you're using an older motherboard with a 20-pin power connector you may need to find a 24 to 20 pin converter if there isn't sufficient space around the power supply socket. However, the likelyhood of such an old motherboard being used with this power supply is pretty slim, this baby is made for multi-videocard gaming rigs of which older motherboards of that class don't support.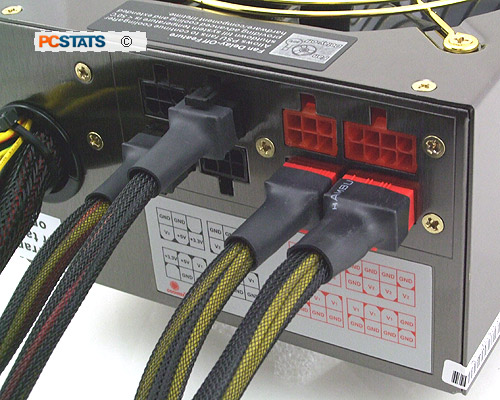 All the cables other than the main ATX power connector are modular, and will plug into one of eight ports at the rear of the unit. The jacks are separated into three groups, and the cables are conveniently wrapped in loom. There are four black ports for hard drive and optical drive Molex/Serial ATA power connectors, and two styles of six and eight pin connectors for videocard SLI or Crossfire power connectors as you can see in the picture above.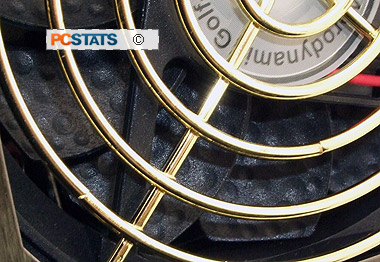 Power Rails and AMPs
According to the label on the COOLMAX power supply, the +3.3V rail can deliver 30 Amps and the +5V rail 30Amps. There are four +12V rails, the first two can output 20Amps while the third and fourth can deliver as 25 Amps for a combined output of 900W of power.
The GREEN POWER CUQ-1200B supports Active Power Factor Correction (A-PFC). That improves efficiency, reduces heat and uses less power. A-PFC circuitry works with a wider voltage range (115VAC of North America to 230VAC of Europe), so there is no voltage switch on the power supply either.
The 80mm fan on the back of the unit has dimpled fan blades. This is supposed to reduce noise, in vaguely similar way that dimples help golf balls fly straight on the fairway.
Next up, PCSTATS takes a look at the COOLMAX GREEN POWER CUQ-1200B's exterior attributes in more detail...