Motherboard manufacturers play a large role in separating the product lines, determining what makes one motherboard a high end mobo you'd give your left arm for, and another on the same chipset perfect for a low cost office PC. Gigabyte's GA-P35-DS4 motherboard is a prime example of what Gigabyte can do with a versatile chipset like the Intel P35 Express.
The Gigabyte GA-P35-DS4 is based around Intel's highly successful P35 Express and ICH9R chipsets. It supports Intel Celeron D, Pentium 4/D/XE and Core 2 Duo/Quad processors running on an 800/1066/1333 MHz FSB. The four DDR2 memory slots can be filled with up to 8GB of DDR2 1066/800/667 memory. In terms of integrated goodies, the board has a Gigabit network card, three IEEE 1394 ports, 12 USB 2.0 ports, eight Serial ATA II channels (six via the Intel ICH9R with RAID, two thanks to the Gigabyte SATA2 controller) and of course a 7.1 channel Azalia High Definition audio controller.
The RAID care of the ICH9R is limited to RAID 0,1,5,10 while the Gigabyte SATA2 chip offers us RAID 0,1,JBOD. There are no eSATA ports on the board regrettably, but it does have a eSATA bracket with two jacks.
At the top of the peripheral expansion list are two physical PCI Express x16 slots which support dual AMD videocards in CrossFire mode (the blue slot has 16 PCIe lanes, the orange slot just 4 PCIe lanes). The orange PCI Express x16 slot is really a PCI Express x4 slot, and along with this are three PCI Express x1 slots (one of which shares a PCI Express lane with the orange PCI Express x16 slot) and two 32 bit PCI slots for miscellaneous devices. If all that sounds complicated just remember; Intel P35 Express supports dual Crossfire videocards, and has room for at least two other PCI Express x1 devices.
In a nod to improving your working environment and increasing the longevity of the motherboard itself, the GA-P35-DS4 features a totally silent copper heatpipe based chipset and MOSFET thermal solution. The Intel P35 Express, ICH9R, and power MOSFETS are all connected by heatpipes to compact copper heatsinks. Secondly, the Gigabyte GA-P35-DS4 uses entirely solid state aluminum capacitors. Nice features, good construction, not a surprise the Gigabyte GA-P35-DS4 retails for $181 CDN ($194 USD, £93 GBP).

Gigabyte GA-P35-DS4 Motherboard




Includes:
User's Manual, Driver CD, 4x Serial ATA cables, Ultra/133 IDE Cable, Floppy Cable, eSATA Power Cable, eSATA Bracket, USB Bracket I/O Shield
Virtually all the Intel P35 motherboards on store shelves have nearly identical features. It is really only on the integrated features, and extra heatsinks and ports and connectors where there is variation. So let's not repeat what we've already said in other reviews.
Instead, let's take a forward looking stance and ask ourselves why we cling to the parallel printer port? A Serial port is still plenty useful in networking environments, but parallel? It's time to do away with the Parallel port on the rear I/O, at the very least shift it to a header. The space would be much better served with a few more USB ports, a eSATA port or two, or perhaps a firewire jack?

Onto useability; the layout of the Gigabyte GA-P35-DS4 motherboard is fine. Ports and connectors are labeled well, jacks and cables organized nicely. We prefer polarity labeled USB headers, sadly the GA-P35-DS4 has those unmarked yellow ones instead. I know this will come across as insignificant, but the PCI Express x16 videocard retention lock on that blue slot, and the rear-oriented lock on the orange slot just make my fingers happy.
With easy to access PCIe locks like the ones on the GA-P35-DS4, it doesn't matter if the videocard has a large double-slot heatsink, access is unimpeded. If you have to struggle with a screwdriver to release an obscured PCIe slot lock and get the videocard out, you may end up with an electrical short or snapped component. Just a thought, it's not like PCSTATS has had hands on experience with 200-odd motherboards or anything... oh wait! We have. :-)
Bundled in with the GA-P35-DS4 motherboard are a common variety of data cables, a firewire and eSATA bracket. Nothing too out of the ordinary there, but the SATA cables stand out for a couple reasons. The black one is eSATA-to-SATA, and the internal orange ones are the solid push-to-click variety that lock into the SATA headers positively. Once you have a SATA data cable wiggle lose you'll understand what I'm talking about.
Intel P35 Express and ICH9R Chipsets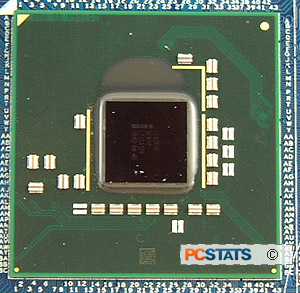 Intel P35 'Bearlake' chipset.

The Intel P35 Express Northbridge chipset replaces the P965 Express as Intel's mainstream performance core logic part.
The P35 Express handles all LGA775 processors running on 800/1066/1333 MHz Front Side bus (theoretical 10.6GB/s bandwidth), so it is ideally suited towards Intel's 45nm "Penryn" CPU. Along with the P35 Express is Intel's new ICH9R southbridge. This southbridge supports RAID via Intel's Matrix storage technology.
With Intel projecting quad core processors to be the mainstream choice, the boys in blue have increased CPU Front Side Bus speeds from 1066MHz to 1333 MHz recently. An increased FSB speeds up data communication between the processor and system bus.
Intel also modified the memory controller in the P35, boosting DDR2 memory support to 1066 MHz and consequently increasing maximum theoretical bandwidth to 17GB/s (in a dual channel DDR3 configuration).
These changes are all incremental, the most significant improvement in the P35 Express chipset has been the inclusion of DDR3 RAM support. Now it is important to make the distinction that Intel P35 Express motherboards can support either DDR3 or DDR2. The Gigabyte GA-P35-DS4 is a DDR2 RAM platform, so it is not compatible with DDR3 (yes, we're stating the obvious folks).
By default the Intel P35 Express chipset handles a single 8GB/s PCI Express x16 videocards with 16 PCI Express lanes devoted to it. However, the Gigabyte GA-P35-DS4 has two physical videocard slots (one blue, one orange). There are six PCI Express lanes associated with the ICH9R Southbridge and four of them can be used for a secondary graphics card, thus the second PCI Express x16 slot. It's not as ideal a solution as two videocards receiving a full 16 or 8 PCI Express lanes each, but in this case a dual videocard Crossfire set up will see 16/4 PCI Express lanes respectively.
Want to know why the Gigabyte GA-P35-DS4 has heatsinks mounted on the back, all solid aluminum capacitors and a few other component level tweaks? It's after the jump, then PCSTATS overclocks.