Overclocking Results:
The MSI NX8600GT Twin Turbo videocard is built with overclockers in mind, coming pre-overclocked from the factory to 600MHz GPU / 1600MHz memory. The built in Twin Turbo feature bumps those clock speeds up conservatively, to 620MHz GPU / 1512MHz shader / 1600MHz memory. Let's be frank, that's nice for a novice, but we can overclock further than this!
Let's really see how far the MSI NX8600GT Twin Turbo videocard can handle being overclocked when it's installed into an Asus M2-CROSSHAIR motherboard with an AMD Athlon64 FX-62 processor.
Starting with the GeForce 8600GT core first, and with the Twin Turbo feature turned off, it is clocked at 600 MHz. Going up in 5 MHz increments, it was clear that the GeForce 8600GT GPU was a solid overclocker. The core easily cracked the 700 MHz mark and we settled down on a speed of 712 MHz!
Next up was the 256MB of GDDR3. Starting at 1600 MHz, the clock frequency was overclocked in 20 MHz jumps. I didn't expect too much from the memory as it's already pretty heavily overclocked from the reference card default of 1400MHz. The memory cracked the 1700 MHz mark like it was nothing, and topped out at 1754 MHz. Anything higher and RivaTuner would complain about the videocard failing the driver overclocking test.
So, from the pre-overclocked starting point PCSTATS pushed the MSI NX8600GT Twin Turbo videocard to 712MHz GPU / 1754MHz memory. Not bad for a mainstream videocard, not bad at all!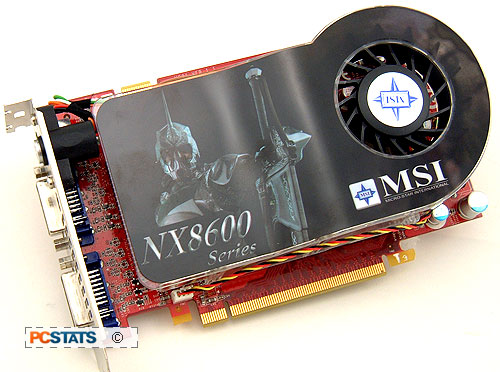 Prelude to BenchmarksThe details of how the MSI NX8600GT Twin Turbo test system was configured for benchmarking; the specific hardware, software drivers, operating system and benchmark versions are indicated below. In the second column are the general specs for the reference platforms this nVIDIA GeForce 8600GT 256MB based videocard is to be compared against. Please take a moment to look over PCSTATS test system configurations before moving on to the individual benchmark results on the next page. Testing was done with Twin Turbo disabled because the manual overclocking results provided better overall results.

PCSTATS Test System Configurations